Back to blog
Sneaker DC Proxies Quick-Start Guide

IPRoyal offers a wide selection of residential sneaker proxies across multiple countries, so our clients have plenty of options for their needs. We update our network regularly to ensure a constant supply of fresh and reliable proxies for all sorts of tasks. You can check the list of available countries and locations on our website.
What sets us apart from other providers are high anonymity, industry-leading speeds, and excellent success rates.
In this quick-start guide, we'll go over everything you need to know about our sneaker DC proxies (or sneaker datacenter proxies) and provide you with the information you need to start using them.
Key Advantages of IPRoyal Sneaker DC Proxies
Highly competitive pricing
We offer discounts on the number of purchased proxies (5% off for 100-250 proxies and 10% off for over 250), along with additional discounts for longer periods (5% off with the 60-day plan and 10% off with the 90-day plan) advanced features, high reliability, and excellent customer satisfaction.
Excellent location coverage
Our proxies are available in many countries on four continents. We're also constantly adding new locations. If you need a location we don't offer, contact our support team and we'll consider adding it.
All usage cases are covered - access any HTTP/HTTPS website anonymously or use SOCKS5 for other protocols.
With an average response time of just 58 seconds, our skilled team of experts is available around the clock and ready to help you set up and make the most of your proxies.
Being able to choose the exact number of proxies makes our services more accessible to a broader range of users who don't have to commit to large packages.
Technical Features of IProyal Sneaker DC Proxies
Consistent uptime and reliable connections around the clock enable you to access the resources you need whenever you need them.
Each sneaker DC proxy is reserved just for you to offer ultimate online privacy and full control over your online activities.
Unlimited traffic & sessions
Maximize your potential with zero traffic and session restrictions for complete online freedom.
Our sneaker DC proxies are compatible with most retail sites and bots out there, offering a hassle-free user experience.
How to Purchase IPRoyal Sneaker DC Proxies
In this section, we'll cover the entire process of purchasing sneaker DC proxies. This includes adding funds and payment methods to your account, purchasing and managing your orders, as well as everything else you need to know to make the most of our service.
Adding Funds to Your Account
Once you've created your account on IPRoyal, log in to the dashboard.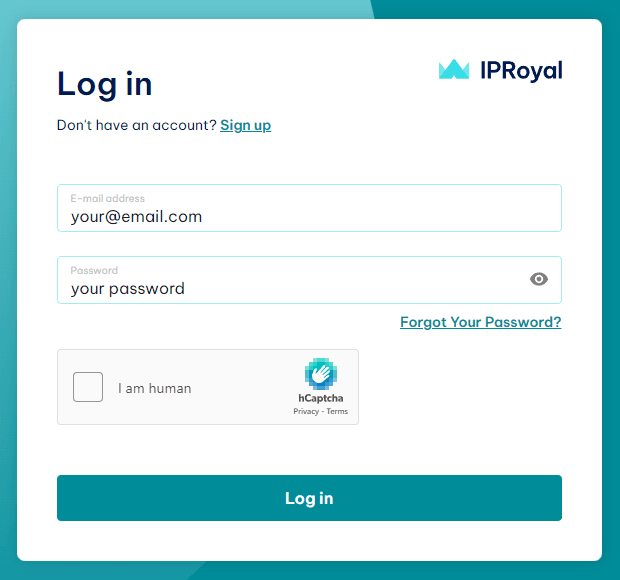 Click on your email address in the top right corner (1) and select Deposit (2) from the drop-down menu.

In the new window, select your deposit method (1). You can also add a credit card to your account (2) and save it by checking the box next to the Save credit card info option (3). This is particularly useful if you want to extend your orders automatically.
IPRoyal supports the following payment methods:
Credit card
PayPal (only available once you confirm your identity)
Over 70 cryptocurrencies
Add the deposit amount (4), and select the currency (5). Click the Deposit button (6).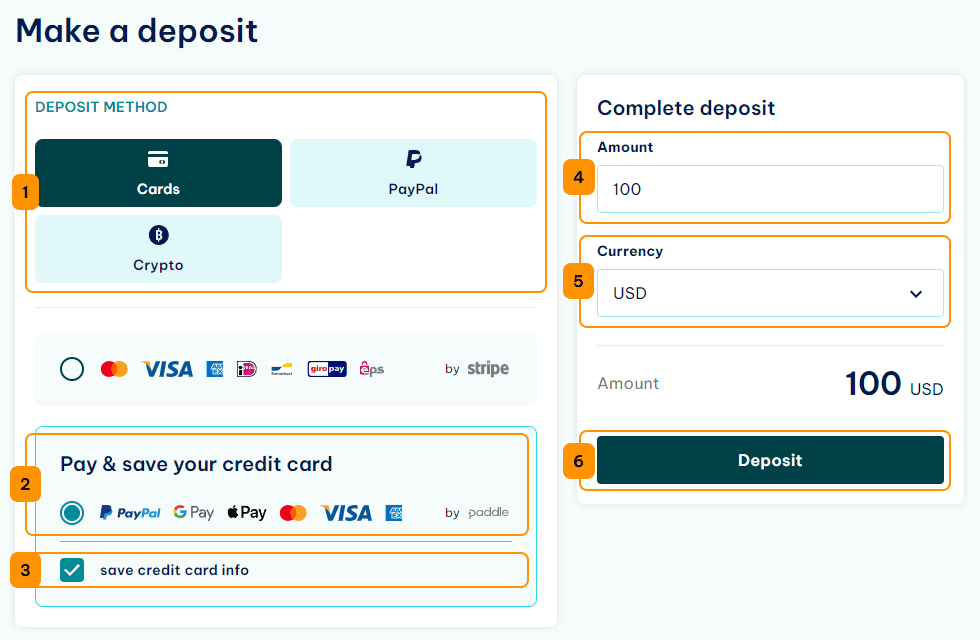 Follow the instructions and provide the necessary information (7) depending on the selected payment method and click Continue (8).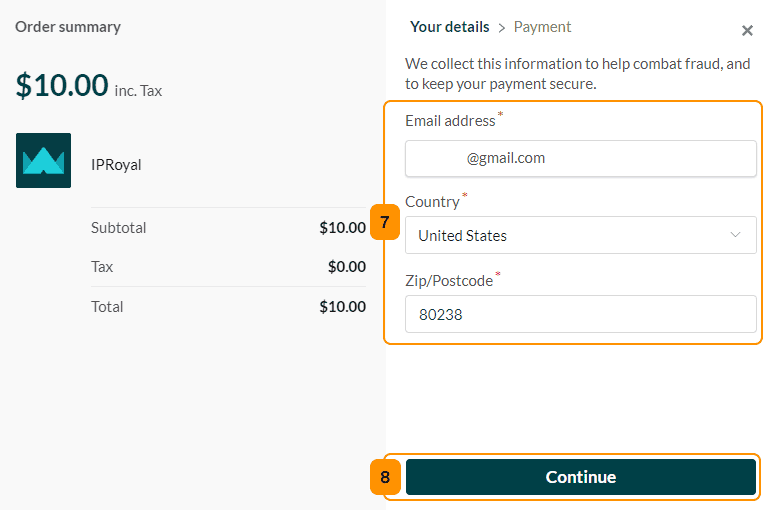 Enter your payment information in the appropriate fields (9) and click Pay now (10) once you're done.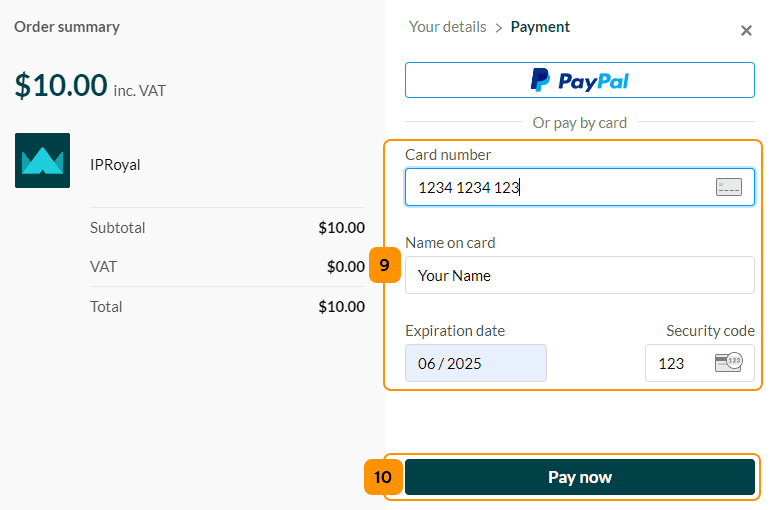 Depending on your card issuer, you might have to complete a verification process. Once you do, you will get a notification that the payment was completed successfully. Click the Continue (11) button.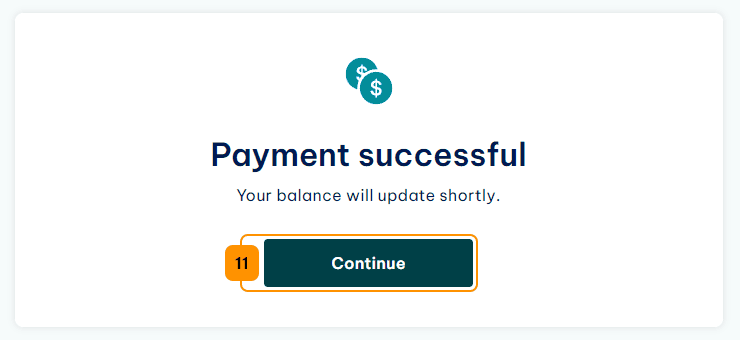 You'll also see the transaction details at the bottom of the deposit page.

Note: Saving credit card information incurs a one-time fee of $1 per card. Once the info is saved, this amount will be included in your IPRoyal account balance.
You can now purchase your sneaker DC proxies.
Purchasing Sneaker DC Proxies
Our sneaker DC proxies are available in four plans - 1, 30, 60, and 90 days. You can select the exact number of proxies you need in each plan. By purchasing a larger number of proxies for a longer period, you can take advantage of our discounts that reduce the starting price significantly (to as low as $1.80 per IP).
Select Sneaker DC Proxies from the list on the left (1) and click the Create new order button (2).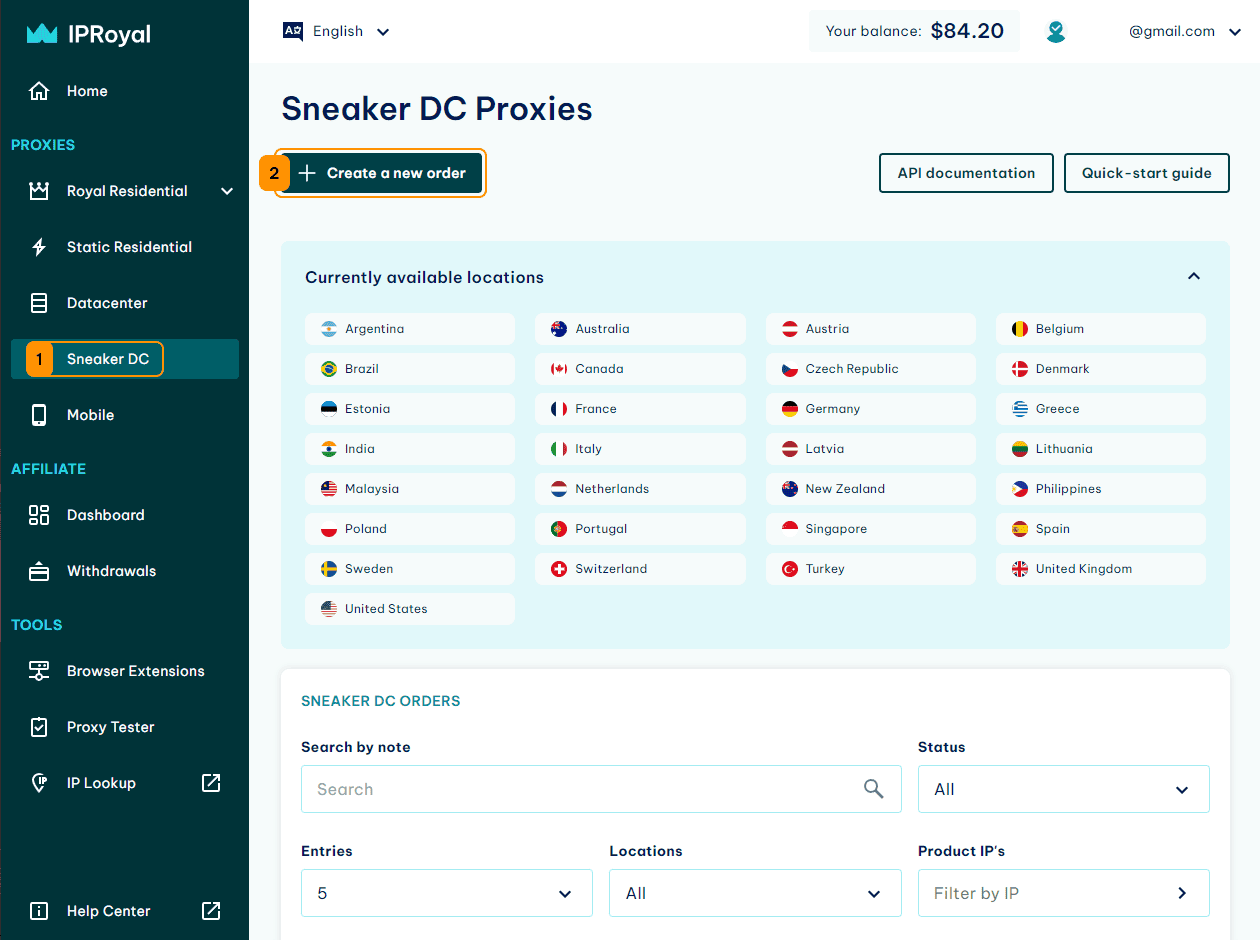 In the new window, you can check out the pricing by clicking the Pricing and bundle discounts button (3). Select the plan (4), the number of proxies (5), the location of proxies (6), and share your target websites with us if possible (7). Click Buy now (8).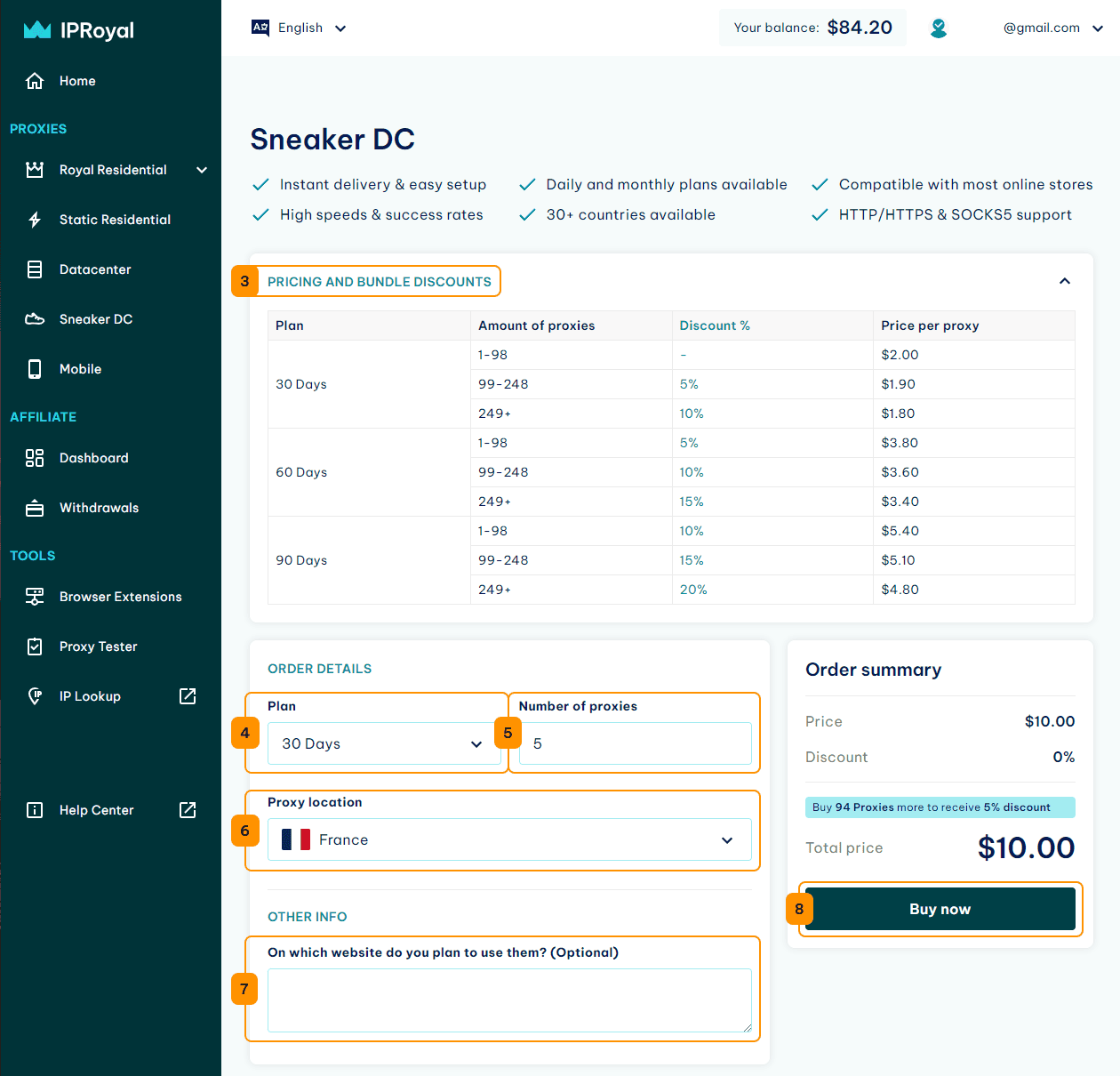 In the new window, you'll get an order overview. You need to select the payment method here (9). You can use your account balance or one of the other available options. If you have a coupon code, click the Have a coupon button (10), enter it in the designated field (11), and click Apply (12). Finally, click the Complete order button (13).
You'll get an order confirmation containing all the relevant information and the status of your order.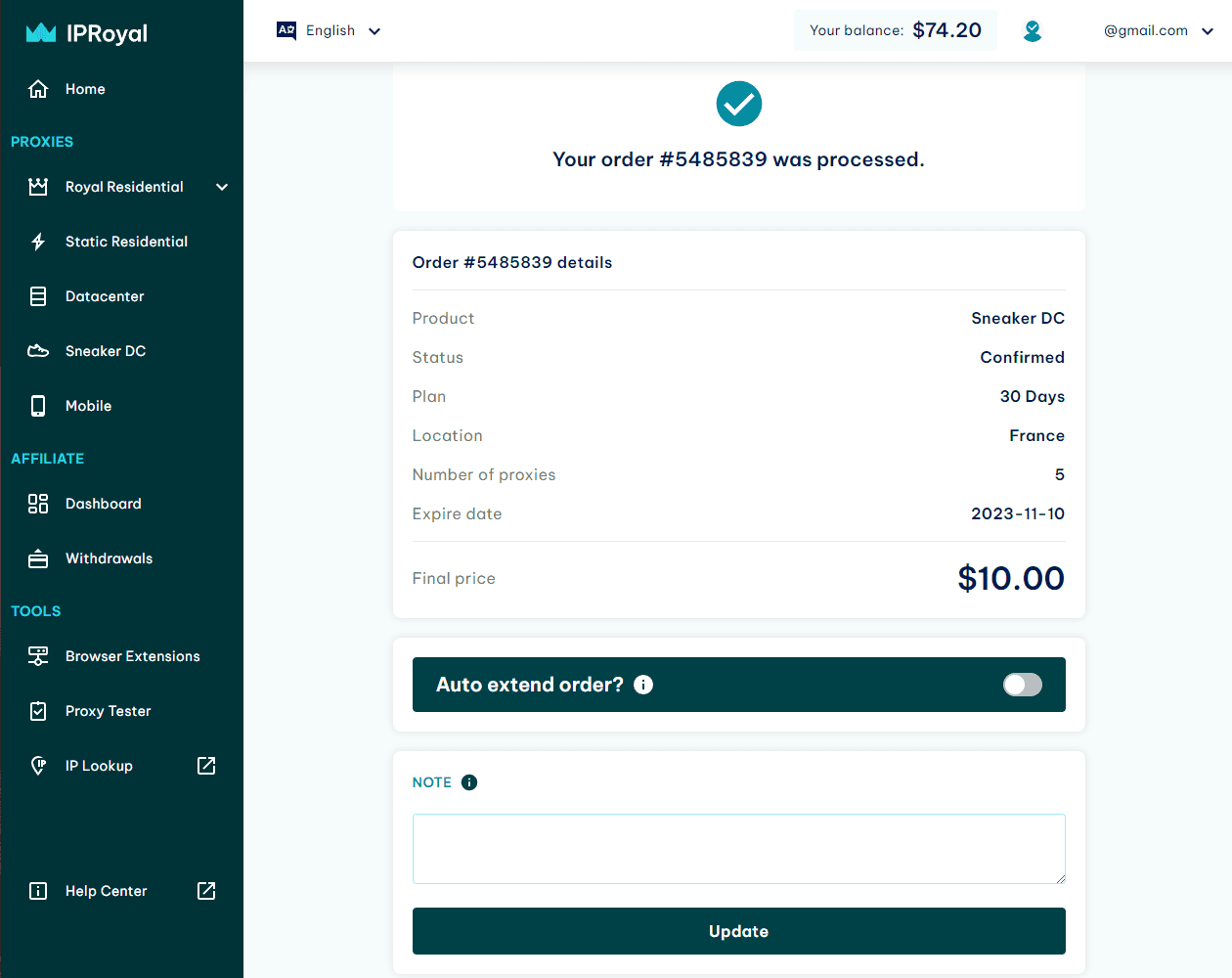 Once the order is confirmed, you'll get an email. You can return to the Sneaker DC Proxies page and check your order status at the bottom.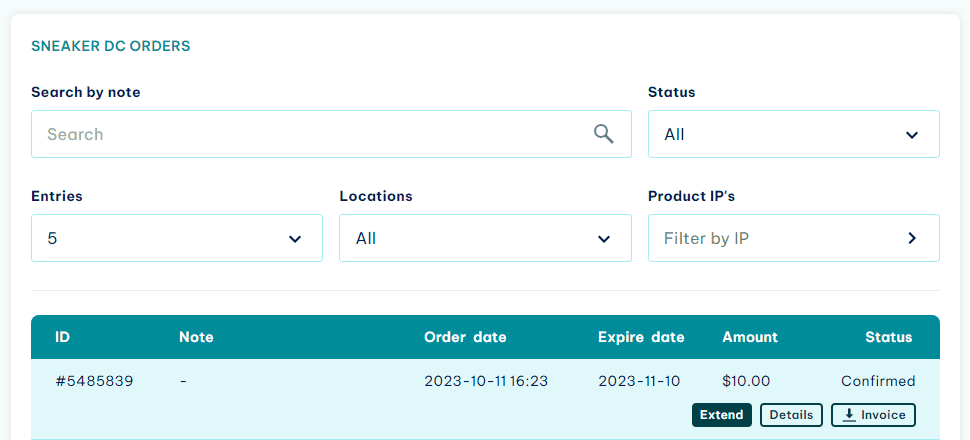 As soon as the status changes to Confirmed, you can start using your proxies.
Once you purchase a plan, you also have the option to renew it for 1, 30, 60, or 90 days by clicking the Extend button in the dashboard.

Choosing to renew an active order gets you additional discounts (5% off with the 60-day plan and 10% off with the 90-day plan). These discounts stack with the existing ones.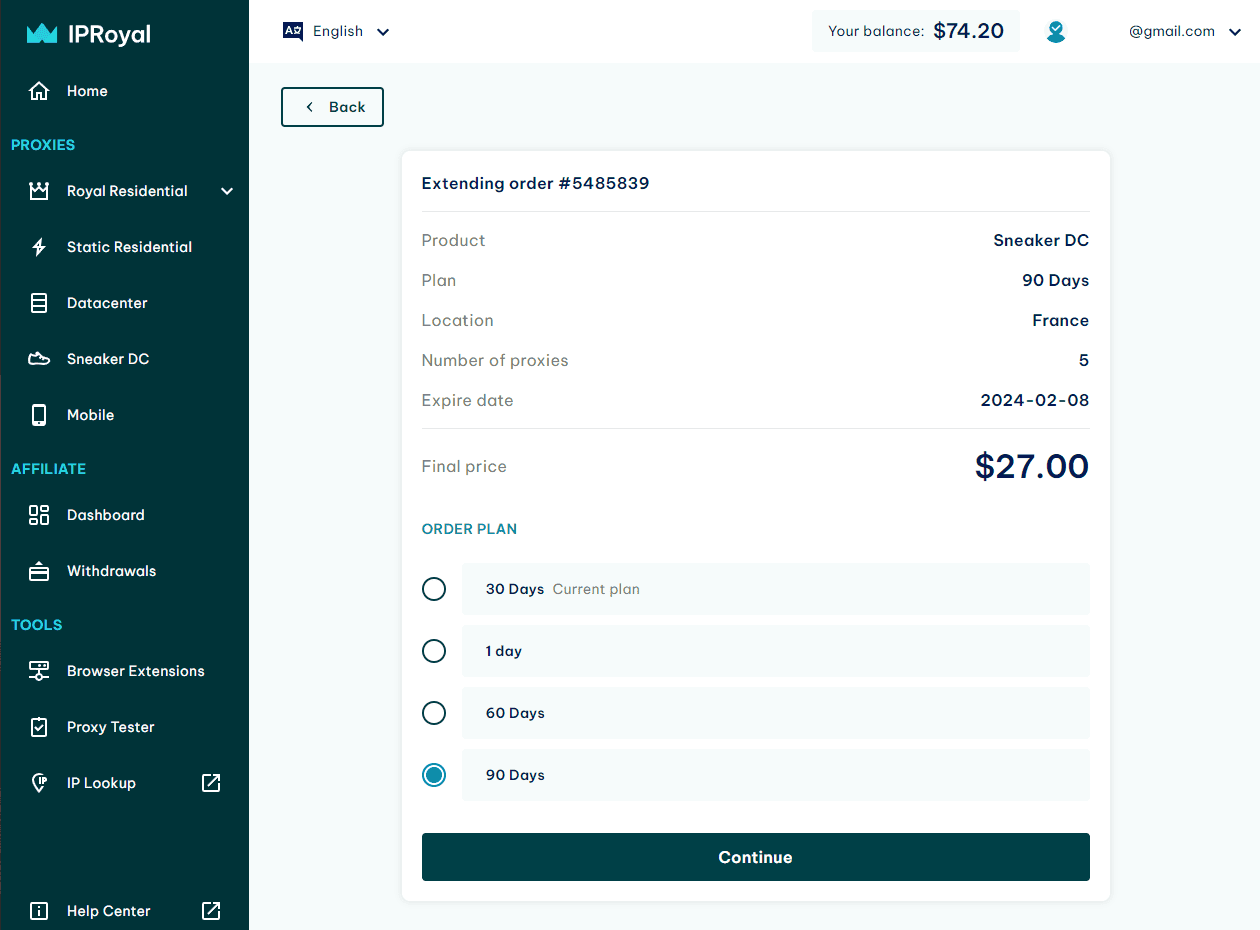 When you extend an order, you will still be able to use the time remaining from the original one. For example, if you decide to extend an order for 60 days while you still have 15 days of use left, your proxies will be available to you for the full duration (75 days in this case).
If you require a custom solution for your project, please contact our sales team.
How to Set Up Automatic Order Extensions
Once you save the credit card information, you'll see it in the list of available payment options (1).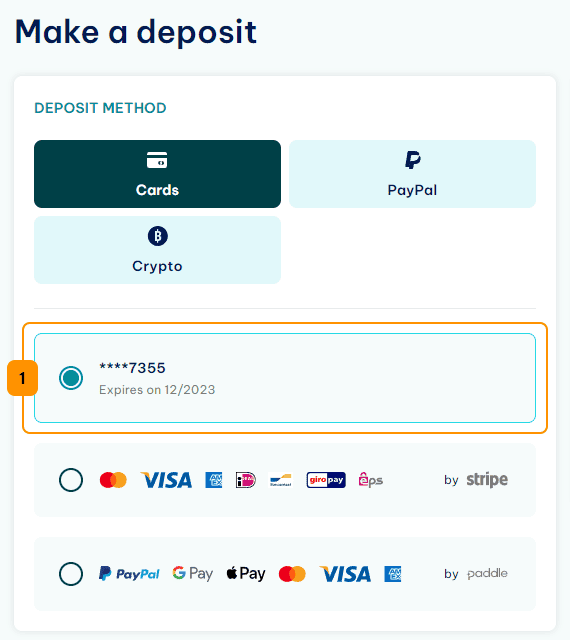 You can use it to deposit funds to your account balance, but also to extend your orders automatically. To do this, select an active order and change the setting to Enabled in the Order details section (2).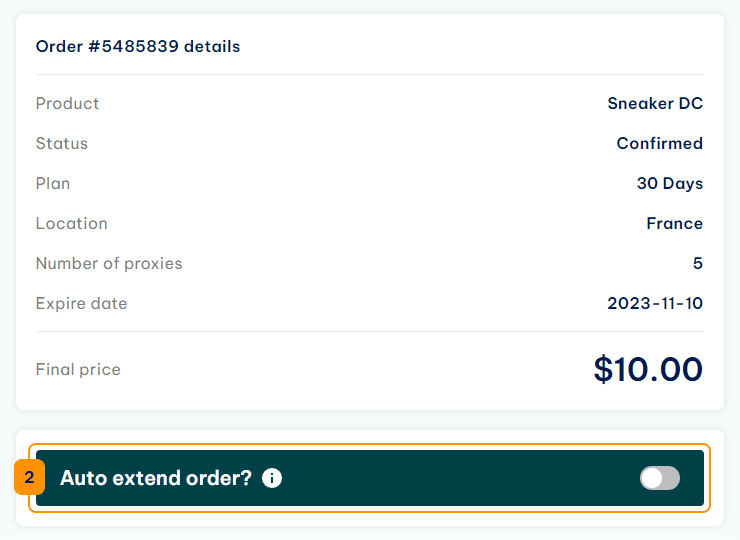 Once you enable this feature, the Auto extend settings will become available. In this section, you can choose the Payment method (3) for automatic order extensions - account balance or saved credit cards. Select the appropriate option and click on Save (4).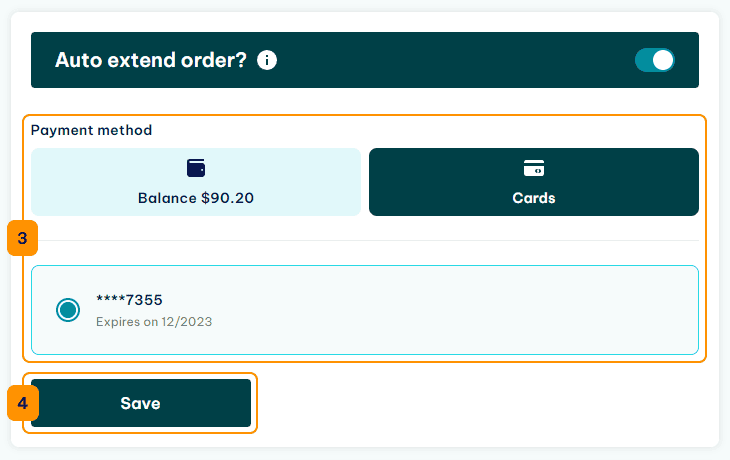 From now on, this particular order will extend automatically. The system will also include any available discounts you're entitled to and charge the order to your selected payment method.
Note: The automatic extension period depends on the plan you purchased. A 1-day order is automatically extended for one day, a 30-day order is extended for 30 days, and so on. If you want to extend your order for a different period, use the Extend button as described above.
Whenever an order gets extended, you'll receive an email.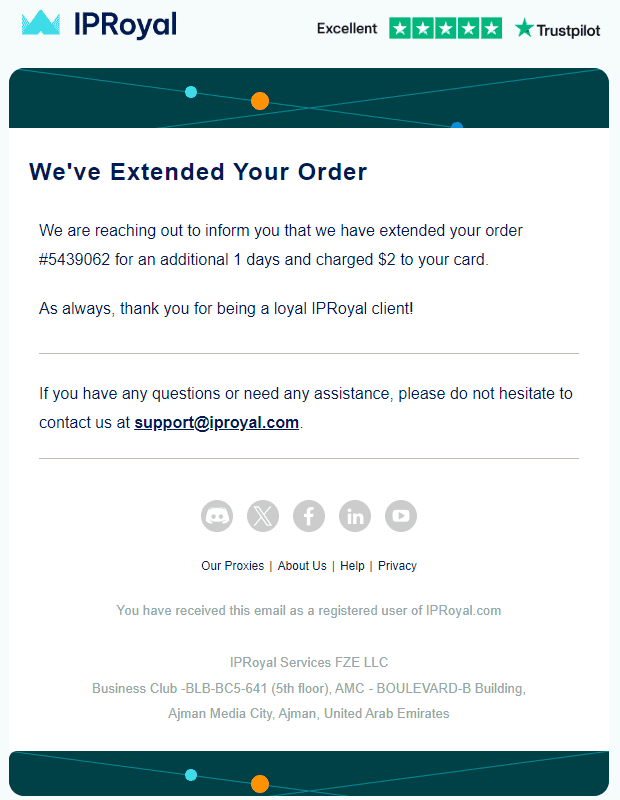 You'll also be able to see the automatic order extensions in your orders.

Note: While you can use your account balance as a charge method for automatic order extensions, this feature only becomes available once you add at least one credit card as a payment option to your IPRoyal account.
Trial & Refund Policy
We don't offer a trial period for our sneaker DC proxies. We do offer a 24-hour window in which you can request a replacement or a refund. This offer is only valid if the proxies aren't working as expected or you're experiencing issues you can't solve with the help of our support team. Also, you can test our sneaker DC proxies at a minimal cost by purchasing a 1-day plan (which is non-refundable).
IPRoyal Sneaker DC Proxies Dashboard Overview
Here's all you need to know about the IPRoyal dashboard and all the features it offers for sneaker DC proxies.
Here you can set the interface language (English or Chinese).
By clicking on your email address, you'll get access to identity verification, account settings, and the deposit page. The account settings page lets you:
Modify your personal information (name, location, phone number, and email),
Choose your preferred affiliate payment method,
Configure invoice details,
Manage saved payment methods,
Generate API tokens,
Modify the website theme,
Manage your notification settings.
Order more sneaker DC proxies.
Automate the ordering process, check proxy availability, create and extend orders, change proxy credentials, and more.
A link to this document.
Currently available locations
The list of locations with available Sneaker DC proxies.
Currently available locations for Sneaker DC proxies.
Your sneaker DC proxies orders and their status. You can filter your orders for easier navigation or search through them based on the notes you left. Clicking the Details button for a particular confirmed order takes you to the configuration page for the proxies you purchased.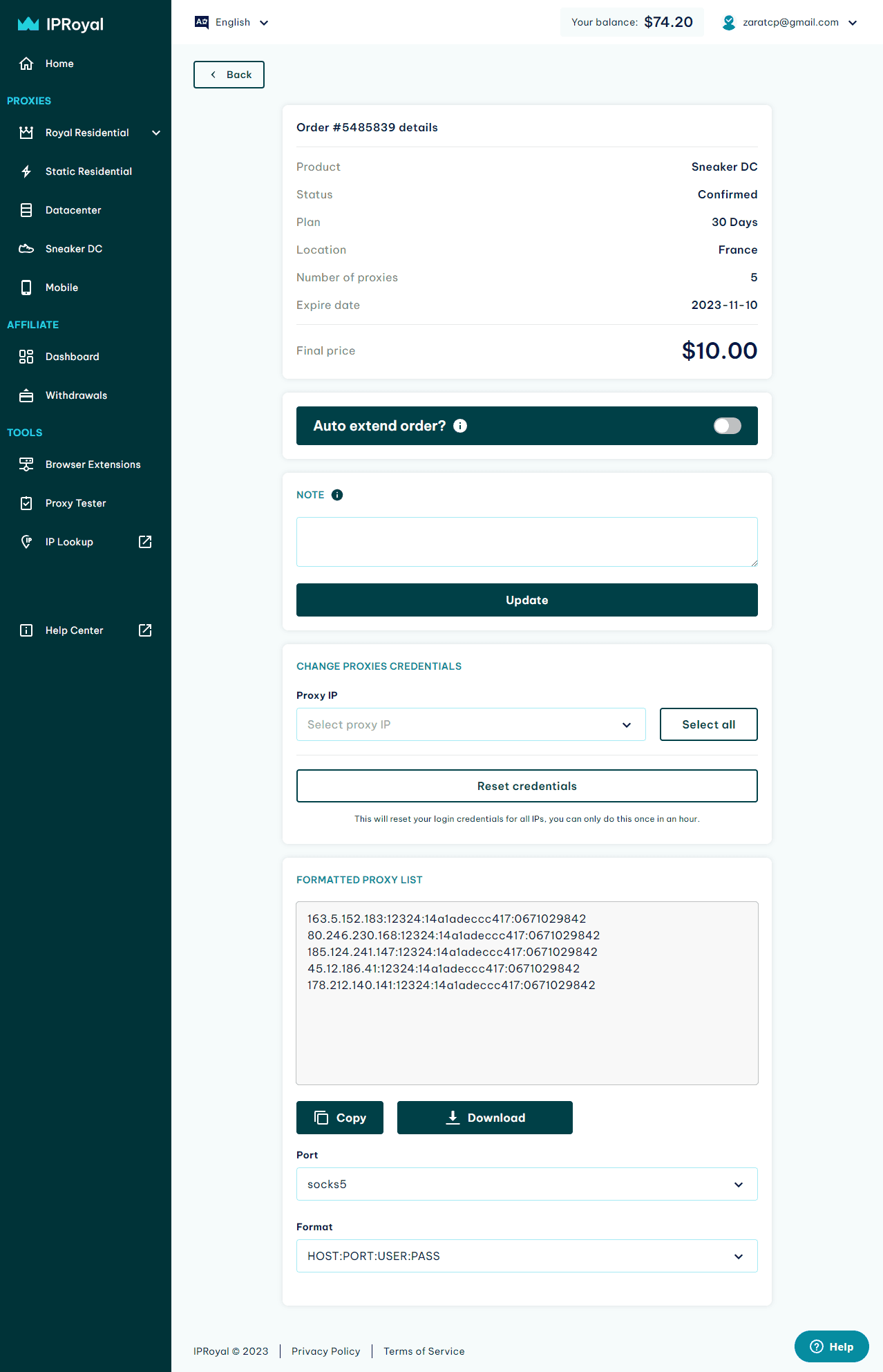 Here you can see your order details, current status, and expiration date. You can also enable automatic order extension.
By activating this option, your order can get extended automatically. Before your original order expires, the system will place a new one with the same duration and charge your account balance or a saved credit card.
You can use this field to leave a custom note for a particular order for easier filtering and navigation.
Change proxies credentials
Here you can set your own username and password for every IP in the order. Select the IP from the drop-down list, fill in the Username and Password fields, and click Change credentials.
Clicking this button replaces the custom usernames and passwords back to the default ones for all proxies in the order at once.
This is a list of all the IPs in your order and their current credentials. You can directly copy this information to your clipboard and paste it into your tools or download it in .txt format.
Here you can pick between HTTP/HTTPS and SOCKS5 protocols for your proxies. The changes will be applied automatically to the IPs in the Product info field.
Here you can set the proxy format that you want to use. While IP:PORT:USER:PASS is the most common one, you can reorder them as needed. The changes will be applied automatically to the IPs in the Product info field.
How to Configure IPRoyal Sneaker DC Proxies
Before you start using your proxies, you need to set them up. While sneaker DC proxies are pre-configured and ready for use as soon as your order is confirmed, you can still customize them. Here's a specific example.
1. Let's say we want to change the credentials for our proxies and set a custom username and password for each IP. We can do that in the Change proxies credentials section. Select the IP you want to change and type in the new username and password in the appropriate fields. You can also let the system generate a password for you by using the Random password option. Make sure both the username and the password only contain letters and numbers. Once you're done, click the Change credentials button.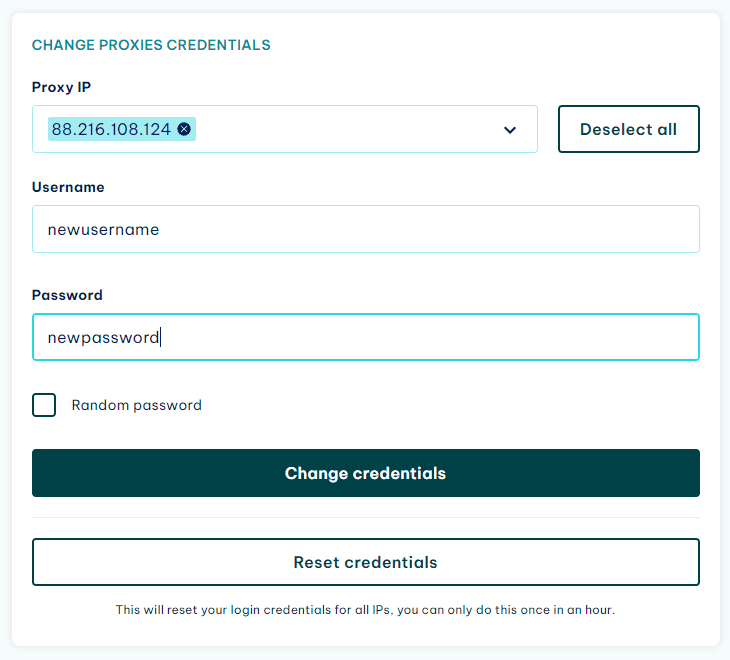 Once you're done, the change will be reflected in the Formatted proxy list.
Note: You can change the credentials for each proxy once every hour.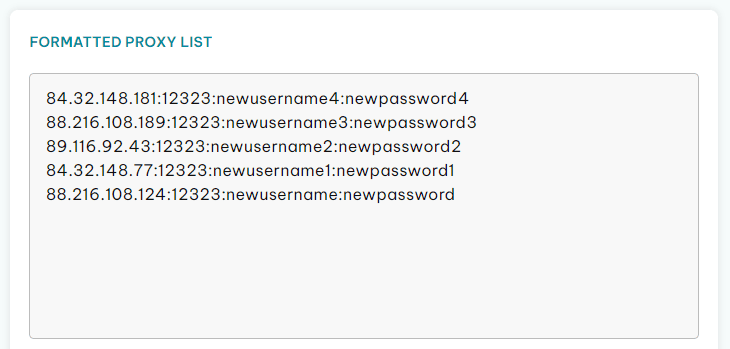 2. You can also select the proxy type here (HTTP/HTTPS or SOCKS5). If you change this setting, your proxy list will update automatically.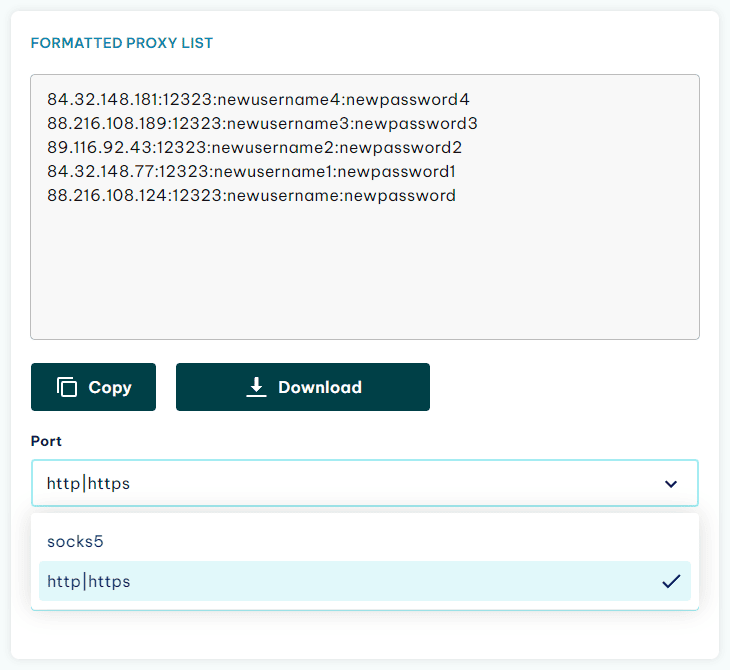 3. Finally, you can customize the format of your proxy credentials to suit your needs. Select the desired format and your proxy list will update automatically, so you can copy your proxy credentials straight to your tools.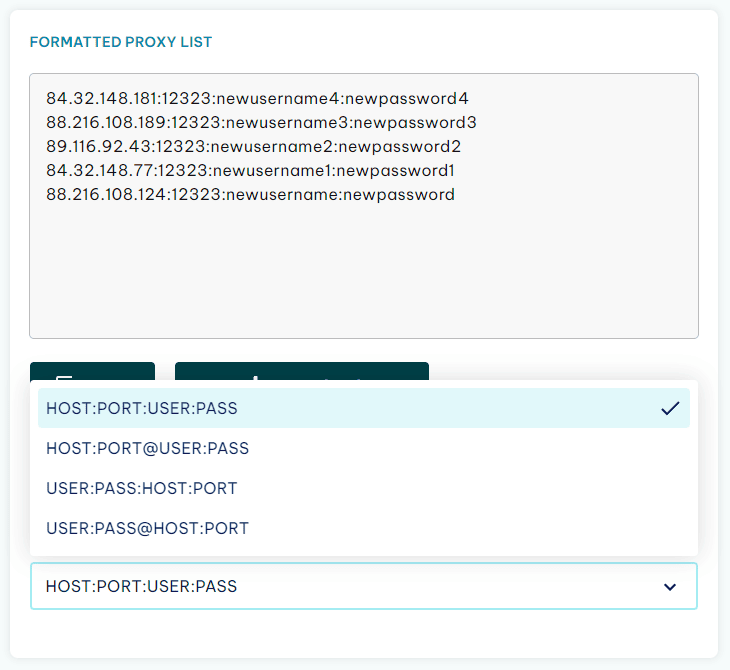 4. If you ever decide to remove custom credentials from your proxies, you can do it manually for each IP as described above or reset all of them by clicking the Reset credentials button.
FAQ
Do sneaker DC proxies support the IP:PORT authentication/whitelist option?

Sneaker DC proxies only support the username and password authentication method. Only our Royal residential proxies support IP whitelisting along with username and password authentication methods.
What is the thread limit on your proxies?

Our sneaker DC proxies have no thread limits as long as these threads come from different IP addresses. Our residential proxies also support unlimited threads and you can use them from different IP addresses simultaneously.
If a proxy gets banned before my 30-day plan expires, can you replace it?

We can replace your proxies within 24 hours after your order is confirmed. Once this period is over, the proxies you bought can't be replaced. We can't guarantee that your proxies will remain unbanned for the period you purchased them. Users occasionally get banned from websites, and we can't control this. The proxies we provide are unbanned at the time of purchase. However, we're not responsible for what happens to them after the initial 24 hours.
What is the difference between sneaker DC proxies and datacenter proxies?

Both sneaker and datacenter proxies offer unlimited bandwidth, same location support, and similar pricing. However, our sneaker DC proxies come from a private proxy pool with unique IPs optimized for sneaker and retail websites.
How long can you use each sneaker DC proxy?

The sneaker DC proxy you're using remains the same and is reserved for you as long as your sneaker DC proxy plan is active. If you decide to extend it, the IP address remains the same.
Try proxies now