Back to blog
Start-Up Guide to Using IPRoyal Residential Proxies

Residential proxies are a critical part of efficient web scraping. Most providers will allow you to choose a specific location and access the internet as a real user from that area. Now, let's say you made a purchase and you want to start using your IPRoyal residential proxies. What are your options? How to make sure you get the most out of them? Read on to find out.
As we already know, residential proxies are IP addresses provided to homeowners by an ISP. When you use IPRoyal residential proxies, they become a middleman for your device, taking care of all incoming and outgoing communications, enhancing your online privacy and security. Let's assume you purchased your IPRoyal residential proxies. To start using them, you need to get familiar with our dashboard.
Once you open up our dashboard, you'll be greeted with several options you can alter depending on your specific needs. This may be a bit confusing if you're just getting into proxies, so we'll cover each feature and explain what it does.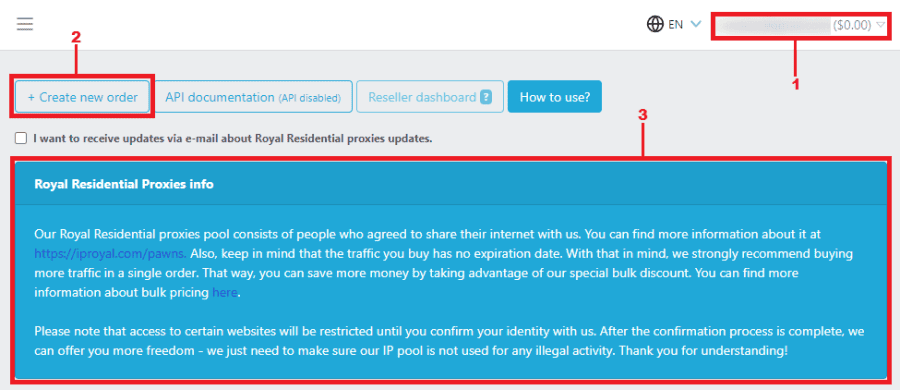 Here you can see the email you registered with and your current balance. Clicking on the button to the right will open your account settings. You can change your information there (name, username, email, phone number), set up two-factor authentication , verify your identity, deposit funds, or log out of your account.
This button allows you to create a new order. The ordering process is quite simple - all you need to do is select the amount of traffic you want. Remember, ordering more traffic grants a higher discount, and you can use it whenever you want.
Here you can learn a bit more about how IPRoyal residential proxies are sourced. There's also a quick reminder that your residential proxy traffic never expires, as well as an explanation of why it's necessary to confirm your identity with IPRoyal before accessing certain websites using residential proxies.
Moving down, you can learn more about the key features of IPRoyal residential proxies.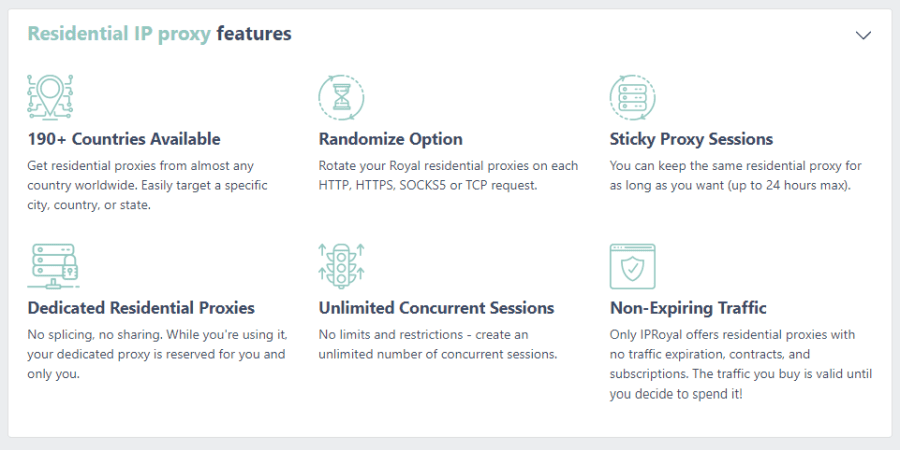 Below this section, you'll find your current available traffic. IPRoyal also offers a reminder that informs you once your remaining traffic falls below a certain threshold. This way, you won't run out of traffic when you need it the most.

We're now at the point where you need to configure your proxies before you start using them. Let's go over the settings you can change and explain what they do, along with the options available to you.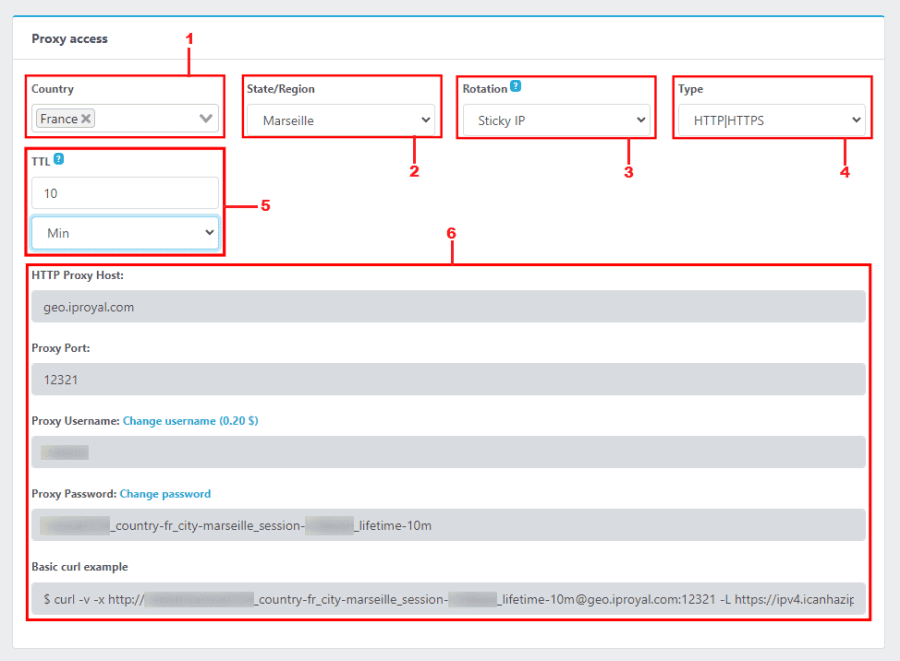 Here, you can select the source country for your proxies. You can select up to two countries or leave it at Random and the system will handle the selection.
Once you select the source country, you can get even more specific. The State/Region section allows you to select a specific region or city from your source country.
The Rotation section allows you to select between rotating proxies (getting a new IP address on each request) or sticky proxies (using the same IP for a set period).
In the Type section, you can choose between HTTP/HTTPS and SOCKS5 protocols.
The TTL (time-to-live) section allows you to select how long you'll use a single IP address before switching to a new one. You can be very specific here and set a time anywhere between one second and 24 hours.
Here you'll see the specifics that reflect your choices from above. In the example, we chose proxies from Marseille, France, that use HTTP/HTTPS and rotate every 10 minutes.
You can copy your credentials from here (proxy host, port, username, and password) if you need a single proxy. However, if you need a larger number, you can generate a proxy list below.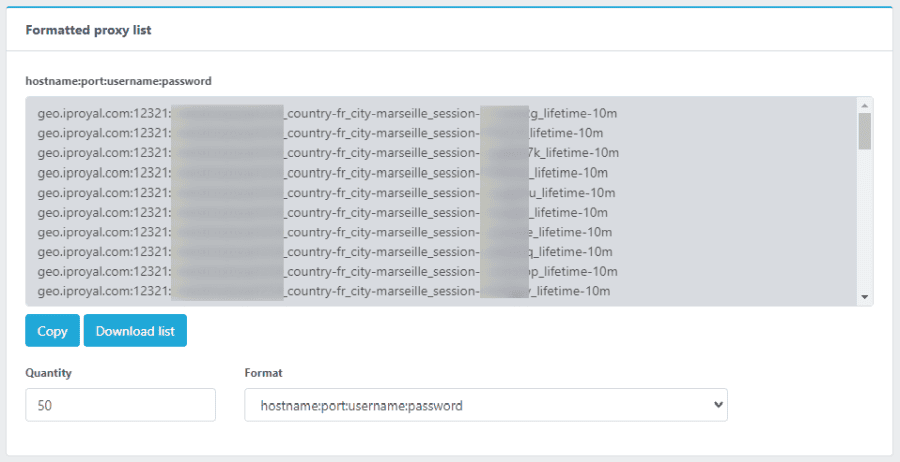 As you can see, you can set the number of proxy servers depending on your needs and the appropriate format that suits your intended purpose. Finally, you can use the Copy button to copy the list to your clipboard or the Download List button to export it in .TXT format.
Once you've got your proxy list, you can go ahead and set your proxies up. You can add them to Google Chrome or Mozilla Firefox using our proxy manager . Nothing is stopping you from using them with AdsPower , Kameleo , Parsehub , SessionBox , Shadowrocket , or any similar tool. You can also create your own web scraping setup with JavaScript , Python , PHP , and cURL !
Our residential proxies are ethically sourced and 100% authentic, so you can use them for all sorts of projects. If you ever run into any issues, don't hesitate to get in touch with us. Our support team is available around the clock and always ready to help you make the most of your proxies!
Learn more
Want to learn how IPRoyal can help you personalize Proxies at scale?