One of the Best Australia Web Proxies
Whether you want to access Aussie banking services or local TV content when traveling abroad or scrape localized data for business purposes, reliable Australia web proxies can help. It's the best and easiest way to browse the web and use online services as if you're physically there. Besides unblocking Aussie content and gathering data, premium proxies can enhance your privacy and security online. At IPRoyal, we offer fast and reliable Australia proxies sourced ethically and transparently. We have hundreds of thousands of Australian IP addresses that provide the fastest speed possible with a 99.9% uptime. Our premium Aussie proxies come with HTTP(S) and SOCKS5 support, sticky and rotating sessions, and city-level targeting.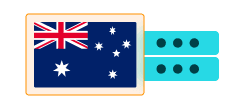 Want to know most important points about Australia web Proxy?
An Australian web proxy server is a server located in Australia that acts as an intermediary between you and the internet. When you use an Australian proxy server, your internet traffic is routed through this server before reaching its final destination.
This can help you browse the web as an Aussie, hiding your true location and IP address from websites and services that you use. Since you'll be using another IP address from Australia, you can surf the net anonymously, which increases your privacy and security online.
FAQ
What is a proxy?

A proxy server acts as a middleman between your device and the internet. They take your web requests and send them to the destination server using their own IP address. In the same manner, they take the responses from websites before they send them to you.
Is web proxy illegal?

Using a web proxy is not illegal. Still, the legality of using web proxies depends on how they are used and in which country. For example, some countries don't allow using a proxy to bypass online censorship.
Have a large project?
Our proxy experts are always available to help you find the right solution for any need.
Have a question? Get in touch!