IPRoyal FireFox Proxy Add-on
Set different proxies for each protocol

Create profiles and switch with a click

Manage proxies without altering OS settings

Avoid geo-restrictions and IP blocks

Use proxies from any provider
Add extention
What is a Proxy Extension?
When it comes to modern-day online privacy, proxies are an essential tool. They take all your requests, replace your IP and other identifying information with their own, and send it to the destination. They also receive all incoming information before forwarding it to you. In other words, a proxy serves as a "buffer" between you and the rest of the internet. This simple functionality keeps your network safe from malicious content and attacks while providing a high level of privacy. There are several ways you can set up a proxy server, including settings in your operating system and your browser. This can be tiresome because it requires digging through countless menus and sub-menus. If you need to switch between different proxies on a regular basis, this tedious procedure can significantly impede your productivity.
With a simple proxy management extension like IPRoyal Proxy Manager, this process is simplified down to the core. You can add an unlimited number of proxies and switch between them with a single click right in your browser. There's no need to dig through options and enter the details manually whenever you want to use a different proxy. This saves a lot of time and allows you to take full advantage of proxies without slowing down.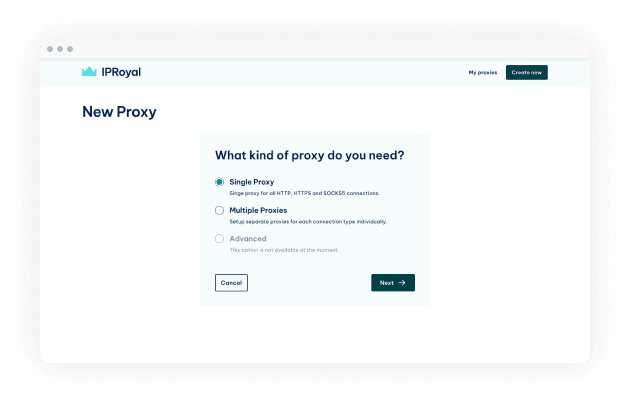 How to use the IPRoyal Proxy Extension
First, download the IPRoyal Proxy Manager from the Firefox web store. Once it's installed, all you need to do is click on Options, and you can start creating new profiles.
The extension offers single and multiple-proxy profiles.
A single-proxy profile is used for all browser traffic.
You can use a multiple-proxy profile to set up different proxies for each protocol (HTTP, HTTPS, and FTP), as well as a fallback proxy your browser will use in case any of the proxy servers assigned to a specific protocol stop working for whatever reason.
If you don't have any proxies you can use, IPRoyal's Proxy Manager features quick links to their offerings:
Residential Proxies

Powered by real users, making them indistinguishable from regular traffic, so they're perfect for web scraping and location-critical data gathering.

Datacenter Proxies

Unlimited bandwidth and high speeds. Each proxy is reserved just for you, providing private IP authentication and complete anonymity online.

Sneaker Proxies

Tailored for people who need to buy the latest limited-edition sneakers and other exclusive merchandise online. They work with all sneaker bots on the market.

Static Residential Proxies

Great for avoiding geo-restrictions and any IP-based bans or blocks, so you can experience the internet without limitations.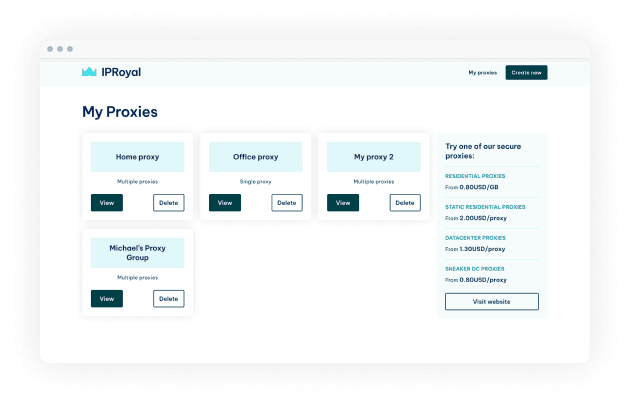 Easy Proxy Management
Now that you've added your proxies and created your profiles, you're good to go!
You can switch between your proxies by clicking on the IPRoyal Proxy Manager icon in Firefox and selecting a different profile.
You can turn off your proxies completely and turn them on again as needed with a single click. It's that easy!
Where to Get the Most Reliable Proxies?
You may be tempted to use a free proxy or two. After all, the internet is full of them. This is a bad idea, not just from the privacy and security standpoint, but in terms of reliability as well. Free proxies are free for a reason. Some of them are nothing but a front used by hackers to get your private information. Others are highly unstable because they're available to everyone, and there's no way to know how many people are using them with you. Their speed often varies and they can stop working at any time.
Have a large project?
Our proxy experts are always available to help you find the right solution for any need.
FAQ
Do I need a proxy extension?

A great Firefox extension like IPRoyal's Proxy Manager can be very useful, mainly if you use several different proxies and switch between them regularly. It significantly speeds up the process and allows you to go from one proxy to another without changing the operating system or browser settings.
What is the best proxy extension for Firefox?

While there are countless options out there, IPRoyal Proxy Manager is an excellent choice for people who need a simple extension to manage their proxies. You can create as many profiles as you want with different proxies for each protocol and switch between them with a single click.
Have a question? Get in touch!