Back to blog
How to Set Up an Antik Browser Proxy With IPRoyal

There are countless reasons someone would need an anti-detect browser. Businesses, marketers, dropshippers, website testers - the list is substantial. They're just as suitable for individuals who are simply looking for more online privacy.
System information, browser settings, profiles, user agents, installed extensions, cookies - keeping track of all this information manually is a lot of work. An anti-detect browser handles all of it with just a few clicks or automatically.
In this article, we'll explain how to set up an Antik Browser proxy with IPRoyal!
What Is the Antik Browser?
Antik Browser allows users to create and control countless unique browser profiles on a single Windows device. It's a team-focused solution with detailed fingerprint manipulation, sharing between users, API integration, and other advanced features.
The thing that sets Antik Browser apart from other similar solutions is the fact that it uses authentic device fingerprints. Users can control quite a few parameters, including:
WebRTC and WebGL
User agents
Language
Display settings
OS settings
Time zone and more.
However, setting up different browser fingerprints and profiles is a waste of time if all activity comes from the same IP address. Residential proxies are essential to ensure maximum privacy, and that's where IPRoyal comes into the picture.
Why Use IPRoyal as Your Antik Browser Proxy Provider?
IPRoyal's residential proxies are a perfect choice for Antik Browser. Here are the key advantages of our proxies:
Global residential proxy pool (195+ countries)
Non-expiring traffic
No contracts, no monthly limits
Precise geo-targeting options (country, state, city)
Budget-friendly prices with excellent bulk discounts
Each IP address in our residential proxy pool comes from a genuine device with an authentic ISP internet connection. In other words, each profile you create in Antik Browser will be indistinguishable from authentic internet users, regardless of the location you choose.
Setting up an Antik Browser Proxy With IPRoyal
To get started, sign up on the Antik Browser website.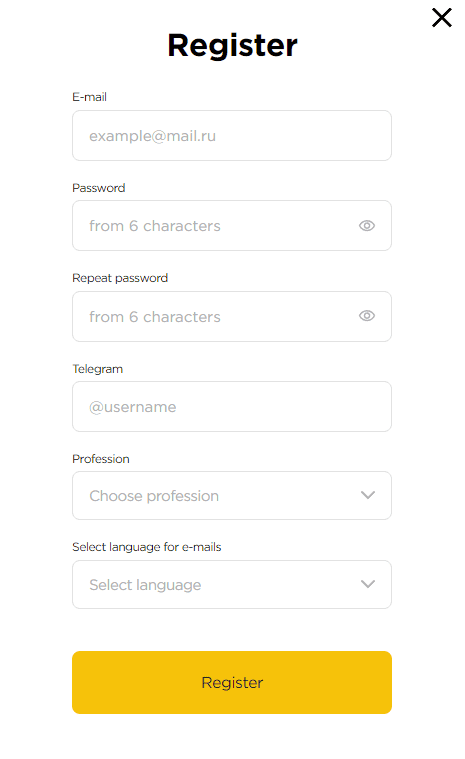 Download the latest version of Antik Browser and install it on your device. Once you run it, sign in.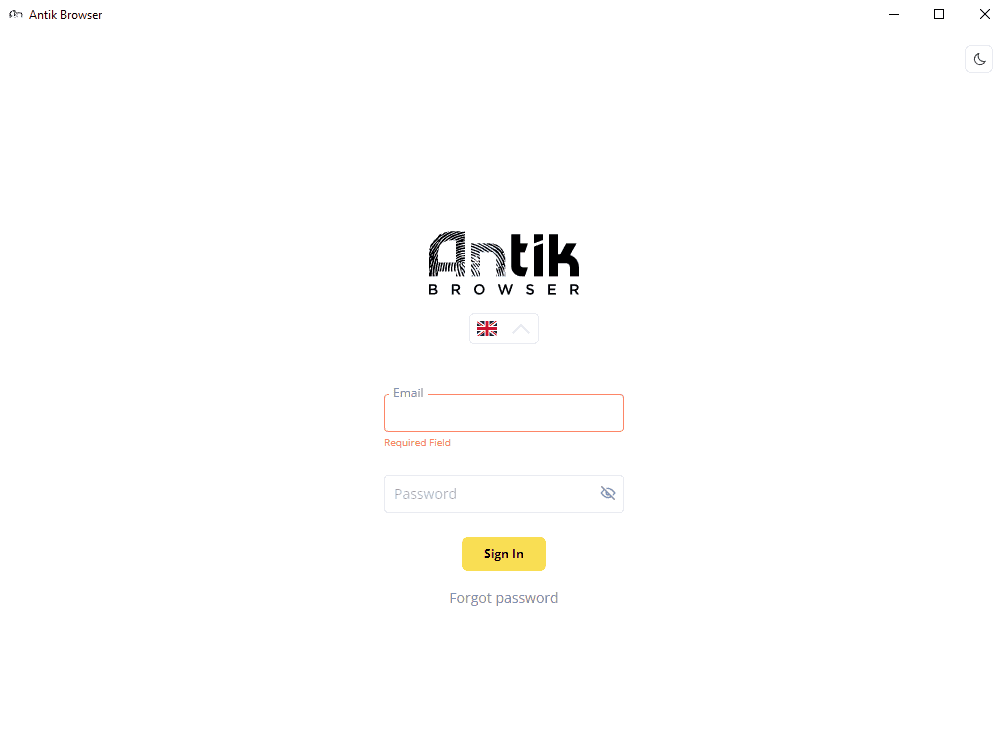 Once you do, you can add your proxies. Click the Proxy icon.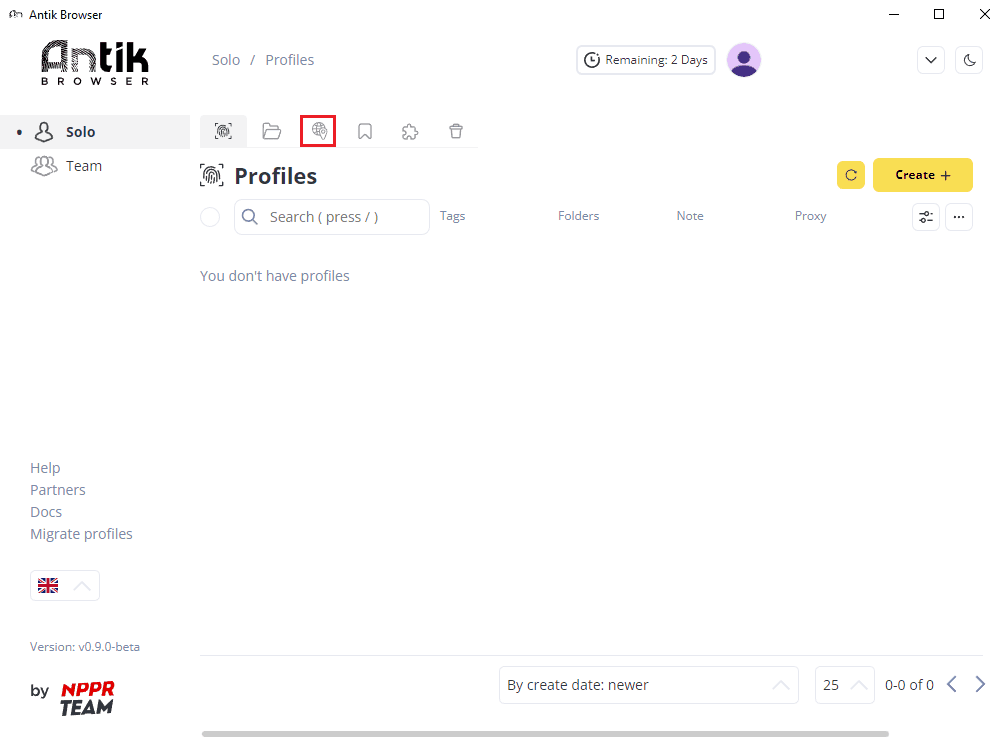 Now it's time to get your proxy credentials from the IPRoyal dashboard. Make sure you configure the location, rotation, and proxy type. Turn the high-end pool option on or off as needed.
This time, we'll use high-end IPs from Paris, France, with a session time of one hour and SOCKS5 protocol.
Once you have your proxy settings configured, scroll down to the Formatted Proxy List field. Here you can select how many proxies you want to generate (1) and the format you want to use (2). Antik Browser recognizes the standard hostname:port:username:password format, so there's no need to make any changes.
Once you're done, click the Copy button (3) to copy your proxy list to the clipboard.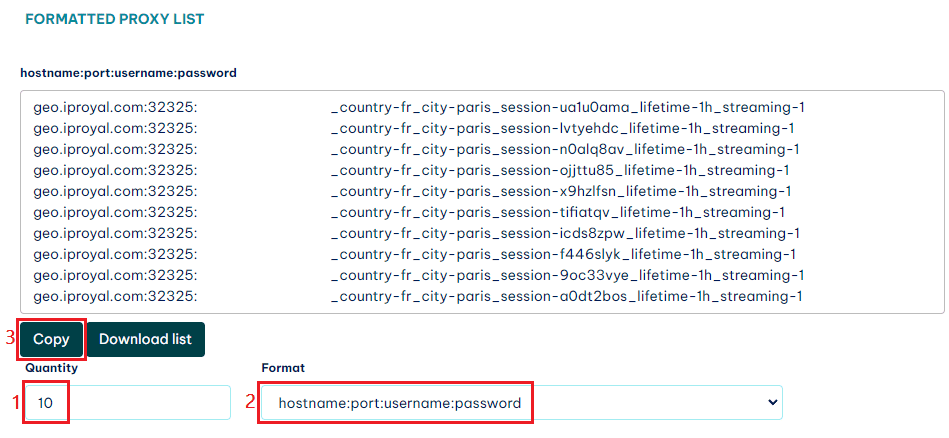 Now it's time to get back to the Antik Browser. Click the Create button to add your proxies.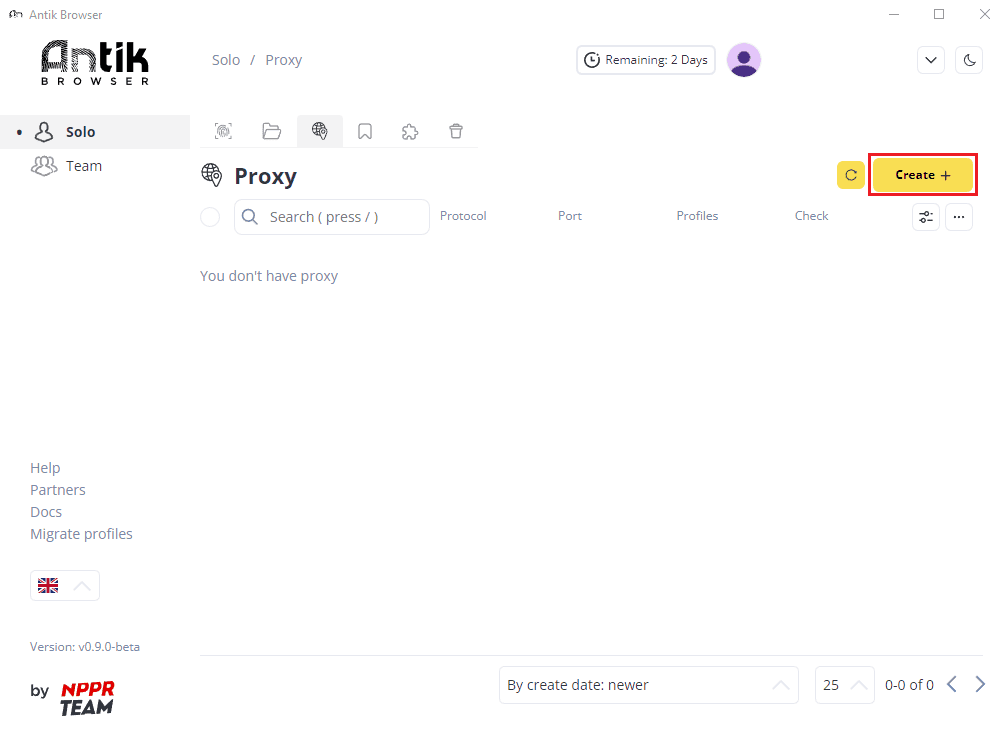 Paste your proxies in the Proxy text window.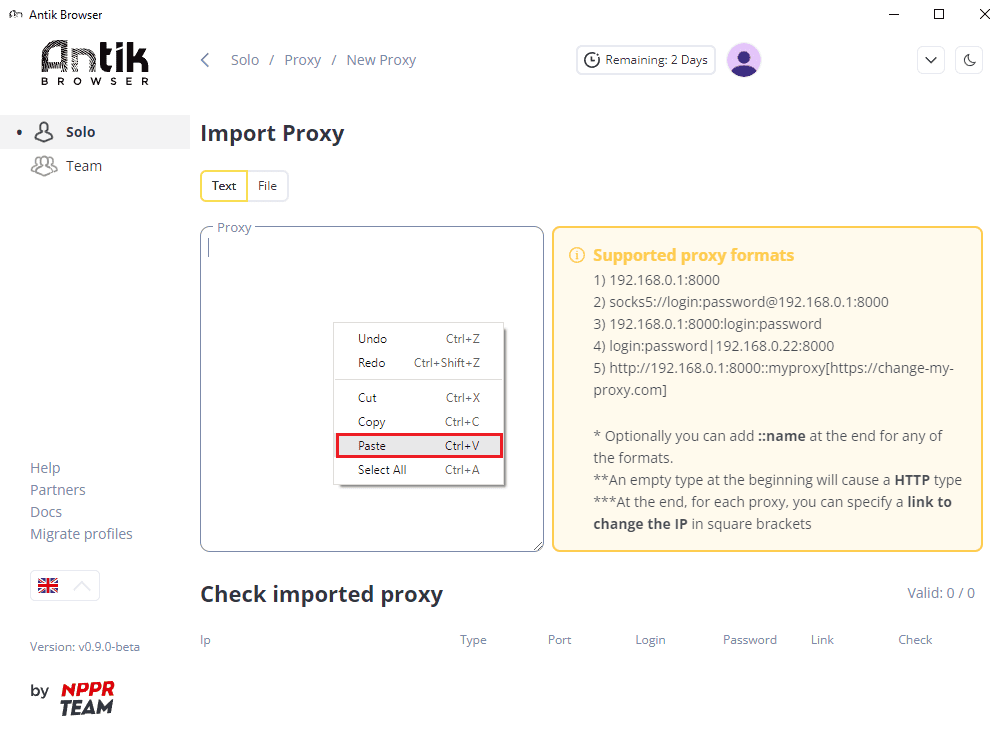 Now it's time to test your proxies. Scroll down and click the Check all proxy button.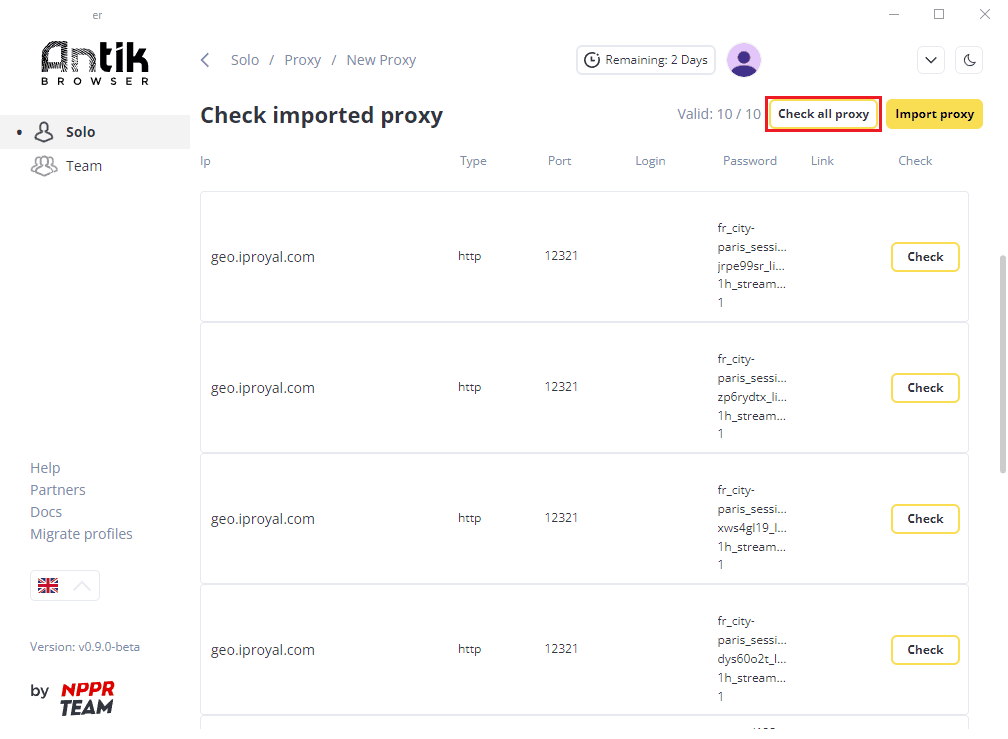 Once the process is complete, you'll see the current status and the location of each working proxy. Click the Import proxy button.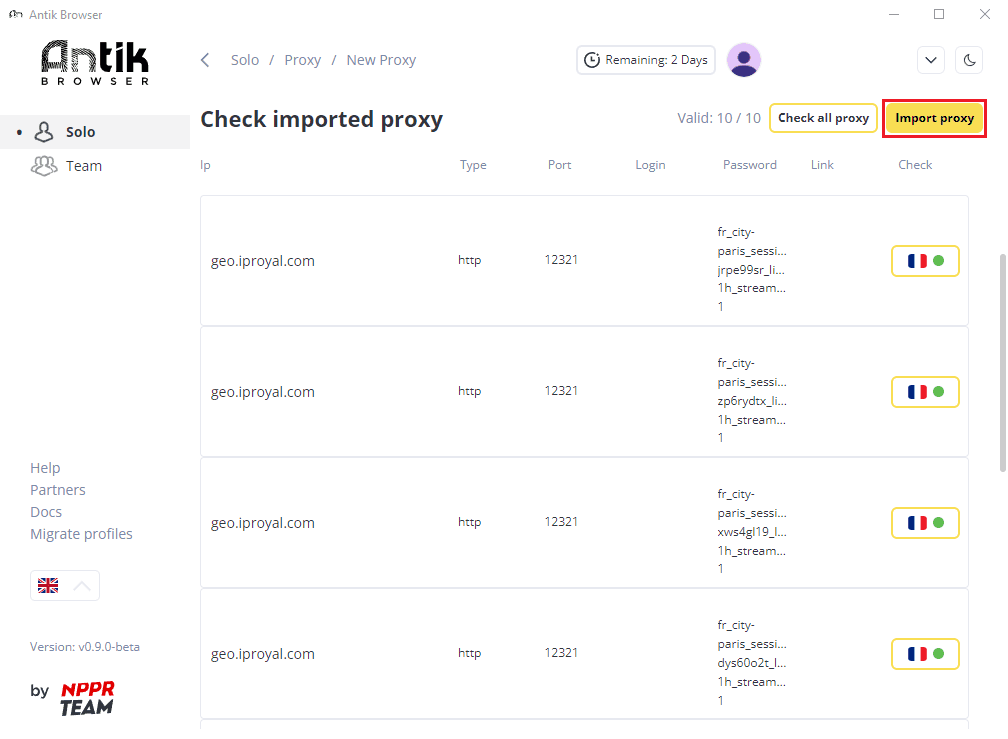 Here you can assign names to each proxy, check their status, and more. Return to the Profiles tab when you're done.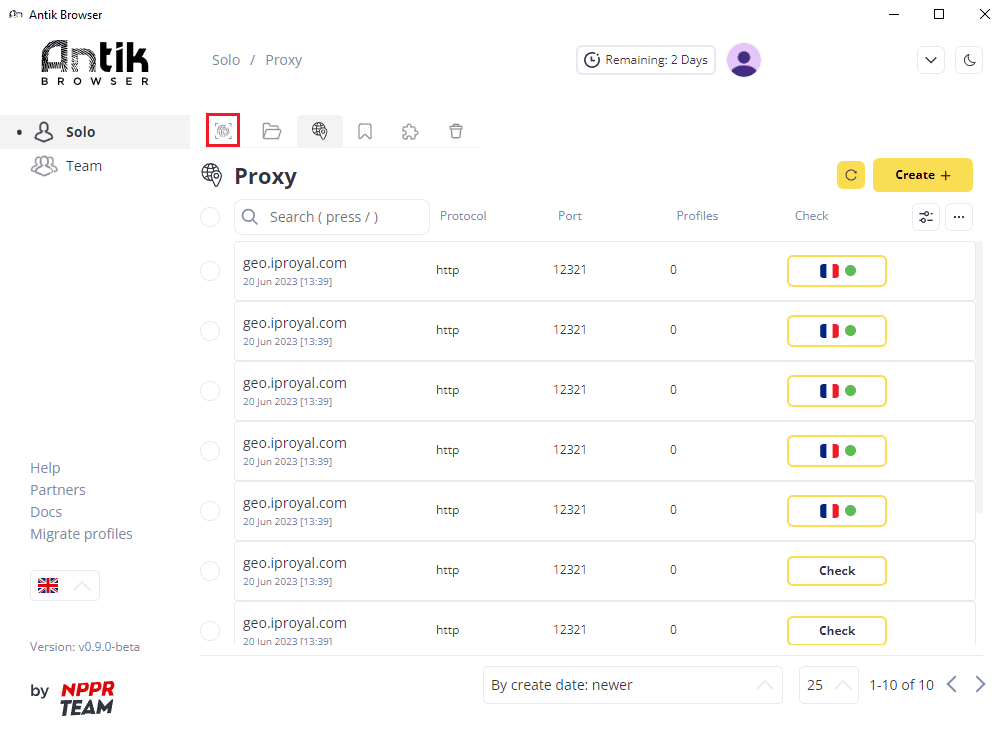 Now it's time to create a profile and test whether our proxies work correctly. Click the Create button and set up a profile. Scroll down to the Proxy section, set the selection to From List, and choose one of the proxies you imported. Click Create when done.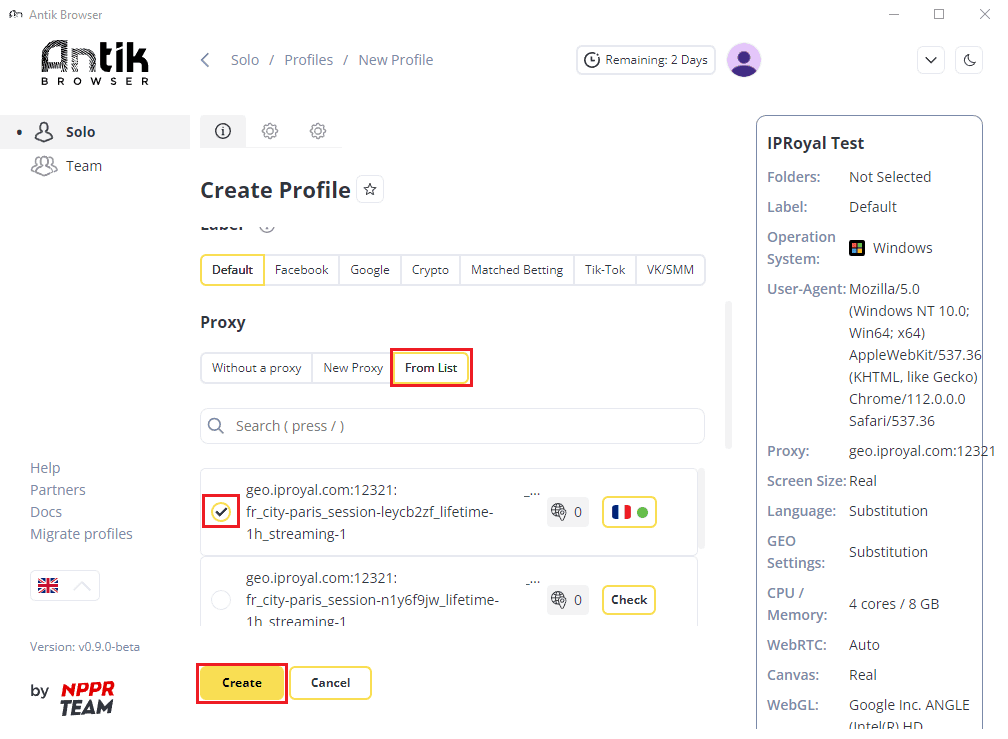 To start using your profile, click the Start button.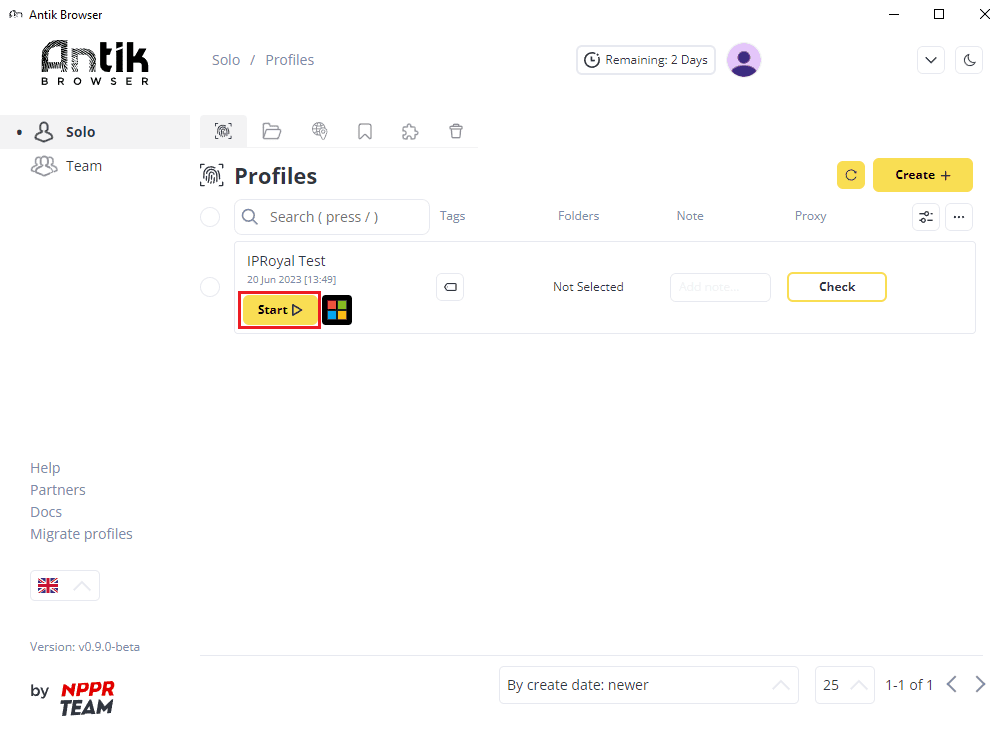 A new browser window will open and take you to a website where you can check your IP address.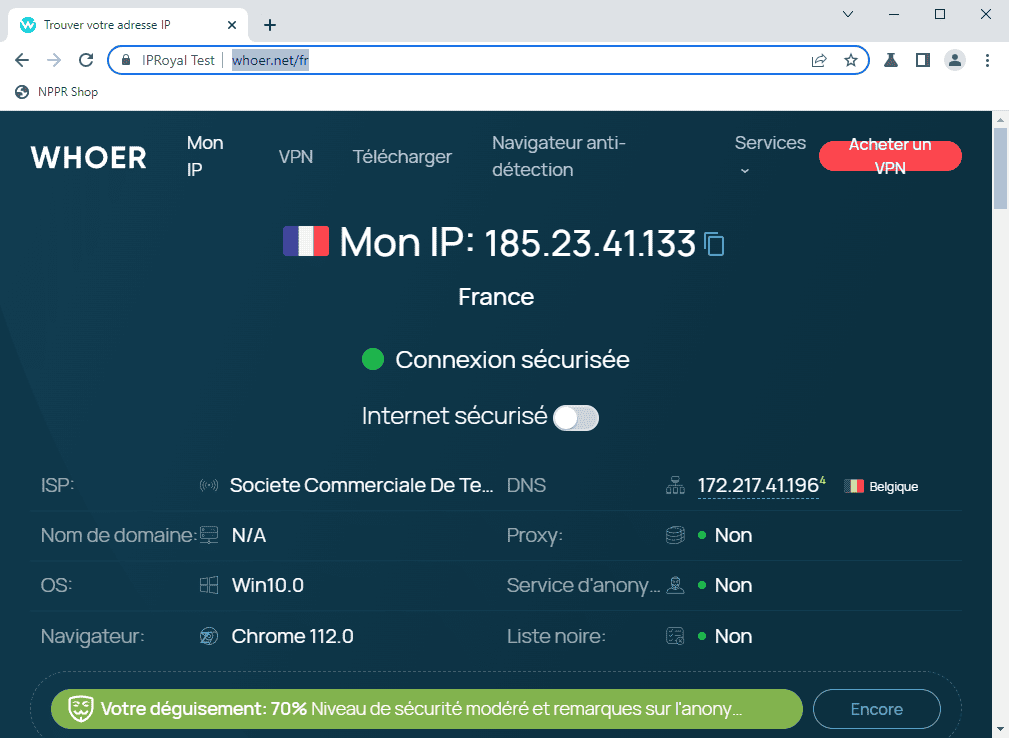 As you can see, we have a French IP address with the ISP and DNS information. It's also not recognized as a proxy or blacklisted in any of the known databases. You can scroll down to find more information about your current browser fingerprint.
Final Thoughts
The Antik Browser offers some great browser fingerprinting features. It also comes with a free trial with minimal functionality limitations, so you can test it out at zero cost. In terms of setting up proxies, it's as easy as with other similar tools.
Learn More