Puffin Proxy
This post aims to familiarize you with the Puffin Browser and how to use proxy servers to get past its restrictions while remaining completely anonymous. Read on to understand how!
Buy now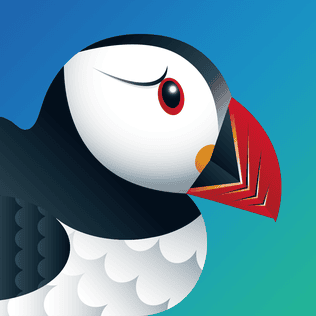 Want to know most important points about Puffin Proxy?
Puffin may appear to be a standard browser at first glance, but it hides a lot of functionality. A web server transmits data containing HTML, CSS, and JavaScript code to the user's browser when they type an URL into a standard browser. The browser engine subsequently converts these components into the web page you seek to view. Puffin is unique in that it renders websites in the cloud. Users benefit from this technological approach in several ways:
You can't download malware from dodgy websites because you're not downloading anything. All your data is encrypted in the Puffin Cloud. Data transfer is faster, enabling websites to load quickly compared to traditional browsing.
Puffin has received 150 million downloads to date. Even though it has fewer users than popular browsers such as Chrome or Firefox, it has fans worldwide. However, Puffin is not free, and if you want to use it without advertisements, you'll have to pay for a membership.
FAQ
What is a Puffin proxy?

A Puffin proxy is a server that replaces your IP with a different one so you can access the browser without any restrictions. Additionally, this proxy masks your identity on the web, meaning your online footprint cannot be tied to your original IP address.
What are the best proxies for Puffin?

There's no best proxy for Puffin or any other browser. Both residential and datacenter proxies have pros and cons, so the best option for you depends on whether you care more about privacy or speed and affordability.
Have a large project?
Contact our proxy expert team, and we will ensure that our solutions help your business grow!
Christine Bradshaw

The fastest and kindest support I've ever seen. Manager May helped me with all the questions I had. They've got pretty big pool of Residential IPs and you can buy even 1 GB which is awesome when you don't need like 10 GBs

Nada Neuman

Very good product. I bought one of their offers and they meet my expectations. Very easy communication. After investigating the problems, I corresponded with the support and they solved the problems very quickly and helped me with some tools.

Peter McLane

IPRoyal is great. I am getting good connections in the USA. The best thing about IPRoyal is their service. They are available 24/7. I am a 67 year old and know nothing about proxies. They were very patient with me and did not rush me through the process. I love IPRoyal!
Have a question? Get in touch!