Back to blog
How to Get IPRoyal Residential Proxies

Looking to purchase IPRoyal residential proxies for the first time, and you're not sure where to start? You're in the right place. While we don't know how you got there, we can assume you did your research and realized that residential proxies are the best option for your specific needs.
In this article, we'll cover the purchase process for our residential proxies from start to finish. However, before we do that, we'll briefly review the factors you should consider before clicking the "Order" button.
What Makes IPRoyal Residential Proxies Stand Out?
Residential proxies serve the same purpose as all other proxy servers - keeping your IP address hidden from the rest of the internet. This simple feature can help you protect your online privacy, access geo-blocked content, and avoid all IP-based restrictions. Businesses and individuals use these proxies for web scraping, SEO research, social media automation, online shopping, and many other purposes.
But what makes a residential proxy stand out? There are several things you need to pay attention to:
A real residential proxy comes from a real residential device. It can be a PC, smartphone, or a tablet. These devices also have ISP-issued residential internet connections. When you use one of them as a proxy, your activity is indistinguishable from a real internet user in a location of your choice. At IPRoyal, you get access to over two million of these IPs by purchasing any amount of traffic.
There's only one right way to source residential proxies - by asking for permission from the IP owner and by compensating them for their bandwidth. We've seen countless instances of shady proxy sourcing in the past, so we built our award-winning residential pool on full transparency. This way, we ensure our clients get real residential proxies with the highest possible trust scores and success rates for all sorts of tasks.
Having as many IPs at your disposal as possible is critical for certain types of tasks. With two million residential proxies, precise geo-targeting for 195 countries, and customizable rotation options, you can use your traffic however you please.
Residential proxies are usually not cheap. Most providers offer plans with a limited amount of traffic you can use over a certain period. With IPRoyal residential proxies, you don't have to worry about that. You can buy any amount of traffic and it remains yours until you spend it. Our starting prices are highly competitive, and they only get lower when you buy traffic in bulk.
A great service is not very beneficial without great support. No matter what your needs may be, getting assisted promptly in case of any issues or technical problems can save time and money. A great customer experience is very important to us, so our support team is available 24/7 and our average response time is under 60 seconds.
Purchasing IPRoyal Residential Proxies
We'll assume you already made your account on IPRoyal. To make your first order, start by signing in and visiting the dashboard. Now, you have two options - you can add funds to your account balance or make an order right away. Just to be sure we've covered everything, we'll go over both options.
Adding Funds to Your IPRoyal Account
To add funds to your IPRoyal account, you need to log in to our dashboard.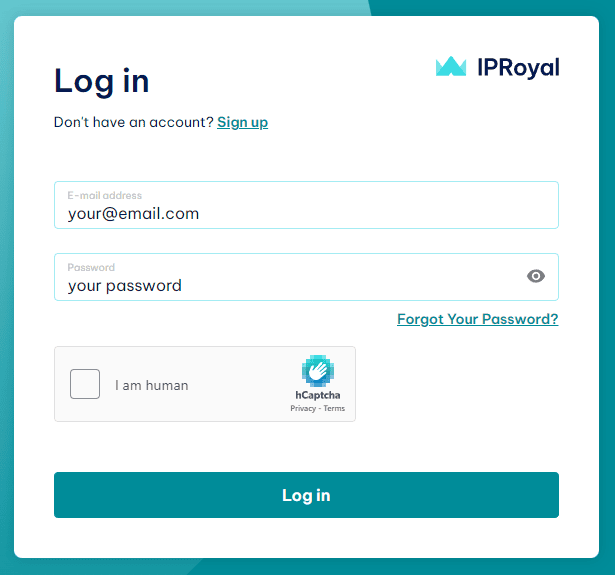 Once you do, click on your email address (1) in the top corner. A drop-down menu will appear - select Deposit (2).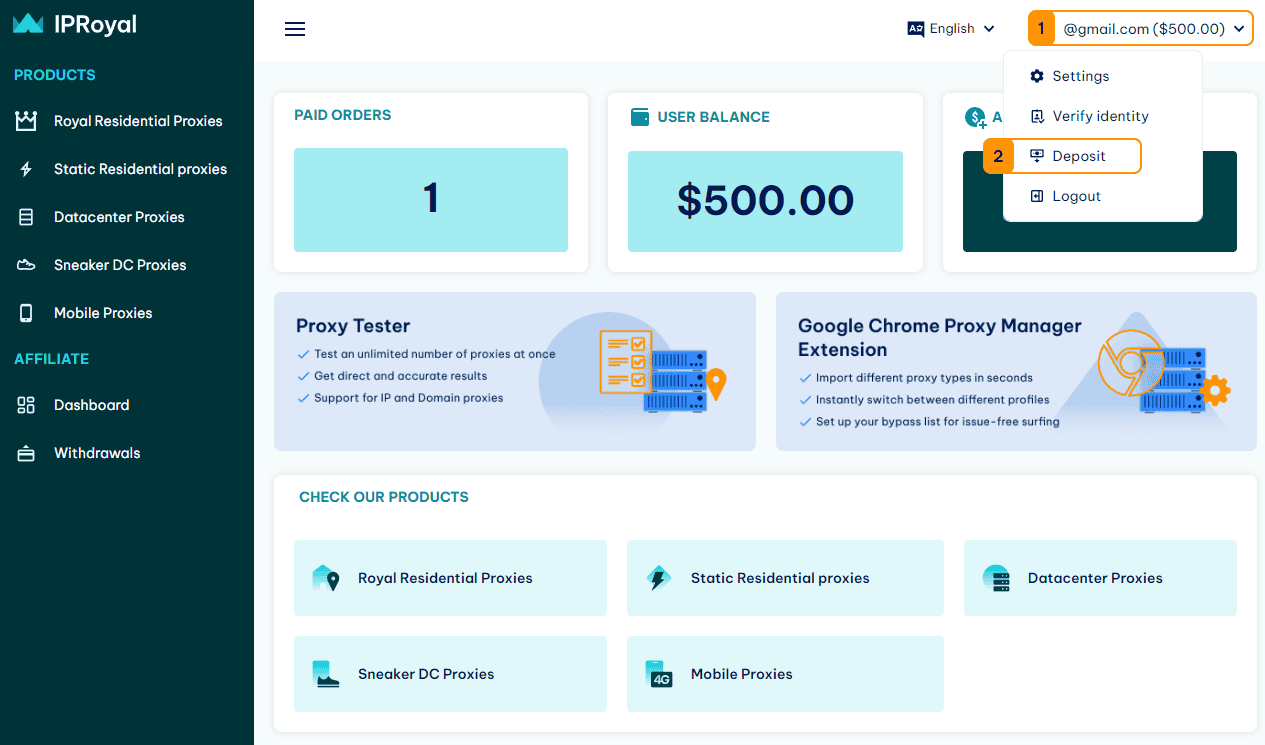 This will take you to the Deposit page. From here, you need to select your preferred payment method (1) and enter the necessary information (2) depending on your choice. We currently support:
Credit cards
PayPal (after confirming your identity)
Wire transfers
70+ cryptocurrencies
Fill the Deposit amount and Currency fields (3) as needed.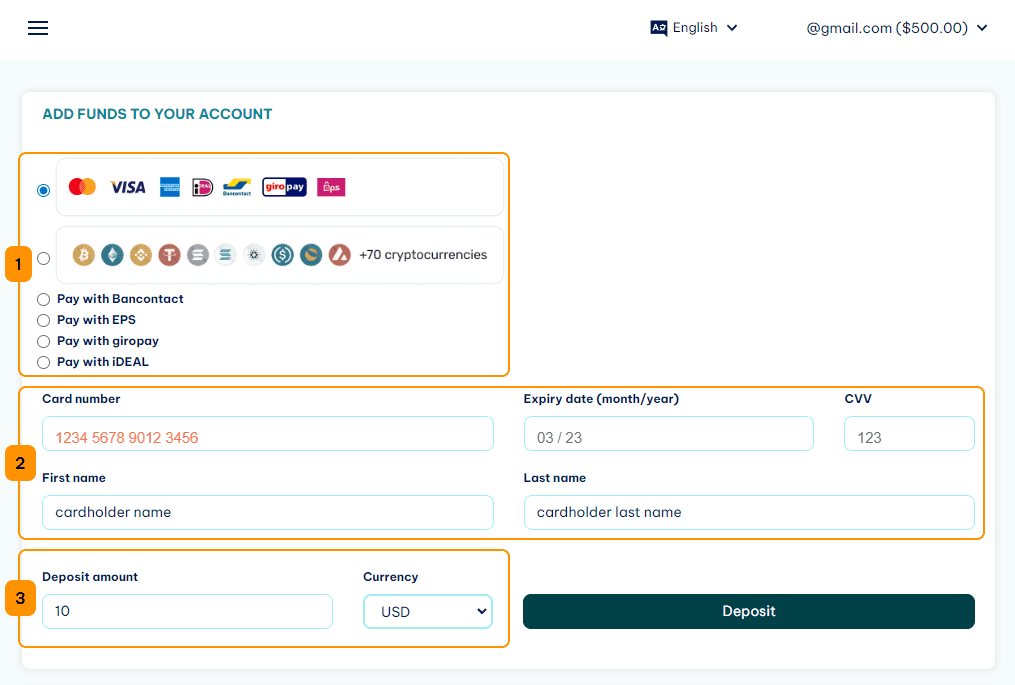 Once you enter all the necessary information, click on Deposit. You will receive a notification that you successfully made a deposit (4), and you'll be able to see it in Your latest deposits (5).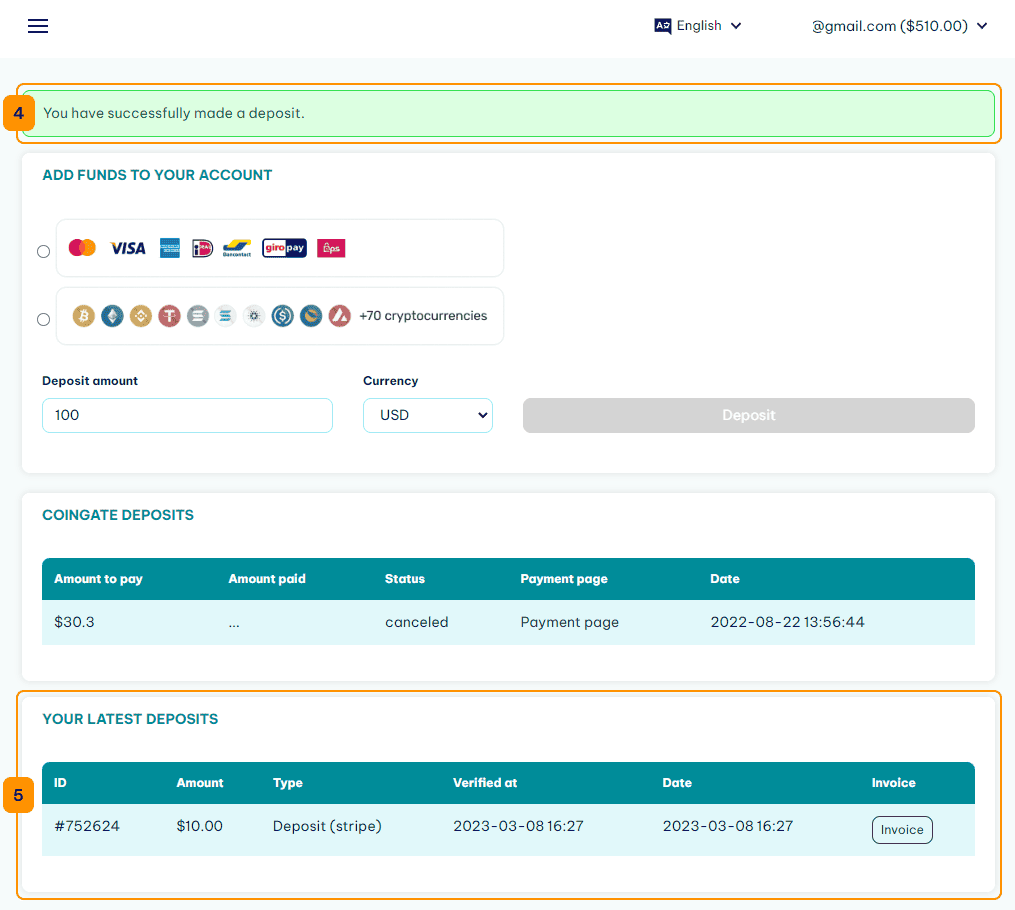 Congratulations! You can use these funds to purchase Royal Residential traffic!
Placing Your Order
To order residential proxy traffic, click on Royal Residential Proxies in the navigation menu (1) and then the Create new order (2) button.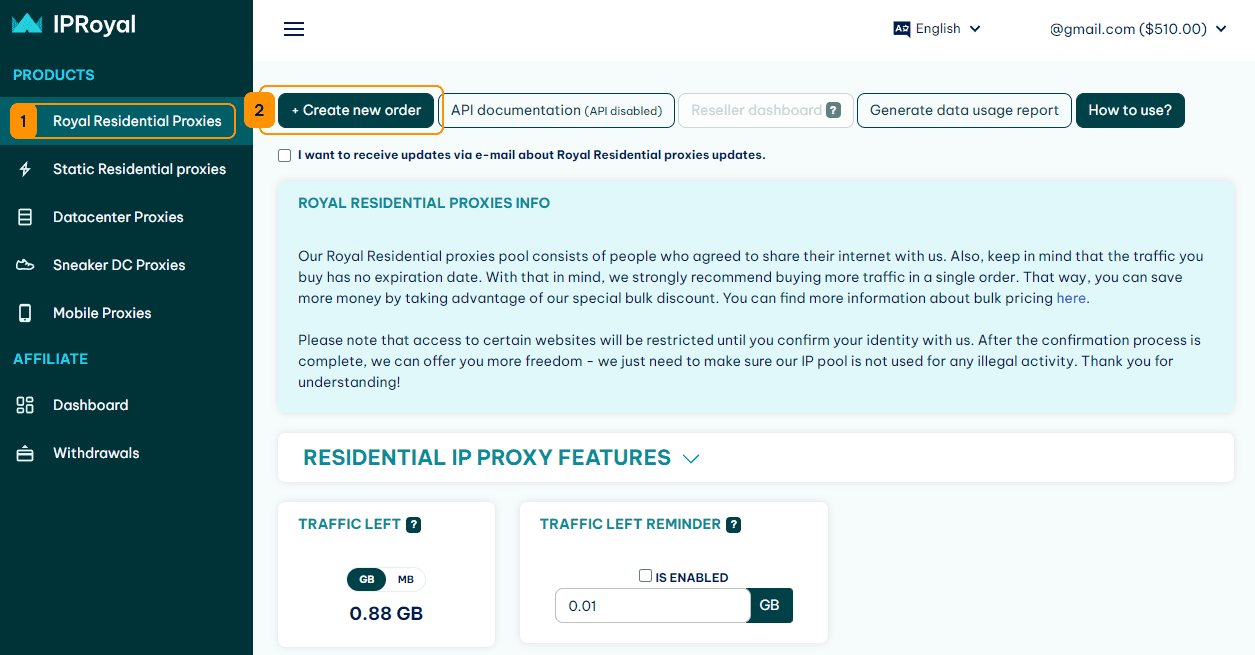 In the new order window, you need to select the plan (3), and then the amount of traffic (4) you want to buy (in GB). Once you're done, click the Confirm button (5).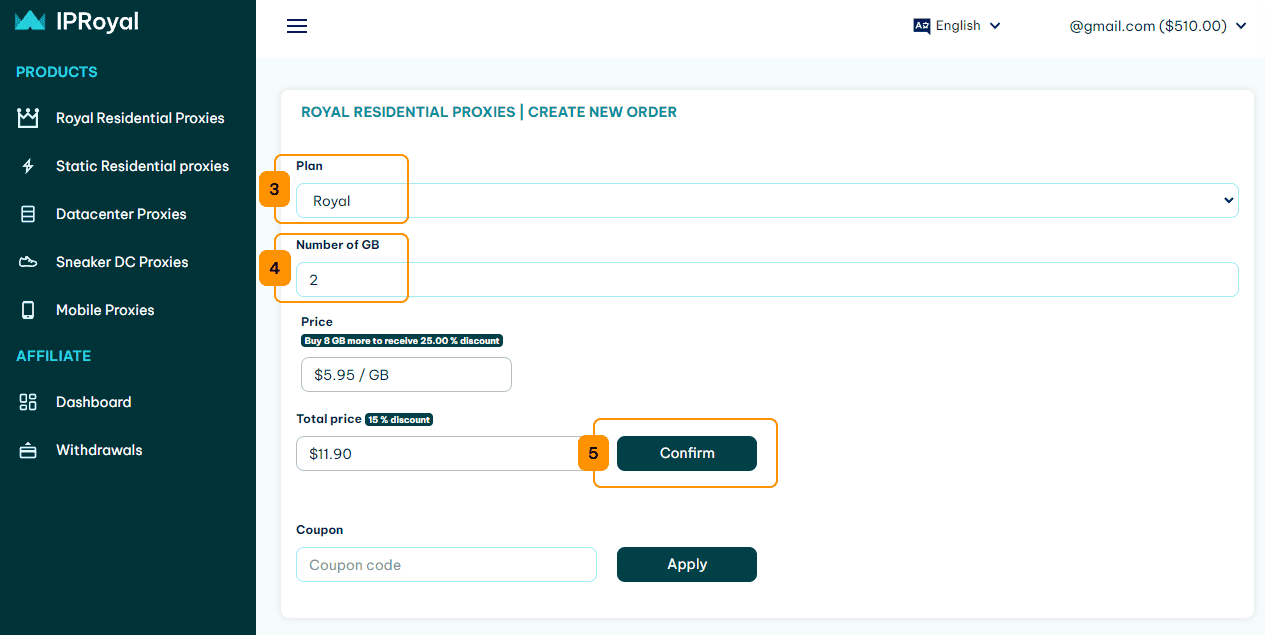 Once you click the Confirm button, you will get an overview of your order. The final step is to select your preferred payment method (6). Note that you can use your account balance (if you made a deposit) or one of the other available payment methods. Don't forget that you can only use cryptocurrency payments from the Deposit page. After you've chosen the payment method you wish to use, click the Pay (7) button.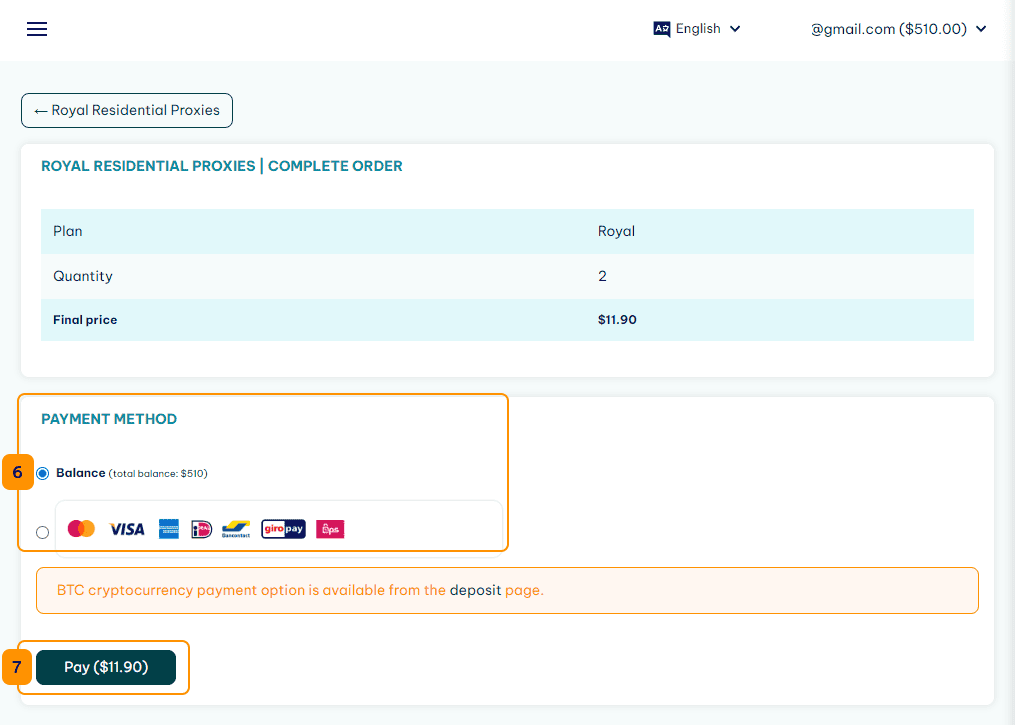 You've successfully placed your order! You'll see an order confirmation page that shows your order's current status and other relevant details.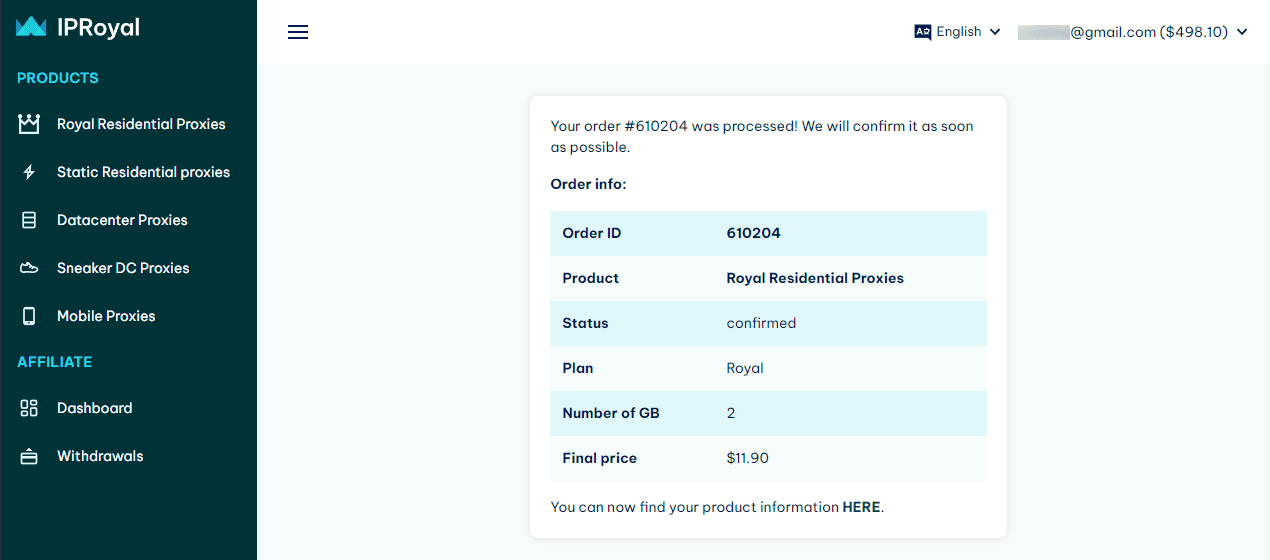 Once we confirm your order, we will send you an email. You can start using your Royal Residential proxy traffic!
Final Thoughts
If you're looking for more information on our services, make sure to check out our quick-start guides and FAQ section. Our blog also offers lots of useful content. You can find integration tutorials for popular tools, a how-to section for those looking to develop their own solutions, and more.
Finally, if you need help setting up or run into any problems along the way, don't hesitate to contact us. Our support team is available around-the-clock and ready to help you make the most of our services!
Learn More