Back to blog
How to Set Up an Incogniton Proxy With IPRoyal

For a long time, managing multiple accounts on platforms that don't support it used to be anything but a breeze. You needed a different device for each account, VMs, or virtual private servers. Fortunately, we've seen huge advancements in this field lately.
Enter anti-detect browsers and their browser fingerprinting capabilities. With these tools, you can set up an unlimited number of accounts and manage them from a single device.
Incogniton is an anti-detect browser that offers some great features, including:
Data storage and synchronization
Team accounts support
Selenium and Puppeteer integration
Fingerprint generator
Bulk profile creation
It also has a few useful options you won't find anywhere else, like human typing emulation for website form filling. Finally, you can create up to 10 browser profiles for free. Most similar tools offer a limited trial, so this is another plus for Incogniton.
However, your multi-account setup can only do so much on its own. To take full advantage of running multiple accounts on a single device without compromising your privacy and anonymity, you need a robust Incogniton proxy.
Why Use IPRoyal as Your Incogniton Proxy Provider
If you're looking for an Incogniton proxy solution you can rely on, IPRoyal has you covered. We offer:
Residential IPs in every corner of the world
Zero contracts and non-expiring traffic
Country, state, and city-level targeting
Great bulk discounts
When it comes to Incogniton proxy options, using just any server you can get your hands on won't work. Many websites, apps, and online services don't allow using proxies at all. Others have extensive databases of blacklisted IPs. So, if you go with free proxies or something similar, you risk losing your precious accounts.
At IPRoyal, we take a simple yet effective approach to ensure this doesn't happen. All our proxies are 100% residential. In other words, you're getting IP addresses of real devices with real residential internet connections. In other words, each Incogniton browser profile you create will be indistinguishable from a genuine internet user.
Setting up IPRoyal Proxies in Incogniton
To get started, download Incogniton and install it. Run Incogniton and sign in or create your free account.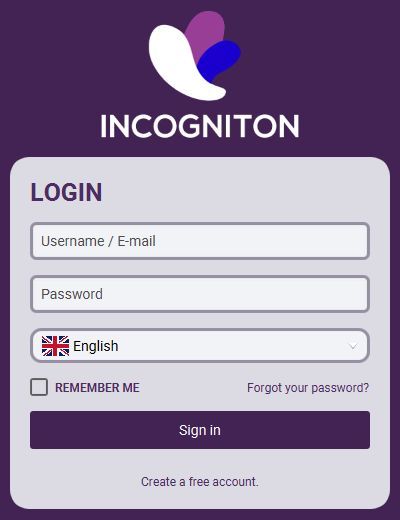 Navigate to Profile Management and click on New Profile.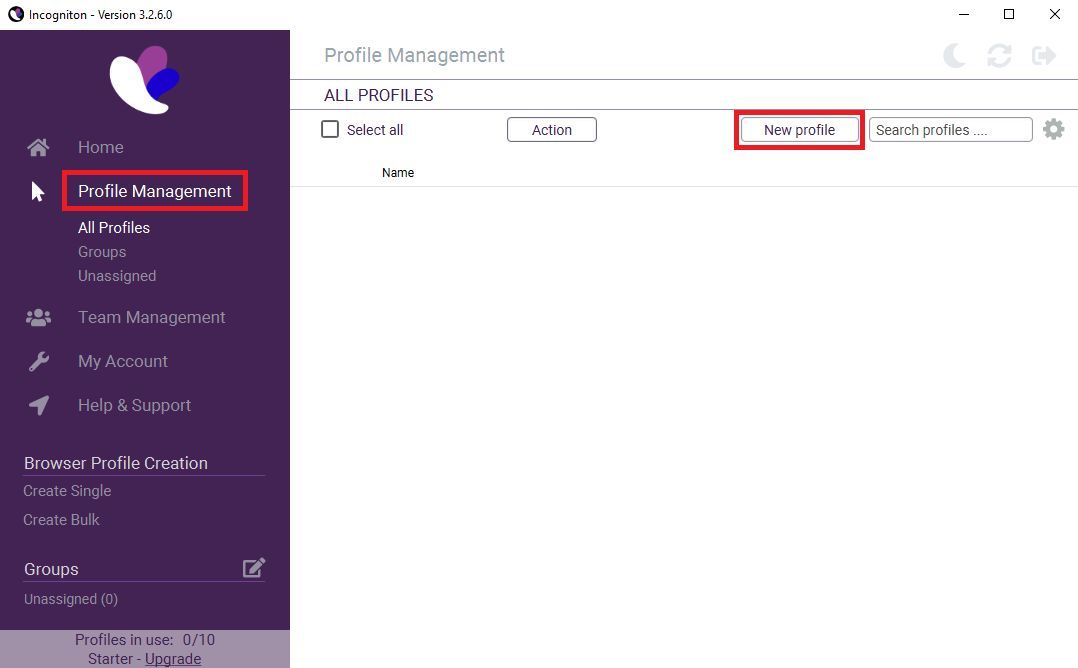 Click on Proxy in the navigation panel.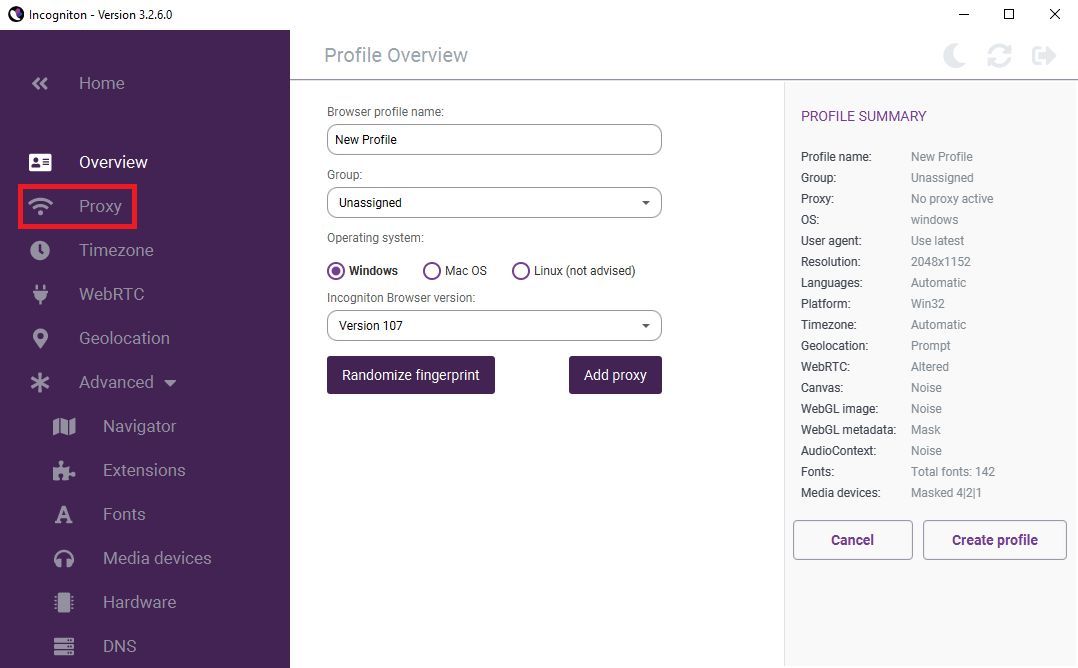 Now go to your IPRoyal dashboard. We'll use Royal Residential proxies here. Let's say we want to use SOCKS5 proxy servers from Amsterdam and get a new IP address every two hours. Set your preferences in the IProyal dashboard.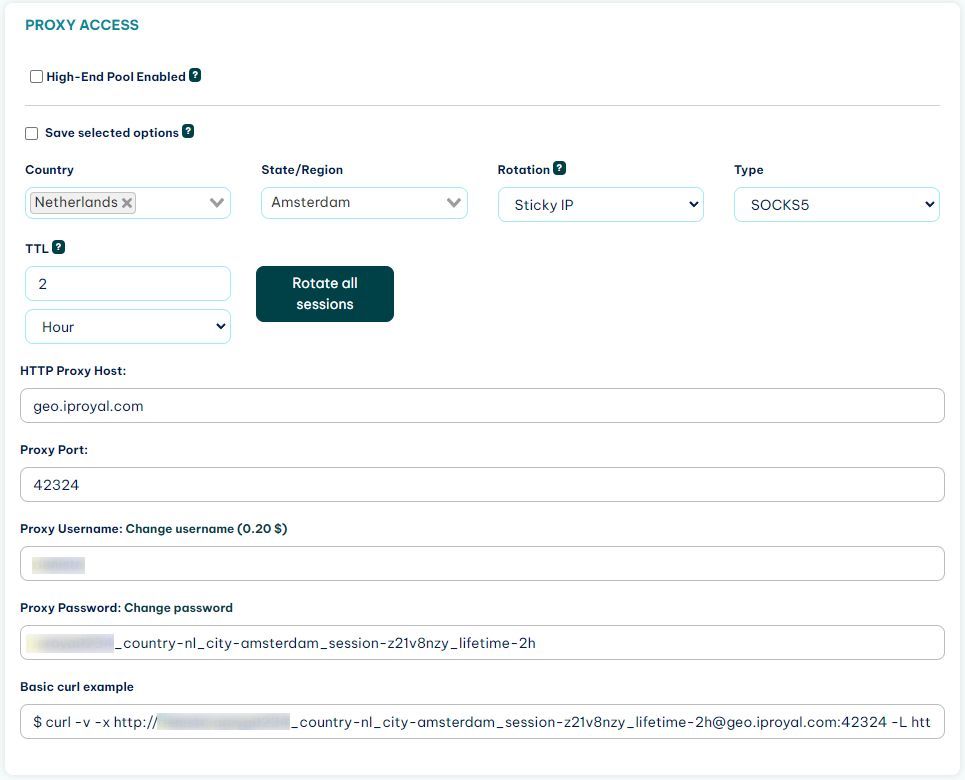 Switch over to Incogniton and choose Socks 5 proxy as the Connection type. If you want to use HTTP/HTTPS proxies from IPRoyal, don't forget to select HTTP proxy here. You'll need to copy the following information over to Incogniton:
Proxy IP and port (HTTP Proxy Host and Proxy Port from IPRoyal)
Your IPRoyal username
Your IPRoyal password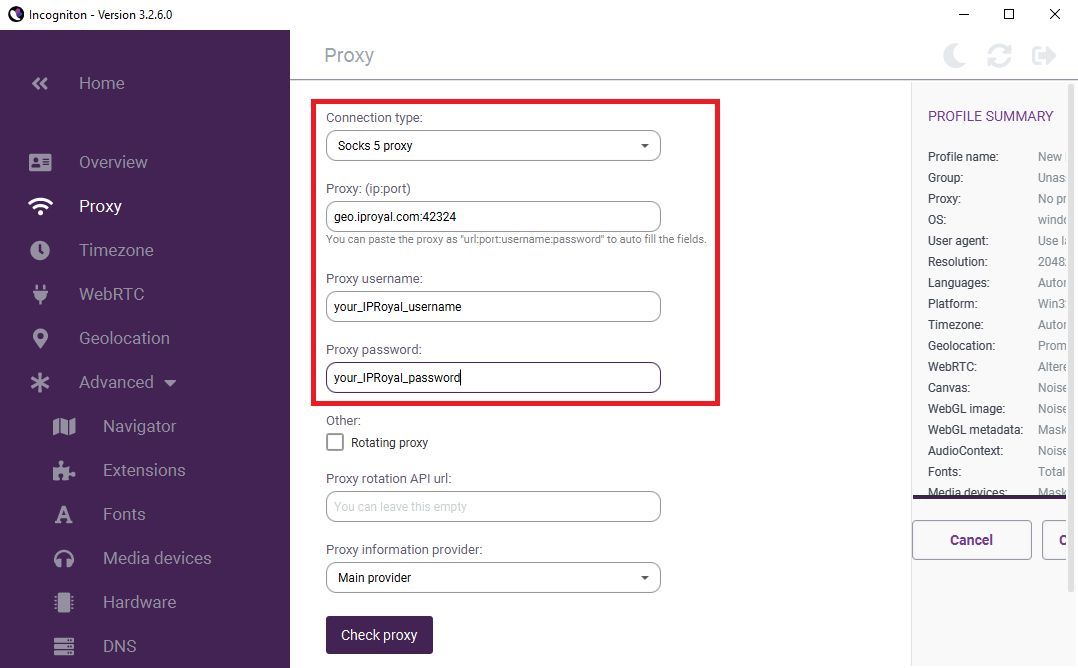 Once you're done, click the Check proxy button below to ensure your new Incogniton proxy is working properly. If you copied your IPRoyal credentials correctly, you'll see your proxy's IP and location. In other words, you're ready to go!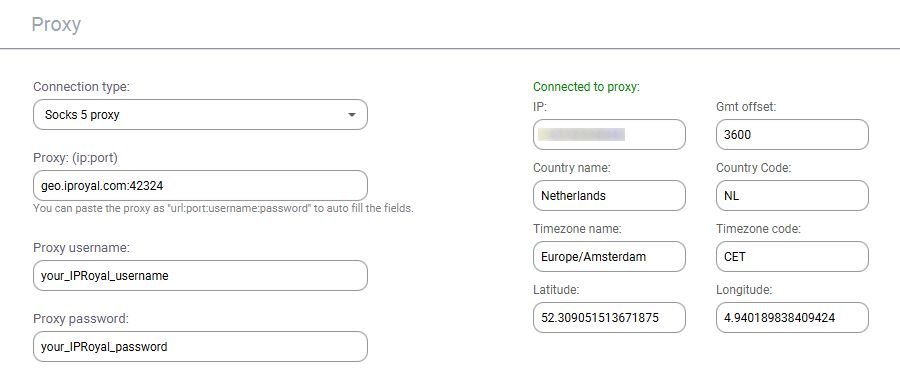 Click the Create profile button on the right.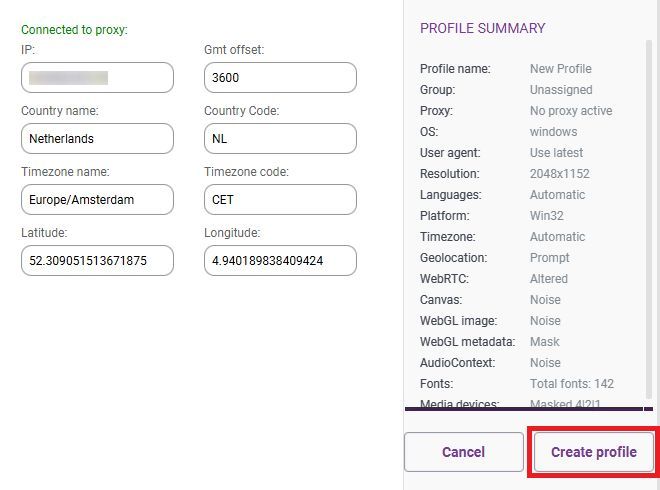 Your new profile will appear in the Profile Management section.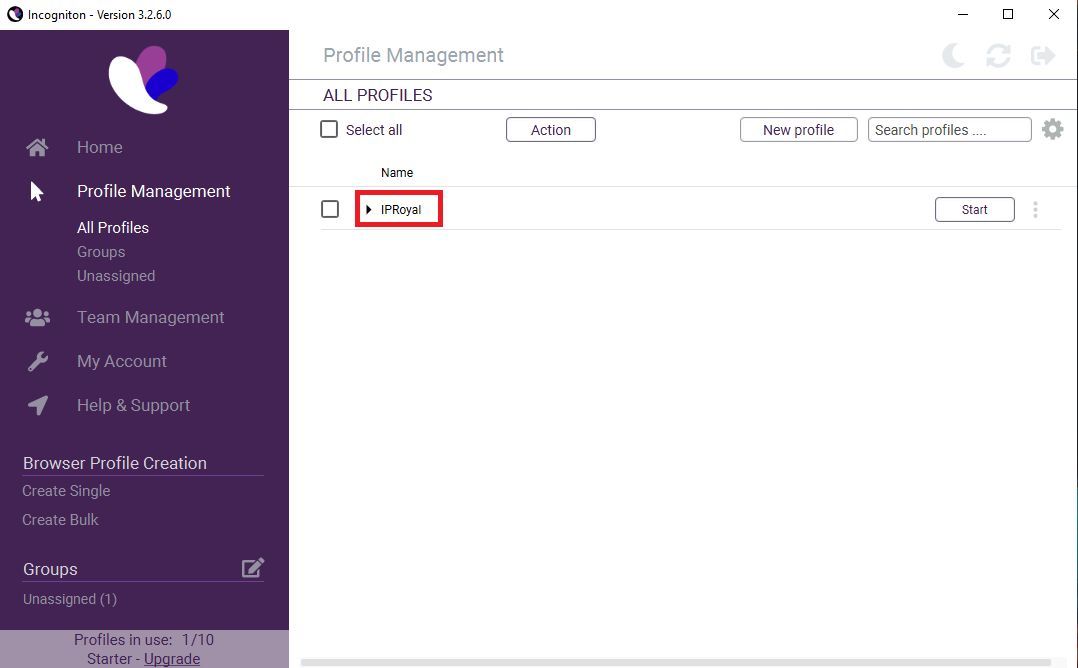 Once you click the Start button to the right, you'll get a browser window which uses your profile settings. To ensure your Incogniton proxy works (and it's an authentic residential proxy server), you can visit IP2Location or a similar website and check.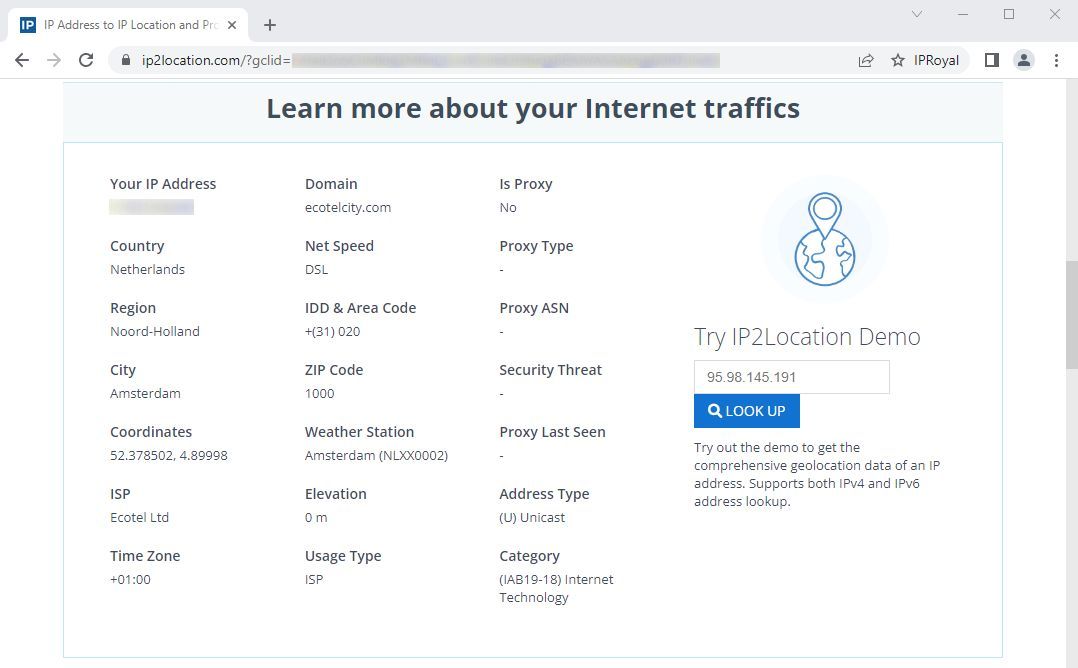 Final Thoughts
Incogniton offers an excellent solution for efficient web scraping, affiliate marketing, social media management, and more. Now that you've set up your Incogniton proxy with IPRoyal, you can work on developing your online presence without worrying about blocks, bans, or any other limitations.
Try proxies now