Back to blog
How to Set Up a Proxy Server With WinGate on Windows 10

WinGate Proxy Server is a highly customizable proxy management software for Windows. It offers network-level internet access management and control. It's suitable for home and enterprise networks. In this article, we'll cover the key features of WinGate and explain how to set it up with IPRoyal residential proxies.
What Is Wingate and How Does It Work as a Proxy Server on Windows 10?
From the second you install WinGate, it's clear that it's designed with network administrators in mind. It's a great solution for those who need to manage medium or large networks, offering a wide range of features:
Internet access management for the entire network
Flexible access control with customizable use policies
Real-time activity monitoring with logs for all users
Email server support (internet and intranet)
Network diagnosis and reporting tools
That's not all. Wingate also has support for HTTP and SOCKS proxies, integrated firewall, and more. It's also possible to add new features via plug-ins. Even home users can take advantage of it. The initial setup may seem daunting, but there's a lot of documentation available, so any user can get familiar with the available features.
Step-By-Step Instructions for Setting up a Proxy Server With Wingate on Windows 10
First off, download the latest version of WinGate Proxy Server and install it. During the process, you'll need to enter an email address for administrative alerts.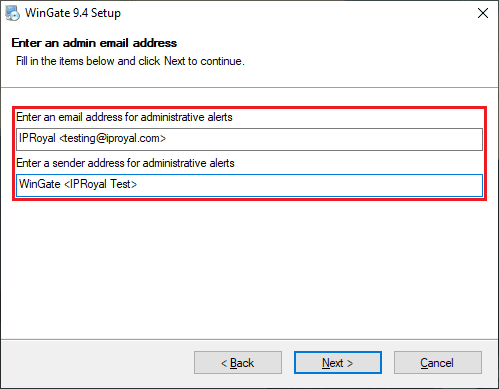 Once the installation process ends, you'll need to reboot your PC. After you get into Windows again, you'll find WinGate running in your notification area. Right-click on the icon and select WinGate Management from the menu.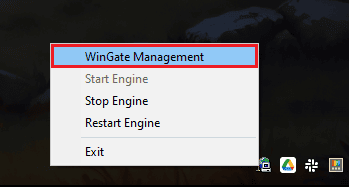 This will bring up Wingate's management console, which displays the modules and components saved and loaded by the WinGate engine. Since we haven't set anything up yet, it's currently empty.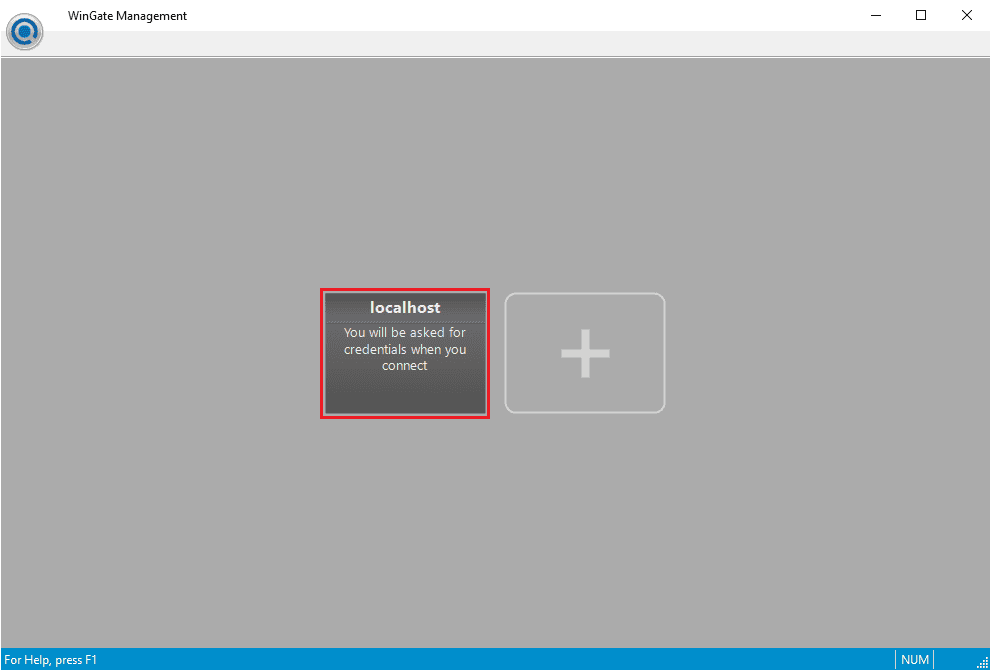 To start the setup process, click the localhost box. Once you do, WinGate will start loading modules and check for a license. You can take advantage of a free 30-day trial to test the software. After the license check, WinGate will restart and ask you to provide a user database for user authentication and management, which is necessary for the software to work correctly.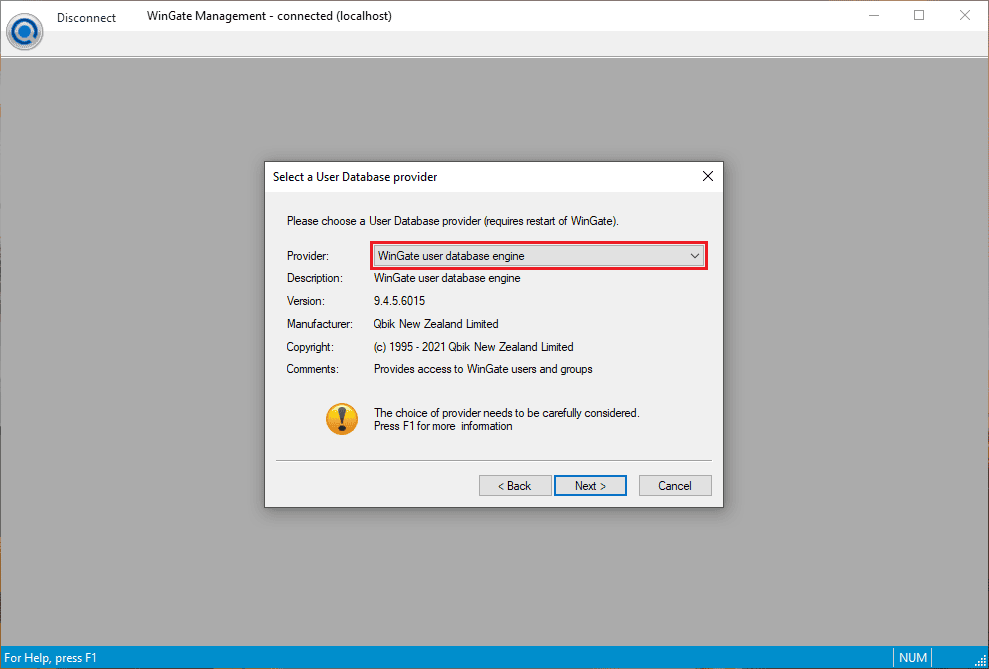 Once you select the appropriate option, click Next. WinGate will then ask you to use an account that belongs to the Administrators group. Select the appropriate option and click OK.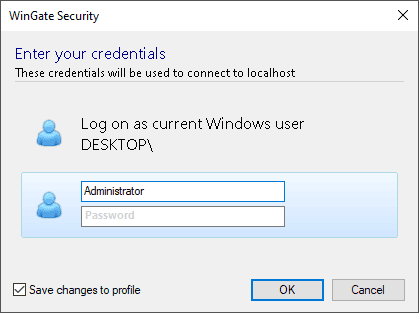 You'll be greeted with the welcome page, along with a quick navigation menu on the left containing all the available configuration options. For now, we just want to set up a proxy. To do that, select Services from the navigation menu.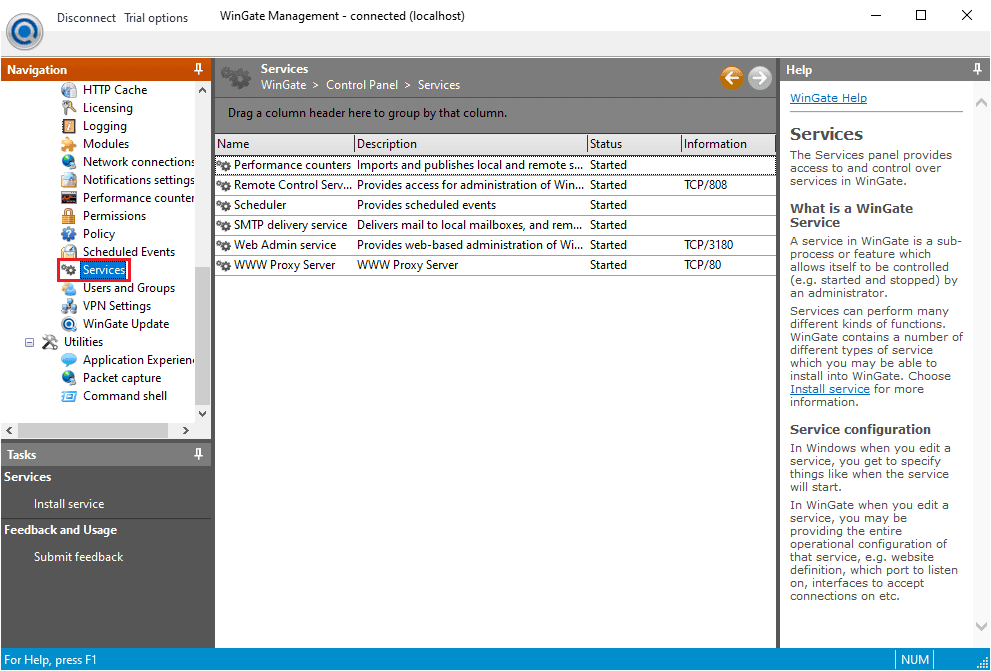 Right-click anywhere in the empty area on the right and select Install service.
Select WWW Proxy Service from the list and click Next.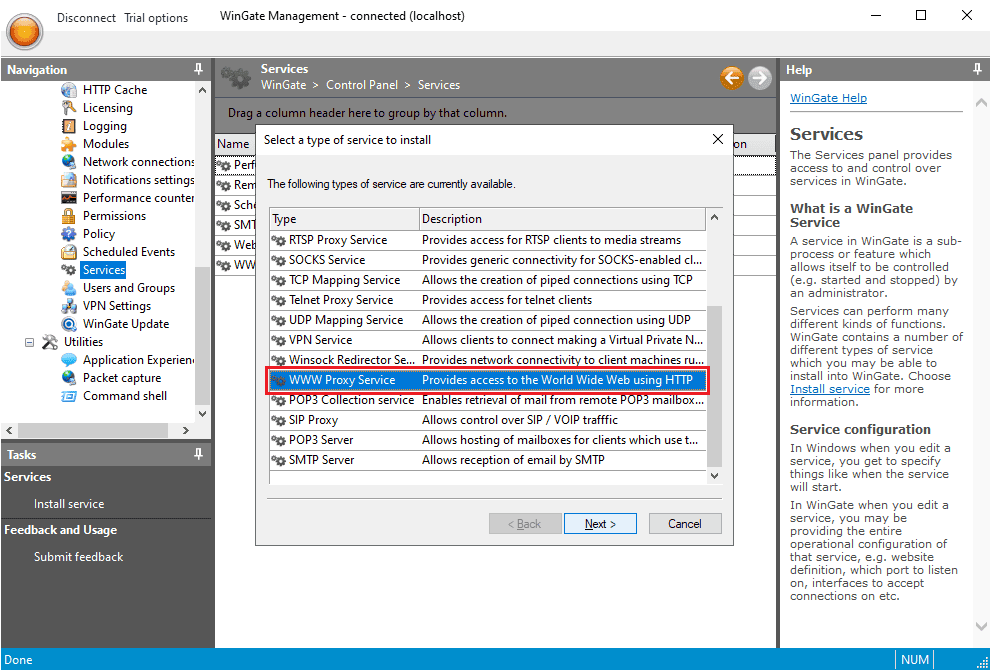 Name your service and click Finish. The service properties window will open. Head to the Bindings tab. Remove any active bindings and click the Add button.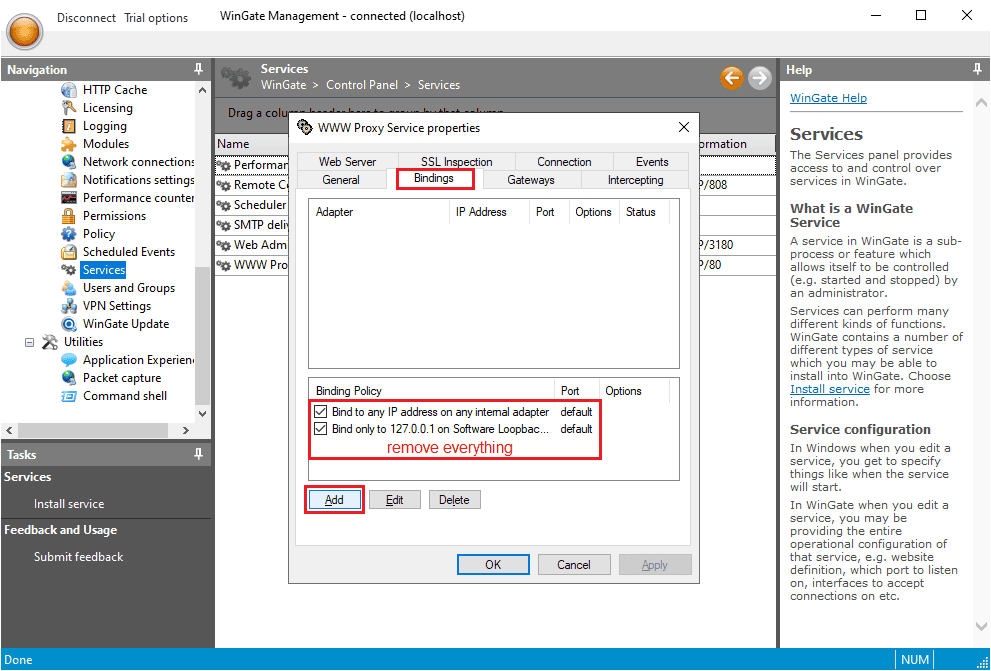 Select Any External Adapter and click OK to save your configuration.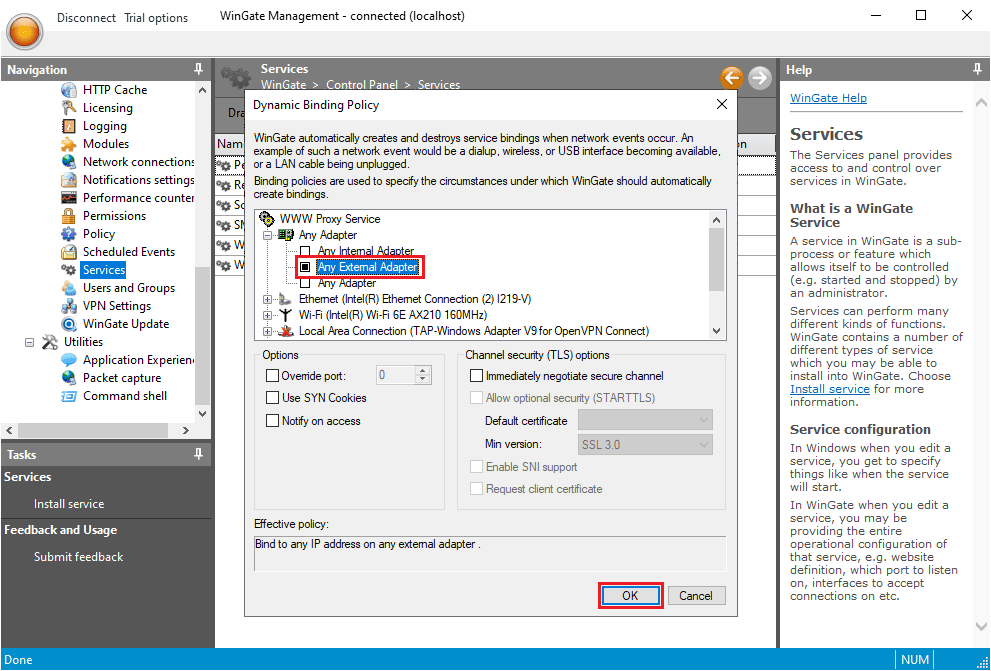 Now go to the Connection tab. Tick the box next to Connect via upstream proxy. Switch over to the IPRoyal dashboard and configure your proxies. Let's say we want to use high-end IPs from Dublin, Ireland. We want to get a new IP on each request that goes through WinGate, so we'll use the Randomize IP option with HTTP|HTTPS as our proxy type.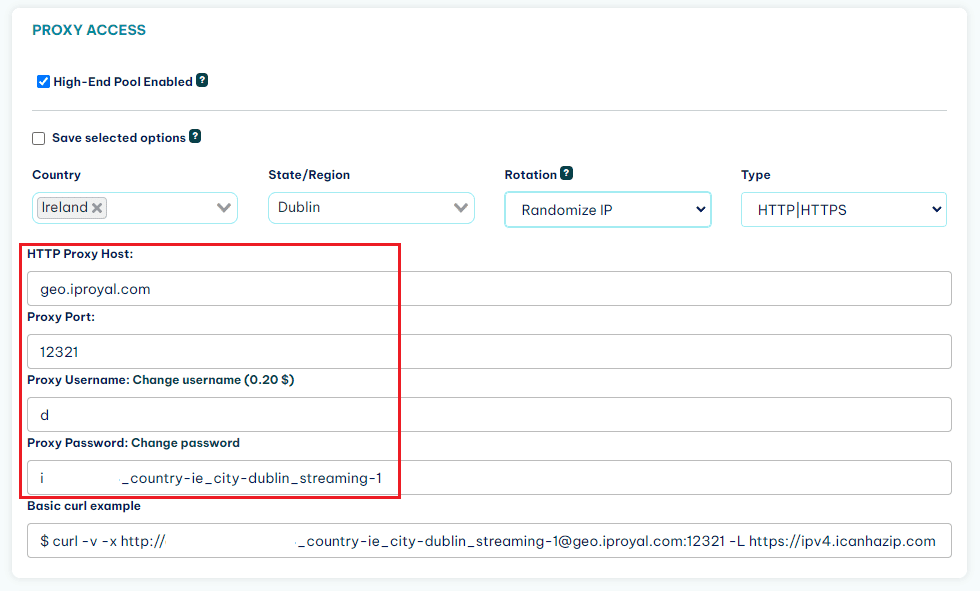 All we need from here is the HTTP Proxy Host, Proxy Port, Proxy Username, and Proxy Password. We'll transfer this data to WinGate.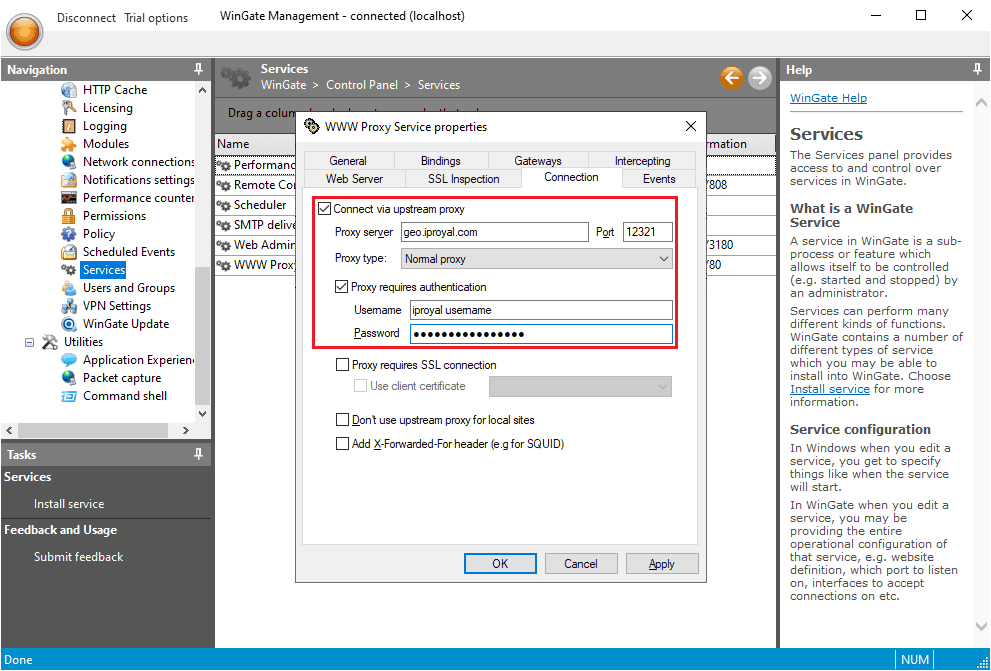 Once you're done, click Apply to save your changes. All the traffic from the client devices will now go through the proxy each time they send a request to the internet! You can check if everything works correctly by visiting our IP Lookup page.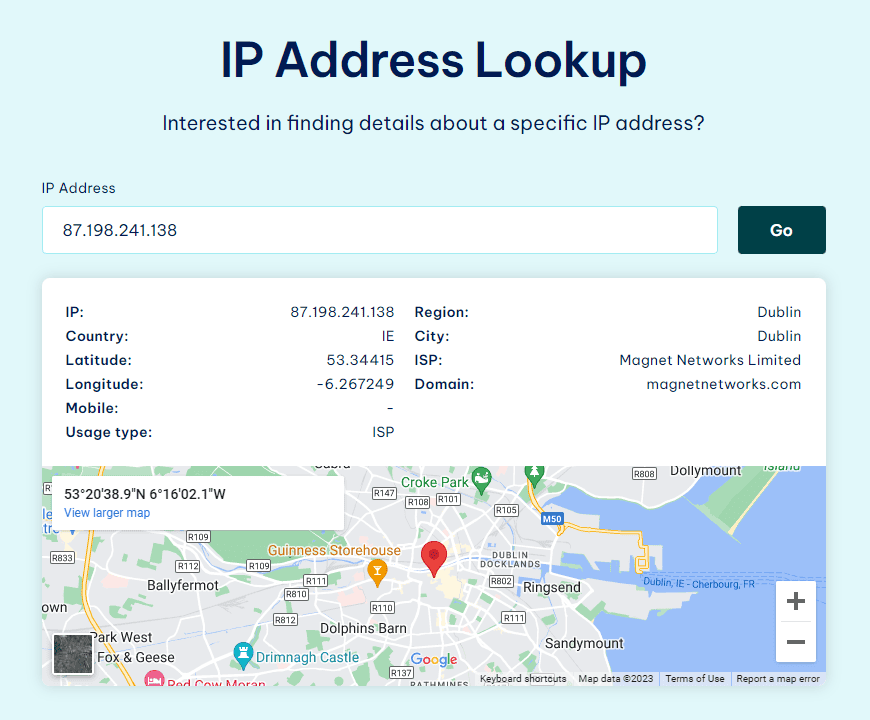 How Can WinGate Enhance Network Security and Provide Internet Access Control?
WinGate works with all types of internet connections, allowing an unlimited number of users to access the web simultaneously. It's also not limited to web traffic made with browsers. You can configure it for other applications that need internet access thanks to support for FTP, SSL, and other protocols.
Network and internet management are not the only things WinGate does well. Many users will appreciate the wide range of available features, like the robust firewall that inspects each packet. It's possible to enhance WinGate even further with additional plug-in components, like scanning incoming data for viruses and malware, web traffic filtering, and more.
Administrators can manage users and customize internet access rules. The software offers real-time activity monitoring, along with a detailed history viewer and auditing features for each user. All these features make it an ideal solution for businesses, institutions, organizations, and other environments where diligent internet monitoring and control is a must.
Can WinGate Be Used for Both Residential and Commercial Proxy Server Setups?
WinGate is available in three versions - Standard, Professional, and Enterprise. Each version has different features, but they all share the core features:
HTTP and SOCKS proxy
Email services
HTTP cache
Firewall / NAT
Remote management & scheduling
Notification system
Activity timeline
The Standard version limits the number of notification plans, cache volumes, and mailbox volumes to one. With the Professional version, notification plans go up to two, along with support for Active Directory, W3C usage logging, scripting, and other features. Finally, the Enterprise version adds HTTP cache rules, VPN gateway support, custom DHCP options, web-based administration, and more. You can find more information on the pricing page.
FAQ
Is WinGate Compatible With Other Proxy Server Software or VPN Solutions?

You can use any proxy server with WinGate. On the other hand, WinGate's VPN solution is incompatible with other VPNs since it uses a proprietary protocol. However, any VPN will work with WinGate if its VPN feature is turned off.
What Are the System Requirements for Running WinGate as a Proxy Server on Windows 10?

WinGate will work on any PC able to run a 64-bit version of Windows 10. In terms of hardware, the minimum requirements are:

CPU:1 GHz or faster
RAM: 2 GB
HDD: 500 MB or more
Are There Any Licensing or Subscription Fees Associated With Using WinGate as a Proxy Server?

WinGate's pricing is based on the number of licenses (one per user). The Standard version starts at $109.95 (6 users), Professional starts at $164.95 (6 users), and Enterprise starts at $224.95 (6 users). Educational, not-for-profit, and governmental discounts are also available on request. There's also a free license equivalent to a Standard license for 10 concurrent users.
Learn More