Back to blog
Mozilla Firefox Proxy Manager Quick-Start Guide

While changing proxy settings in your operating system is an option, it has several downsides. The process is time-consuming since you need to go through countless menus and enter a new set of credentials each time you want to use a new proxy. In some cases, you need to restart certain applications or your device for the changes to take effect.
Not to mention that this approach means all traffic will have to go through a proxy. Every request from every app or service will use the same settings. This can negatively impact your workflow and lead to unintended proxy usage, increasing the potential for errors.
We developed the Mozilla Firefox Proxy Manager to ensure our clients have a quick and easy way of managing proxies in your browser. This Mozilla Firefox Proxy Manager quick-start guide will cover everything you need to know about this tool, how it works, and how to take full advantage of everything it offers.
Advantages of Using the Mozilla Firefox Proxy Manager
The Mozilla Firefox Proxy Manager enables you to manage and use all your proxies with a single browser extension. It's free and 100% secure, so you don't need to worry about sharing your credentials with unfamiliar extensions.
Switching between different proxies is a breeze. You can create as many profiles as needed and use them with a single click. Here are the key advantages of this approach:
All-in-one proxy management
Create different profiles for different proxies and switch between them as needed. You can create as many profiles as needed for different types of proxies, locations, and more.
Switch between your proxy profiles with a single click. Surf the web without compromising your privacy and without changing system settings each time you need a new IP.
Easy profile customization
Create a profile for a single proxy, or use different proxies for specific traffic types - HTTP, HTTPS, and FTP. You can also use a fallback proxy to ensure uninterrupted internet access at all times.
Use any type of proxy from any provider. If you're an IPRoyal client, you can whitelist your IP address in the dashboard and not worry about usernames and passwords.
How to Install the Mozilla Firefox Proxy Manager
The Proxy Manager extension is available on the Firefox Add-ons page. To add it to your browser, simply click the Add to Firefox button.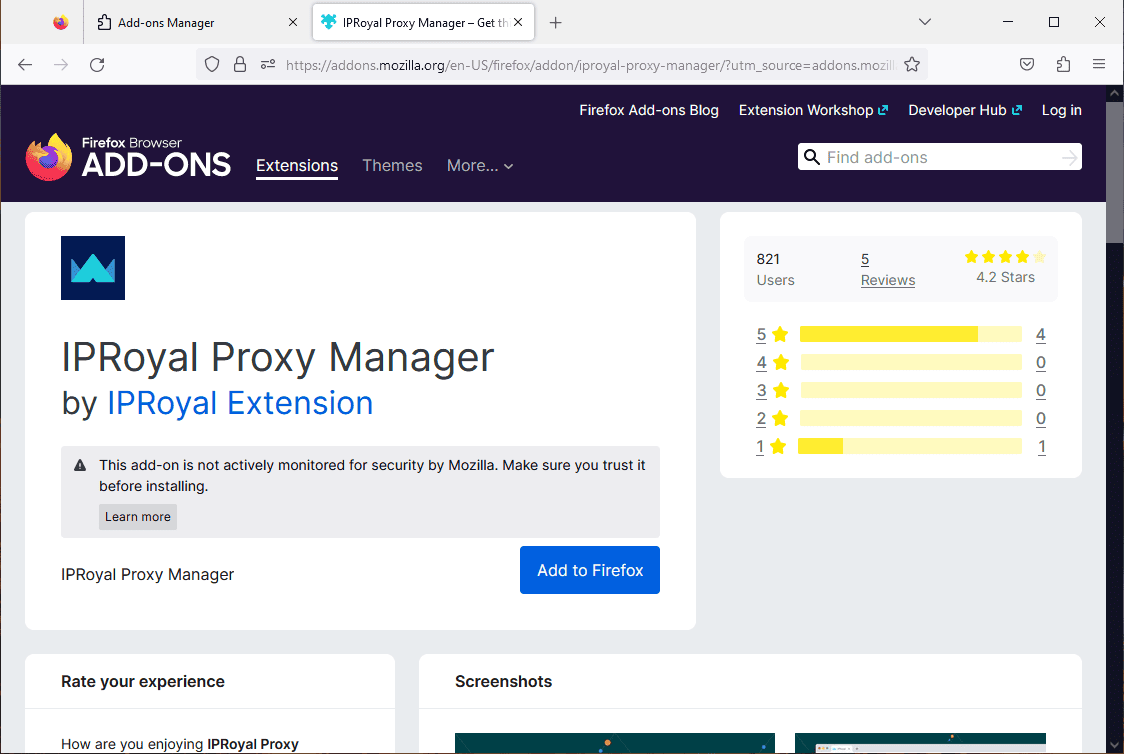 Once you do, make sure the extension is pinned so you can access it easily. Click the extensions menu icon (1), then the settings icon (2) next to the IPRoyal Proxy Manager extension, and select Pin to Toolbar (3).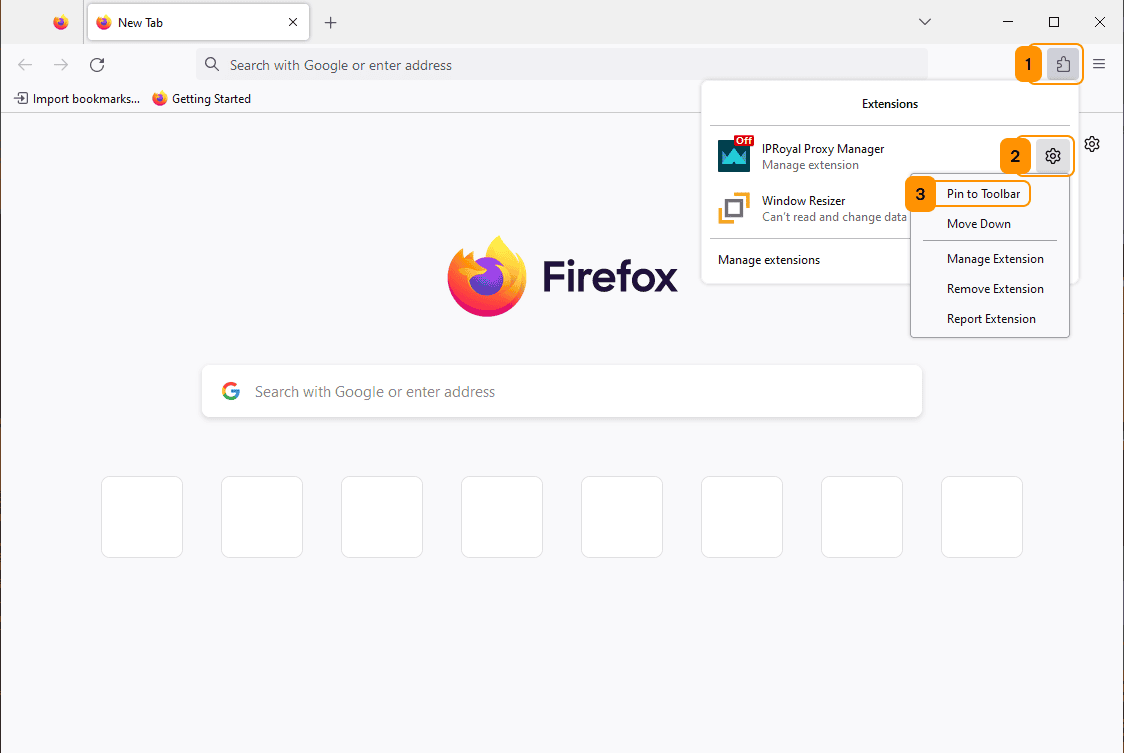 After pinning the extension, you can click on the IPRoyal icon (1) and select Options (2) to start creating your proxy profiles.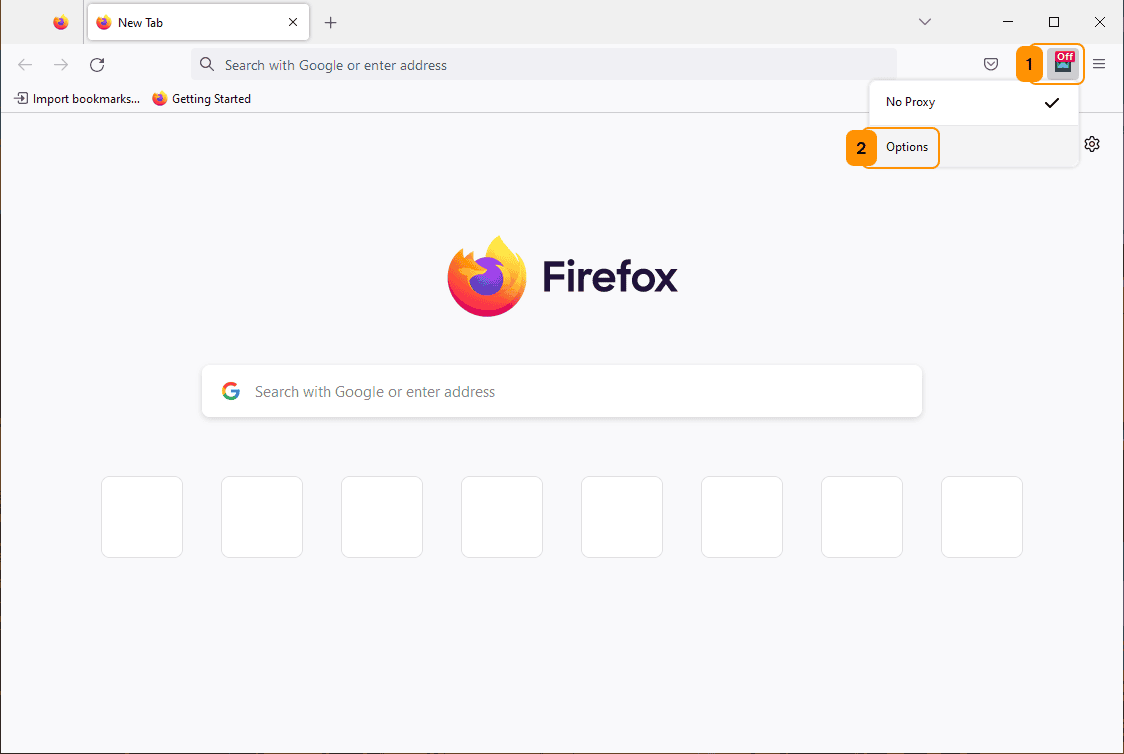 Mozilla Firefox Proxy Manager Interface Overview
Here's all you need to know about the Mozilla Firefox Proxy Manager and its features.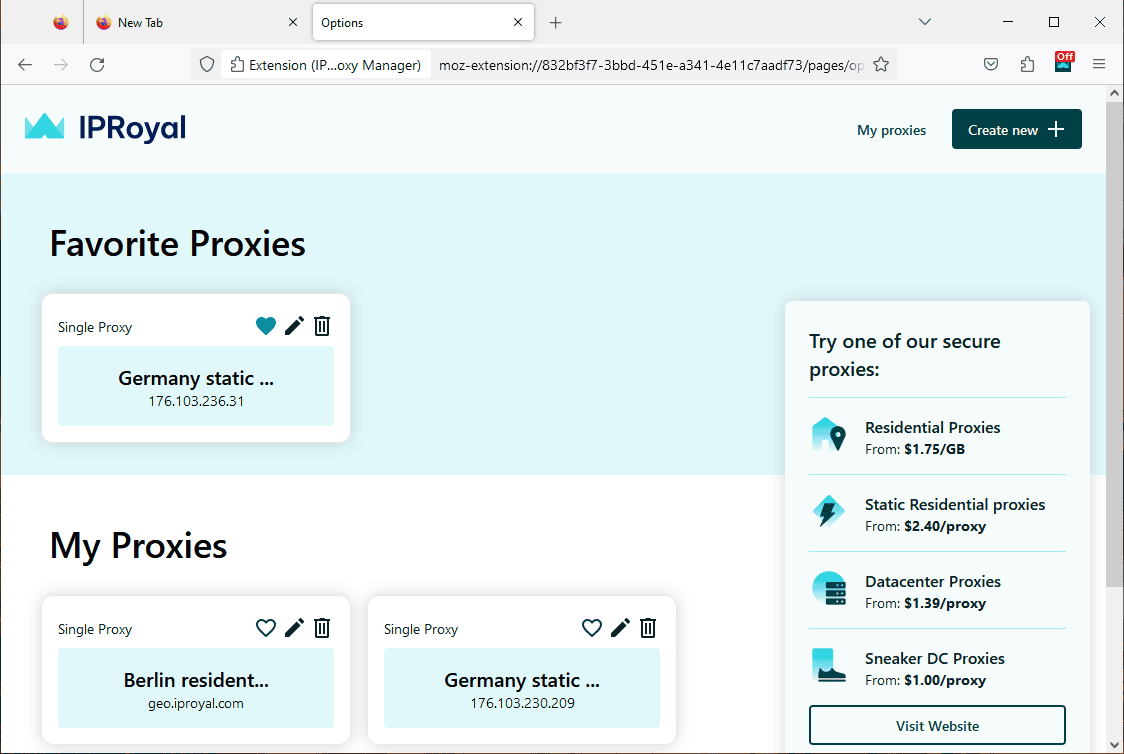 Go to the My Proxies tab. Here you can favorite, edit, or delete existing profiles.
Create a new proxy profile.
Profiles you added to your favorites (by clicking the heart icon).
Non-favorited profiles you've created.
Proxies and pricing available at IPRoyal.
Go to our website.
How to Use the Mozilla Firefox Proxy Manager
To start using the Mozilla Firefox Proxy Manager, you need to create a profile first. As stated above, the extension supports all proxies (as long as they have a username and a password).
An added benefit for IPRoyal clients is IP whitelisting. If you whitelist your IP address in the IPRoyal dashboard, you don't need to enter a username and password when creating a profile.
1. Let's say we want to create a profile that uses high-end Royal residential proxies from Copenhagen, Denmark. We want a new IP address on each request, and we'll use the SOCKS5 protocol. We'll configure our proxies in the IProyal dashboard accordingly.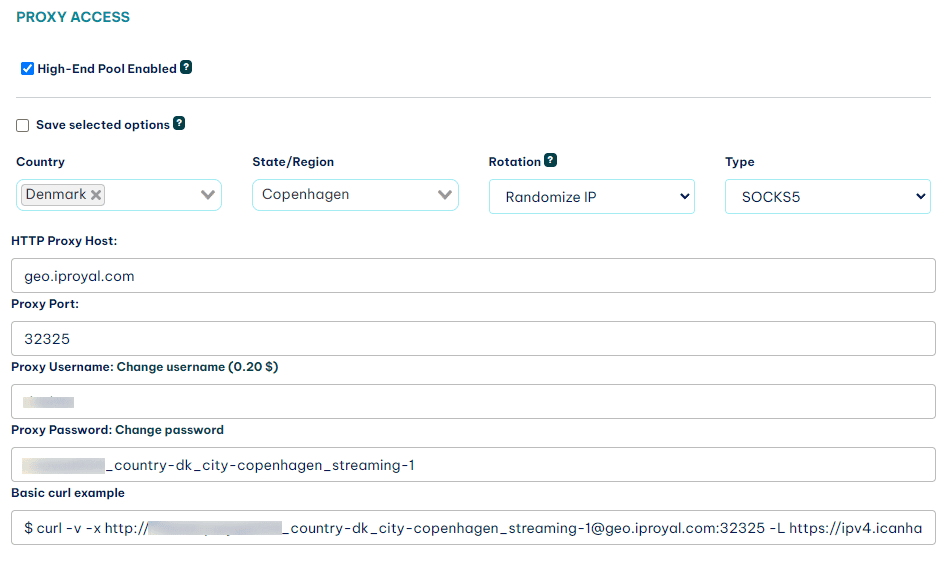 2. We'll go back to the Mozilla Firefox Proxy Manager settings and click the Create new (1) button.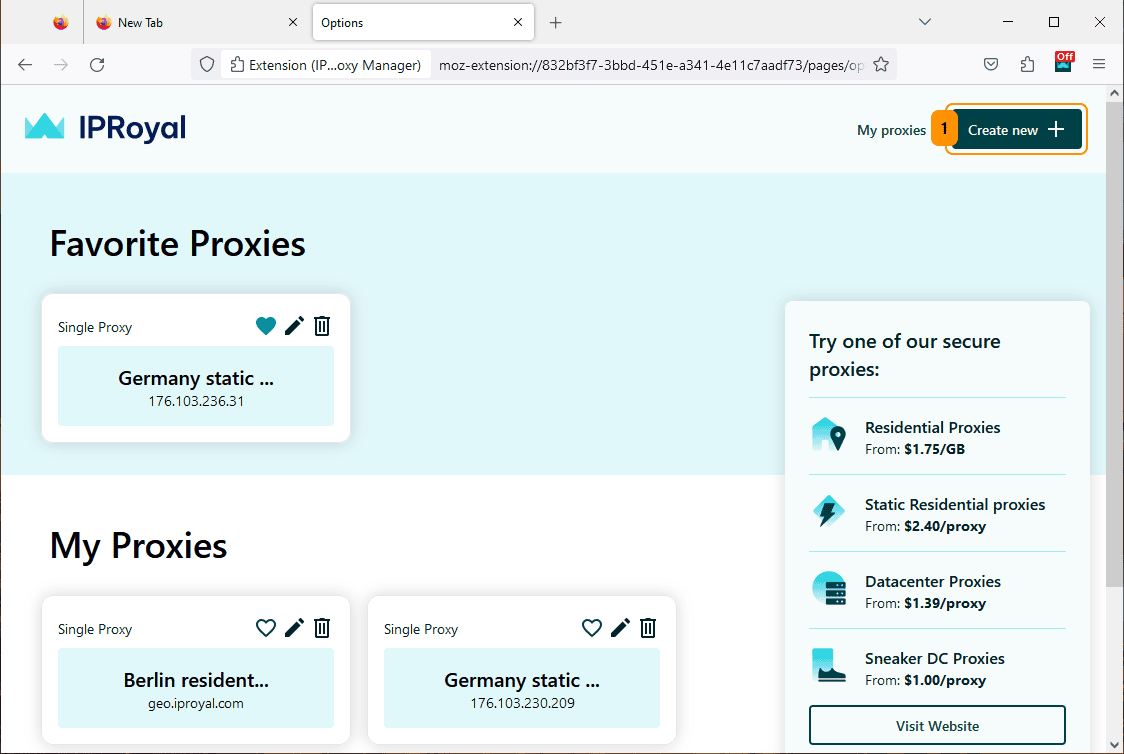 3. The New Proxy page will open. We'll select Single Proxy (2) and click Next (3).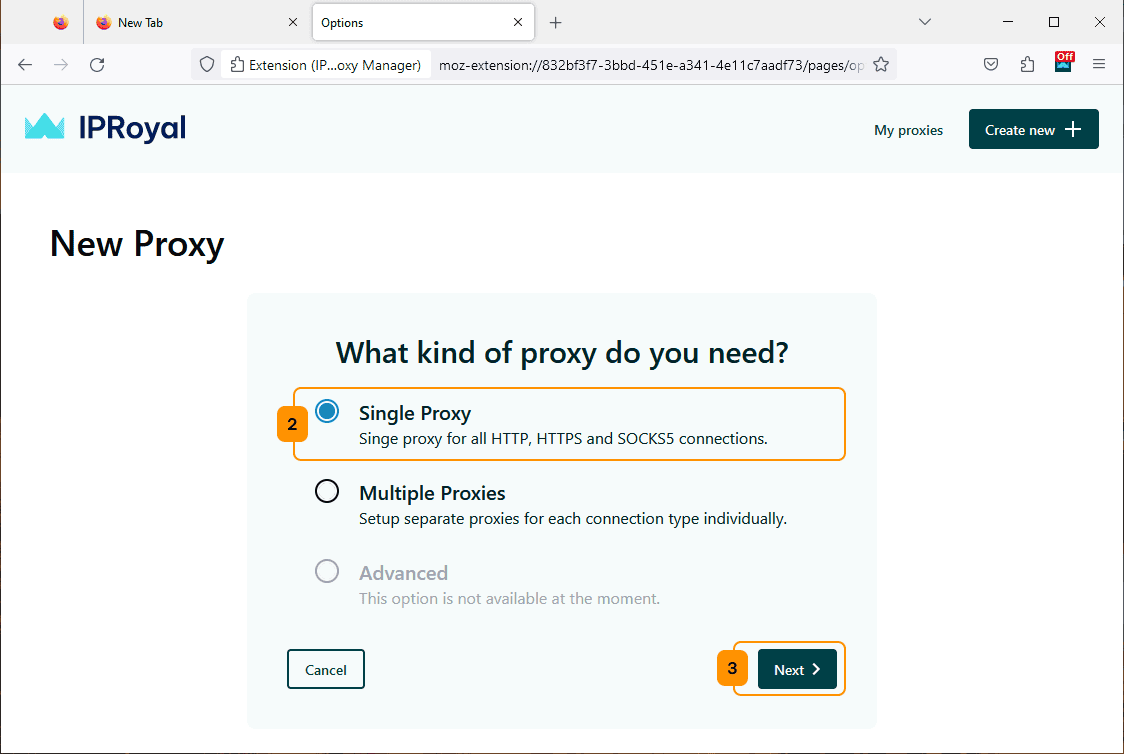 4. Here, we must enter a name for our profile (4). We also need to enter the proxy type (5), proxy hostname (6), port (7), username (8) and password (9) from the IPRoyal dashboard. When you're done, click the Save (10) button.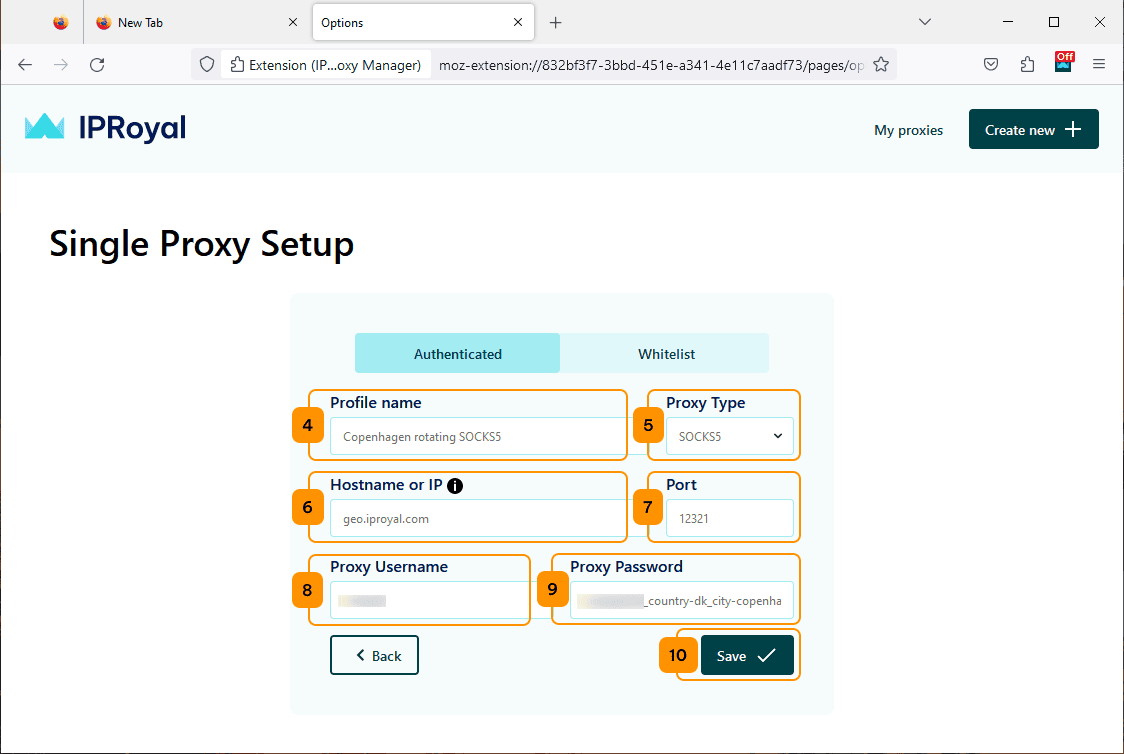 5. Your new profile will be saved in the My Proxies section. You can activate it by clicking the extension icon (11) and selecting it from your list of profiles (12).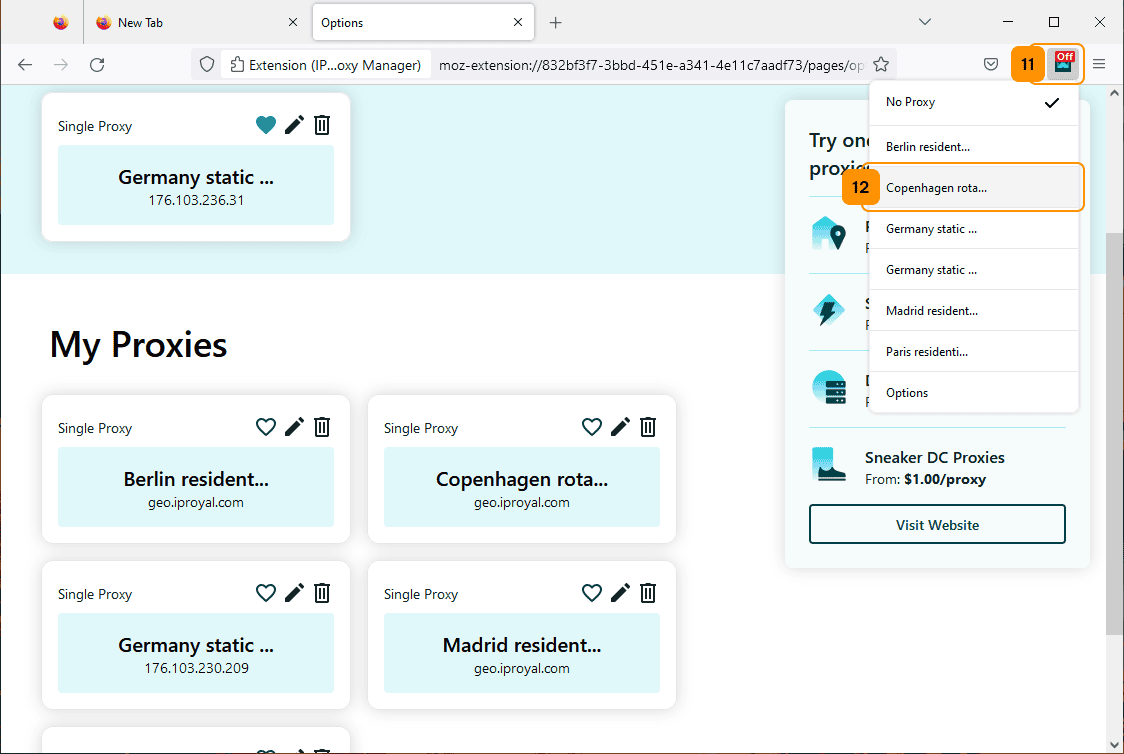 6. To make sure your proxy is working correctly, you can visit the IPRoyal IP Lookup page and check your current IP address and its location.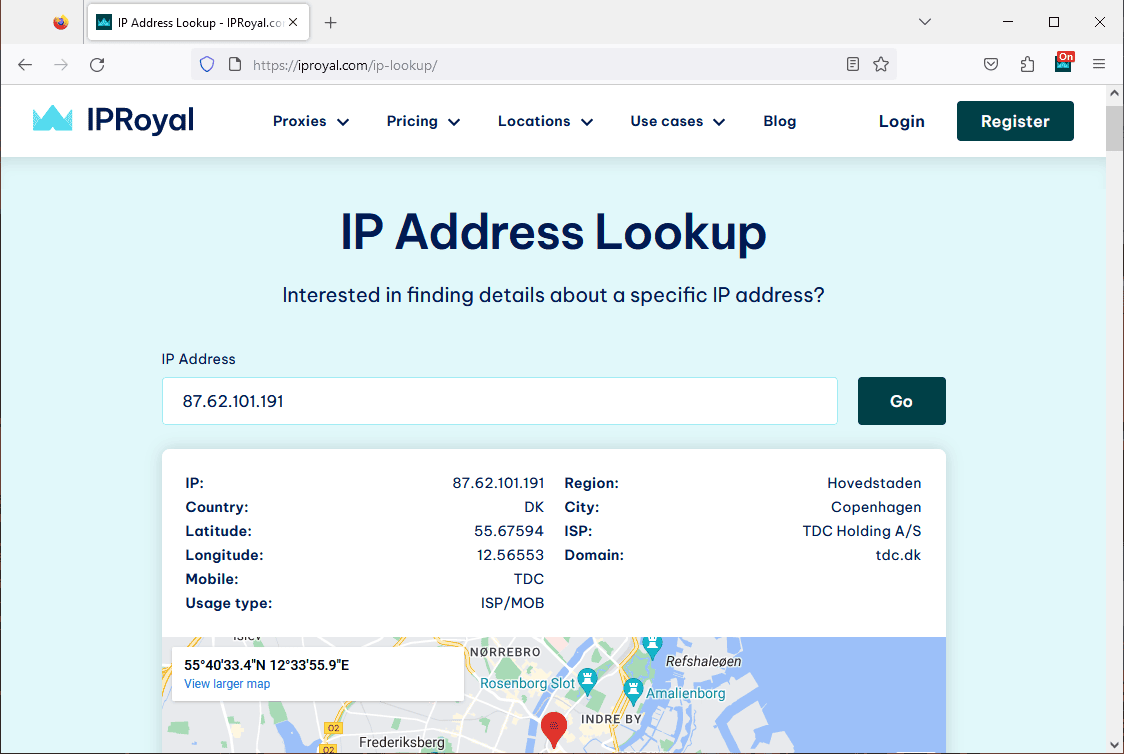 Congratulations, you're ready to go!
Note
The process is the same for creating multiple proxies profiles. Enter the credentials for each protocol and click Save once you're done. The extension will use the set proxies accordingly when you choose that profile.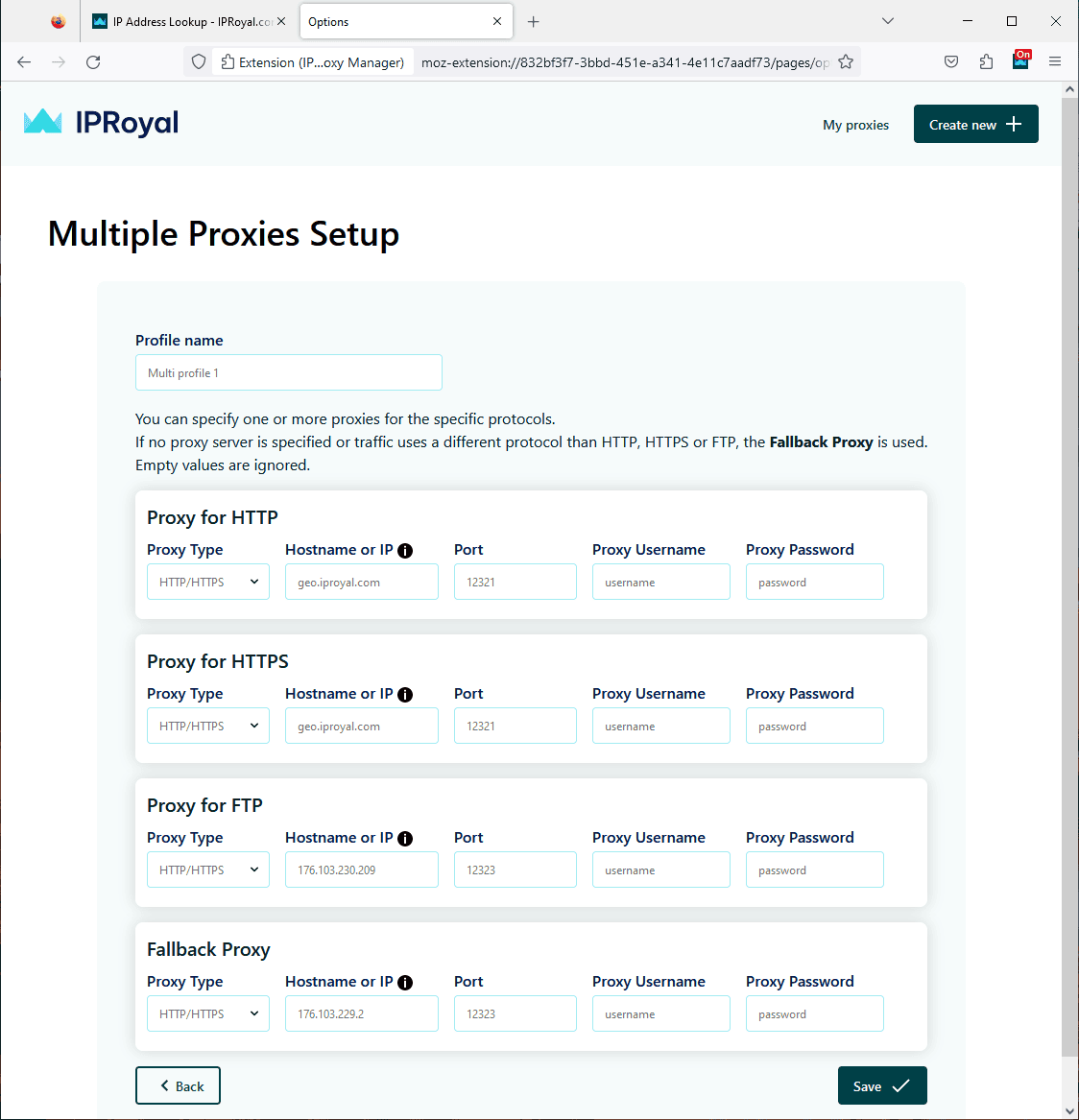 FAQ
Is the Mozilla Firefox Proxy Manager compatible with different Firefox versions?

Yes. Our Mozilla Firefox Proxy Manager works on all versions of Firefox that support addons.
Does the Mozilla Firefox Proxy Manager work with all proxies?

Yes. You need to make sure your proxies have a username and a password. Alternatively, if you get your proxies from IPRoyal, you can whitelist your IP address so you don't need to fill these fields when creating a new profile.
Will using the Mozilla Firefox Proxy Manager slow down my connection?

That depends on the type of proxies you're using and where you got them from. Since residential proxies come from genuine devices and ISP internet connections, there's a chance they'll be slower than your connection. If you're using datacenter, sneakers, or static residential proxies, you will most likely not notice any impact.
Learn More