Back to blog
How to Set Up a GoLogin Proxy With IPRoyal

There are many reasons why you might need to run multiple accounts on a website on a single device. In most cases, it's a lot harder than it sounds. Social media networks, eCommerce sites, and countless other platforms use a lot more than just an IP address to identify a visitor.
GoLogin serves the same purpose as proxy servers when masking your online identity. However, it uses a different approach, focusing on your browser fingerprint. It's a unique profile that contains information about your device (platform, resolution, time zone, and more). By changing these parameters and creating unique browser profiles, you can use GoLogin to create and operate multiple accounts on different websites without worrying about blocks or bans.
We already covered the key features, so we won't get into that too much. Instead, we'll explain how to use a GoLogin proxy with IPRoyal for ultimate online privacy and bulletproof browser fingerprint management.
Along with the tutorial, we're offering a special code that will give our users an extra 14-day trial period! To start, download GoLogin and use the code GOROYAL in Settings -> Billing Plans!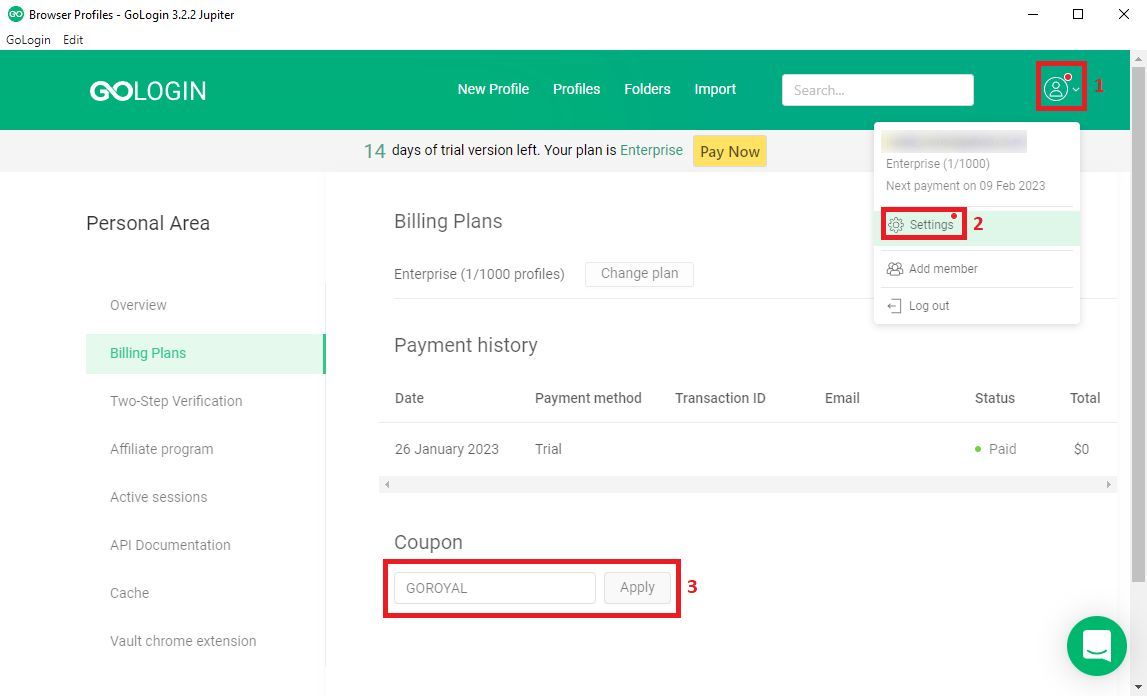 Setting Up a GoLogin Proxy With IPRoyal
GoLogin offers free proxy servers you can use with a paid plan. However, some users will need more control over their proxies or a more comprehensive selection of available locations. Others will want to be sure they're using real residential proxy servers. In either case, you can use IProyal residential proxies to get the best and safest browsing experience. Here are the steps you need to follow:
Run GoLogin and click the Create Profile button to make your first profile.
Type in the name of your new profile in the following window. Switch to the Proxy tab below and click on Your proxy.
Now it's time to get your proxy credentials from IPRoyal's dashboard. We'll use randomized IPs from Marseille, France, with the HTTP/HTTPS protocol.
Copy the credentials from IPRoyal's dashboard over to GoLogin. Make sure you select the appropriate proxy type. Since we're using HTTP(S), we'll go with HTTP Proxy. Also, make sure you copy the information from the HTTP Proxy Host field (geo.iproyal.com) to the IP Address field in GoLogin.
Once you're done, click the Check Proxy button at the bottom. GoLogin will check if your proxy works and show you its location, response time, protocol, and IP address. As you can see, we got an HTTP proxy in Marseille, France, with a response time of 55 ms.
Once you've tested your proxy, click the Create Profile button at the bottom of the window. GoLogin will return you to the Profiles page. Click on Run next to your newly created profile.
This will open Orbita, GoLogin's own Chromium-based web browser, with your proxy enabled. You can click the Browser check bookmark in the bookmarks bar to verify your digital identity. The website will tell you if your browser, location, IP address, hardware, and software pass the checks. If your digital identity is trustworthy, you're ready to go! Once you've verified everything is in order, you can start using your GoLogin proxy!
Final Thoughts
Managing browser fingerprints is crucial for successful web scraping, social media management, affiliate marketing, dropshipping, and more. GoLogin offers an easy and convenient way to create and switch between different browser fingerprints whenever you need it. Don't forget to use the code GOROYAL to get additional 14 days for free and test it out!
Learn More