Back to blog
Proxy Tester Quick-Start Guide

Leasing a proxy server or finding one online for free only takes a minute. However, you shouldn't rush into changing your system or browser settings right away. Regardless of the source, it's often a good idea to check if a proxy works before you start using it.
Many websites can check if you're using a proxy to access them or not. Some will even allow you to check an entire list of proxies. Unfortunately, most of them are missing a specific feature you might need. More importantly, by checking your proxies on a random website, you're sharing sensitive information and making them available to unknown entities.
We developed the IProyal Proxy Tester to ensure our clients have a safe and reliable way of testing proxies before deployment. In this quick-start guide, we'll go over everything you need to know about this tool, the testing process, and all the features you can use.
Advantages of Testing Proxy Servers With IPRoyal Proxy Tester
IPRoyal offers a wide range of proxy servers, along with a customizable proxy tester for Windows to make using our services easier and more convenient. Unlike most other solutions, it offers a few unique features:
Testing sticky and rotating proxies
Managing and exporting proxy lists
Targeting specific websites
On top of that, our proxy testing tool doesn't compromise your proxies. No information is shared in the process, so you can test as many proxies as you wish without worrying about your credentials being stolen and abused. Finally, you can export working proxies and start using them right after checking.
Why It's Important to Test Proxies
Proxy testing is crucial for several reasons, both in business and private usage scenarios. Here are the most common ones:
It's no secret that proxies can go offline. If a proxy you want to use doesn't work, you won't be able to use it. This results in missed opportunities, compromised privacy, and other unwanted consequences.
Not all proxies work with all websites. Checking the compatibility of your proxies with a specific website ensures you don't waste time setting them up only to discover you can't use them.
Before using a proxy, it's often beneficial to know more about its speed and responsiveness. This is essential for web scraping, sneaker copping, and similar scenarios.
How to Install the IPRoyal Proxy Tester
The IPRoyal Proxy Tester is available on our website. Once you download it, start the installation process. Follow the instructions, and run the IPRoyal Proxy Tester once the installation is complete.
IPRoyal Proxy Tester Interface Overview
Here's all you need to know about the IPRoyal Proxy Tester and its features.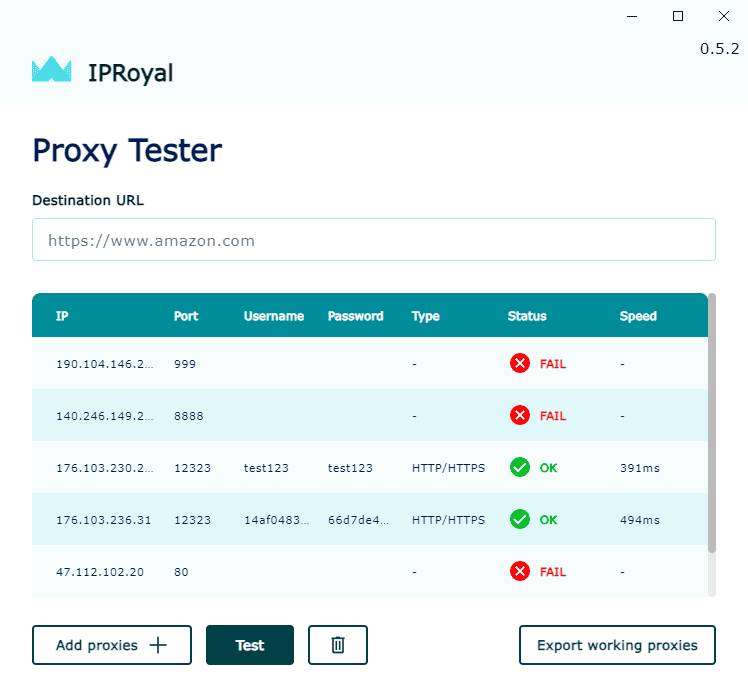 Paste or type in the website URL you wish to test here. Note that it needs to be a full URL (https://www.amazon.com instead of amazon.com) to get accurate results.
The proxy server's IP address or host.
The proxy server's port.
The proxy server's username.
The proxy server's password.
The proxy server type (HTTP/HTTPS or SOCKS5).
The proxy server's status at the time of testing.
The time it took for a proxy to contact the destination URL and get a response (in milliseconds).
Add new proxies for testing.
Start the testing process.
Clear the proxy list.
Save the working proxy servers from the current list as a .txt file in IP:port:username:password format.
How to Use the IPRoyal Proxy Tester
The IPRoyal Proxy Tester can test any proxy with authentication (username and password) and any website. Here's a specific example.
Let's say we want to create 2-hour sticky sessions with high-end HTTP|HTTPS IPs from Paris, France. We'll configure our proxies in the IPRoyal dashboard accordingly.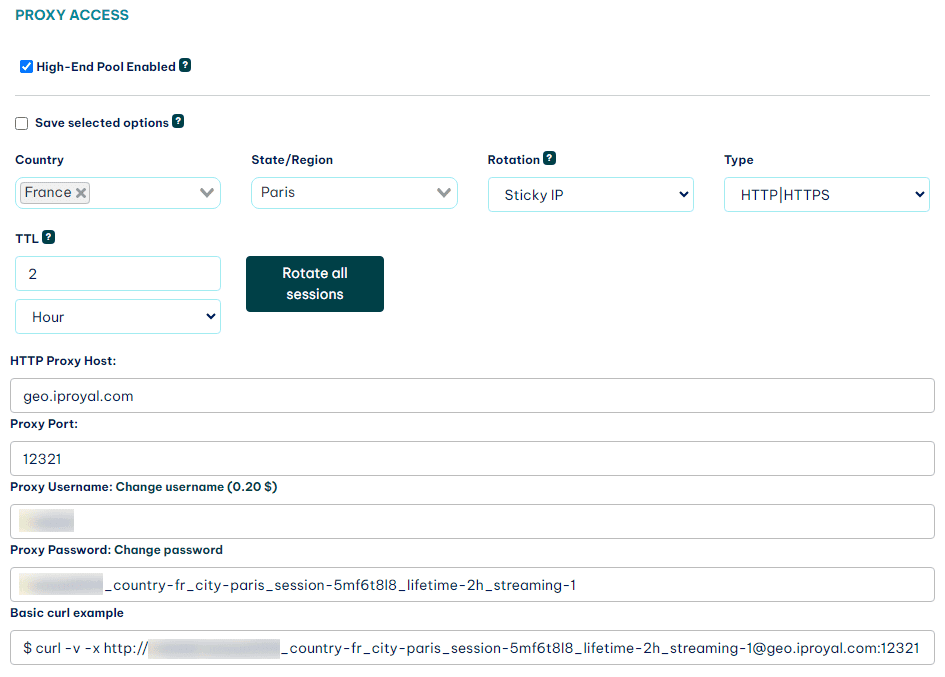 2. Once your proxies are configured properly, scroll down to the Formatted proxy list (1). Select the proxy Quantity (2) and the Format (3) you want to use. Note that the IPRoyal Proxy Tester supports all available formats. The default IPRoyal dashboard and IPRoyal Proxy Tester setting is hostname:port:username:password . Click the Copy (4) button once you're done.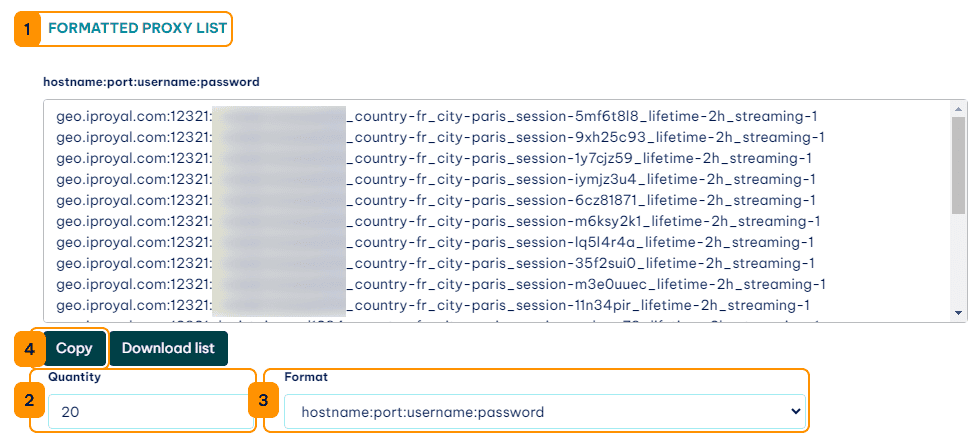 3. Now, open the IPRoyal Proxy tester and click the Add proxies (5) button.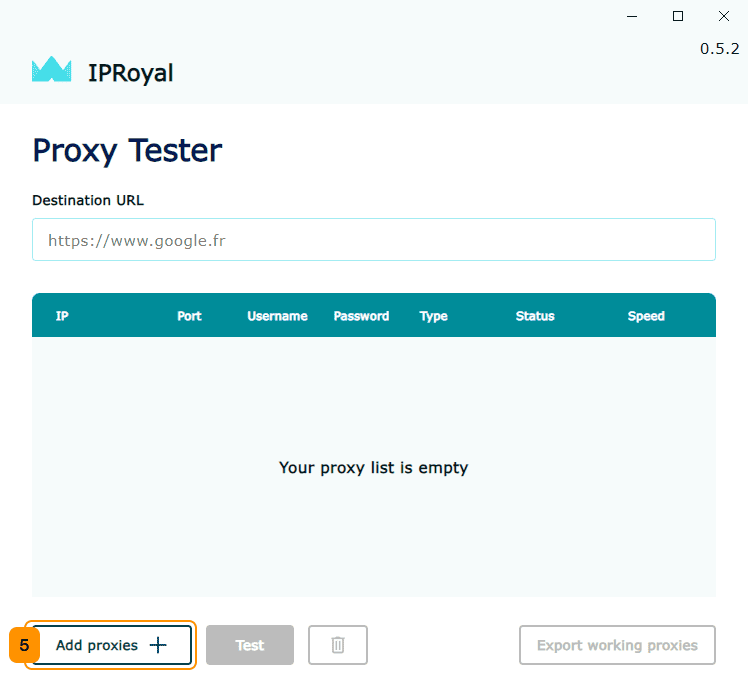 4. Click the empty space in the new window and press Control + V to paste the proxy list you copied from the IPRoyal dashboard.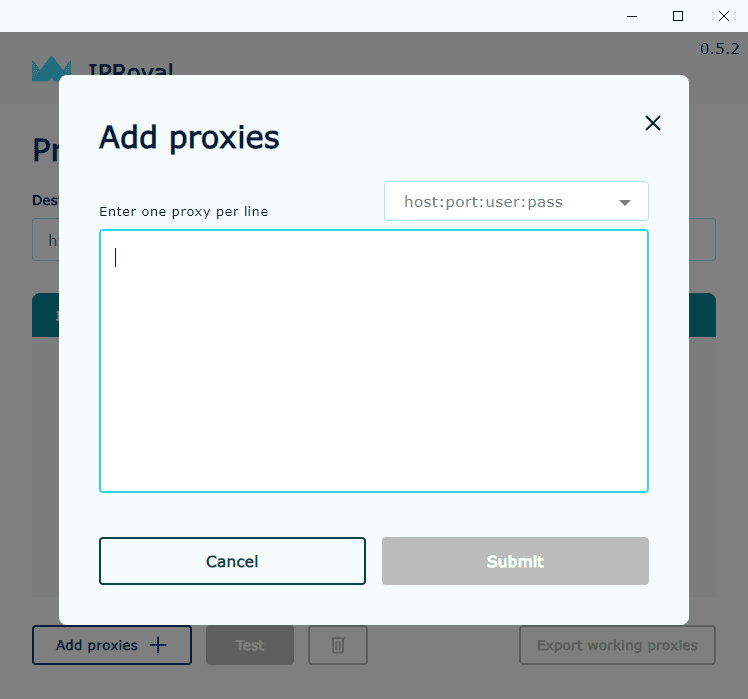 5. Once you add your proxy list, click the Submit (6) button.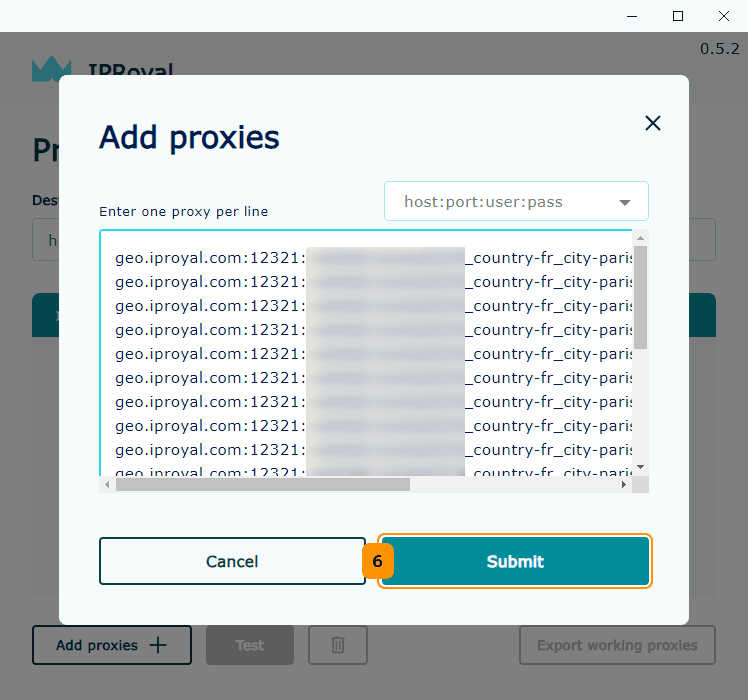 6. You'll be returned to the IPRoyal Proxy Tester main window. To start testing your proxies, type in the Destination URL (7) and click the Test (8) button when ready.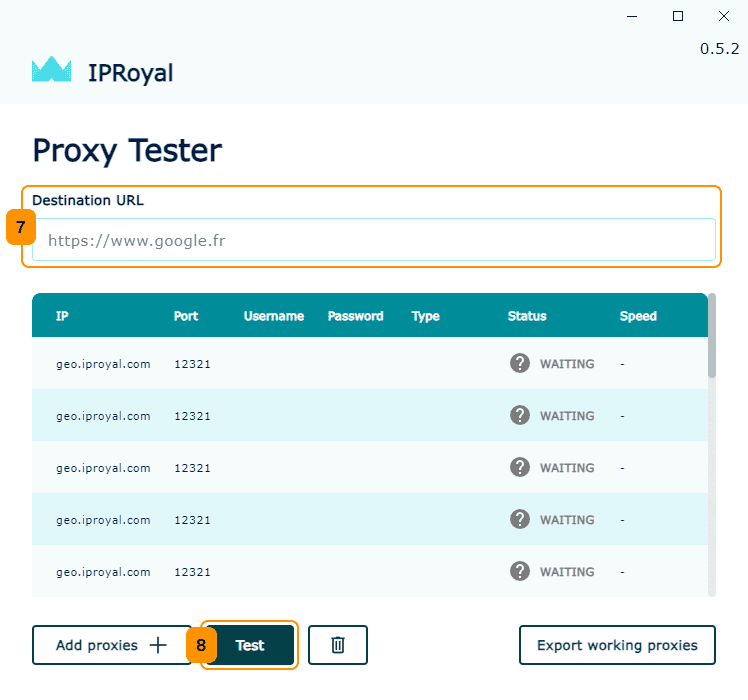 7. Once the testing is complete, you'll see the type, status, and speed of each proxy on the list.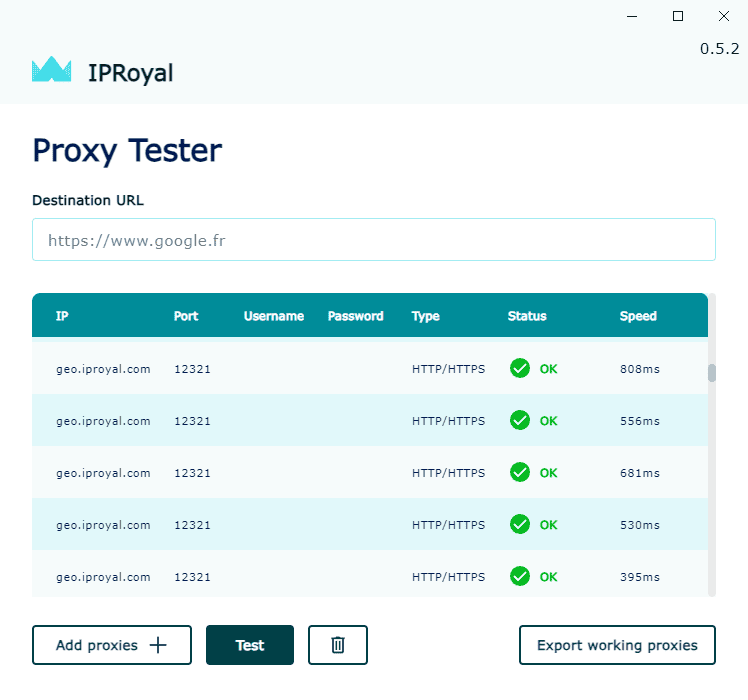 8. From here, you can export your working proxies into a .txt file using the Export working proxies button.
Note: The IPRoyal Proxy Tester is compatible with all our services.
FAQ
Are there any free proxy testers?

You can find countless free proxy testers online. However, many of them offer limited features and only work with free proxies that don't require authentication.
Why is proxy testing important?

Proxy testing allows users to verify proxies work as expected with a specific website before deployment. They can filter unresponsive proxies, which saves time and ensures uninterrupted operation. They can also pick the fastest proxies, which can be very useful in certain scenarios.
How does a proxy tester work?

The IPRoyal Proxy Tester uses your proxies to establish a connection with the destination URL you choose. Once it gets a response, you can see the proxy type, current status, and its speed.
Learn More