Back to blog
Residential Proxies Quick-Start Guide

IPRoyal currently offers over 2 million residential proxies in over 195 countries. This number is constantly growing, so our clients can rely on fresh proxies for all sorts of tasks.
What sets us apart from other providers is the fact that we developed our infrastructure from the ground up. All our IPs are sourced directly from genuine devices across the world. You can learn more about how we source our proxies here . We don't rent IPs or share them anywhere else. Each IP comes from a genuine device with an IP address from an internet service provider, so we guarantee the highest possible IP trust score.
In this quick-start guide, we'll go over all you need to know about our residential proxies and provide you with the information you need to start using them.
Key Advantages of IPRoyal Residential Proxies
Highly competitive pricing
We offer some of the lowest prices in the industry with advanced features, high reliability, and excellent customer satisfaction .
With over 2 million ethically-sourced residential IPs in over 195 countries, we guarantee efficient web scraping, SEO research, data aggregation, social media management, and more.
Choose proxies from any part of the world (country, state, or city) with a single click and no extra cost.
No contracts, no wasted bandwidth, and no monthly limits - you only pay for what you need.
Once you purchase your residential proxy traffic - it's yours forever. It never expires, so you can use it whenever you want.
With an average response time of just 58 seconds, our skilled team of experts is available around the clock and ready to help you set up and make the most of your proxies.
Technical Features of IPRoyal Residential Proxies
Get a new IP on each request or use a sticky session of up to 24 hours.
Unlimited simultaneous sessions
No limits and restrictions - use as many connections and scale your operations as needed.
Username/password and IP whitelisting available for the highest compatibility with scrapers, bots, and other tools.
HTTP(S) and SOCKS5 support
Choose the protocol that suits your needs to get the best results with any usage case.
Integrate our residential proxies into your infrastructure, manage sub-users, and more.
How to Purchase IPRoyal Residential Proxies
Our residential proxies are available on a pay-as-you-go basis.

By purchasing larger amounts of traffic, you can take advantage of our discounts that reduce the starting price significantly (to as low as $1.75 per GB). Your traffic never expires, so buying traffic in bulk offers a great way to get the most out of your purchase.
If you have a larger-scale project, please contact our sales team.
Adding Funds to Your Account
Once you've created your account on IPRoyal, log in to the dashboard.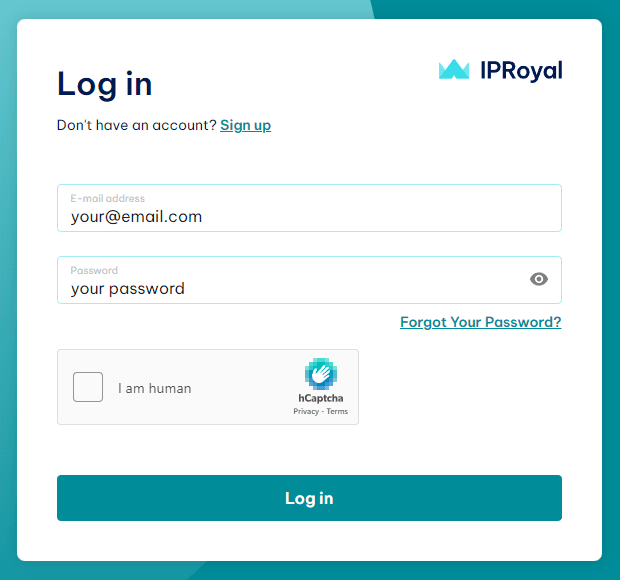 Click on your email address in the top right corner (1) and select Deposit (2) from the drop-down menu.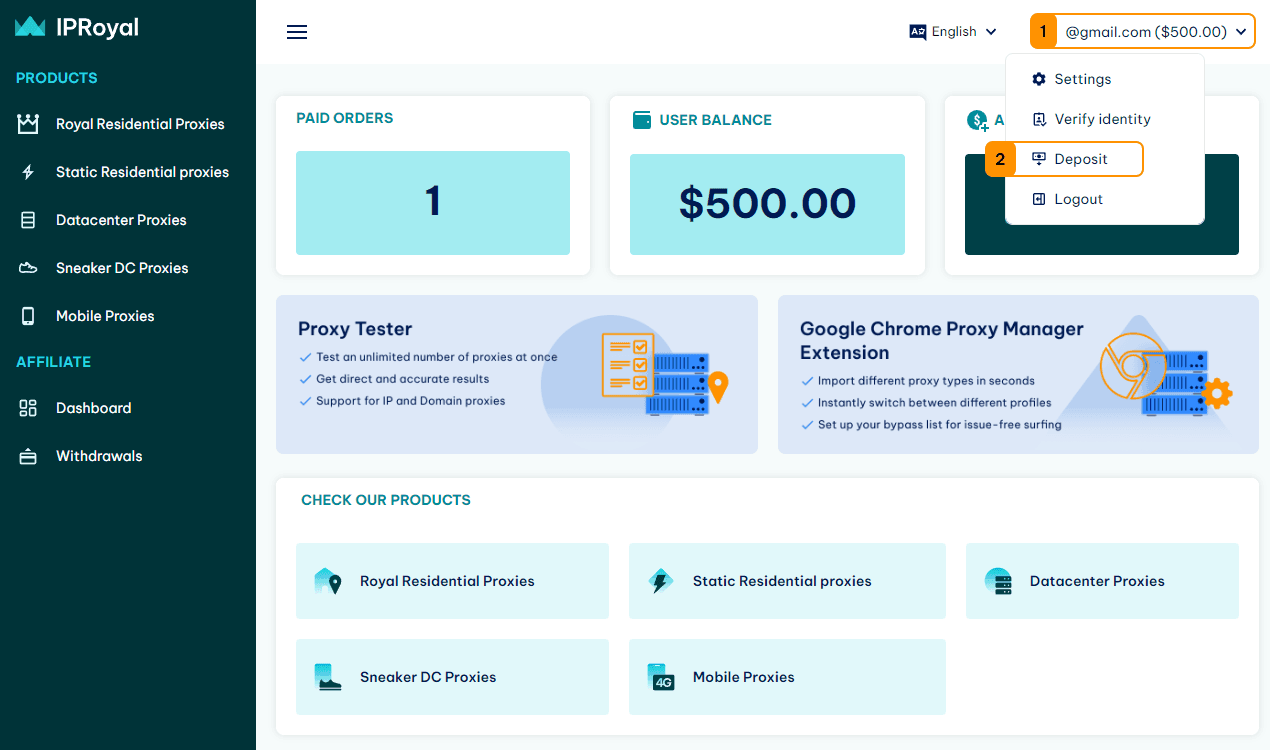 In the new window, select your payment method (1) and add the necessary information (2). IPRoyal supports the following payment methods:
Credit card
PayPal (only available once you confirm your identity)
Wire transfer
Over 70 cryptocurrencies
Modify the deposit amount and currency fields (3) as needed.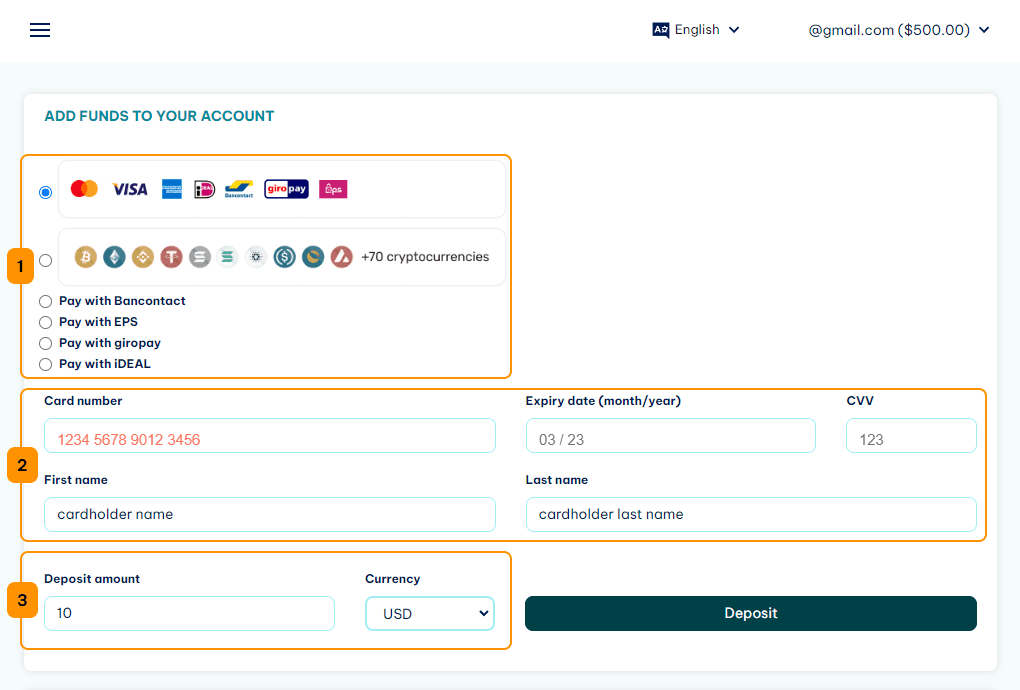 Click on Deposit, and you'll get a notification that the action was completed successfully (4). You'll also see the transaction details at the bottom of the page (5).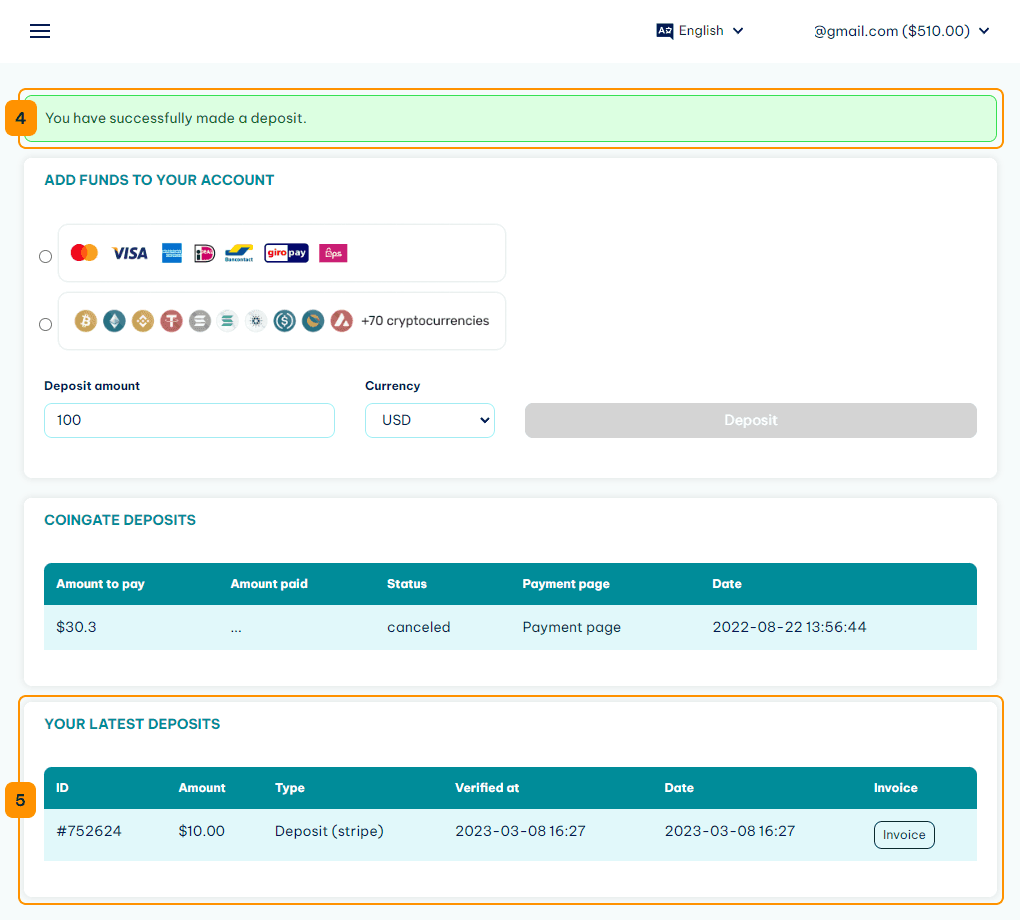 You can now purchase your residential traffic.
How to Purchase Residential Traffic
Select Royal Residential Proxies from the list on the left (1) and click the Create new order button (2).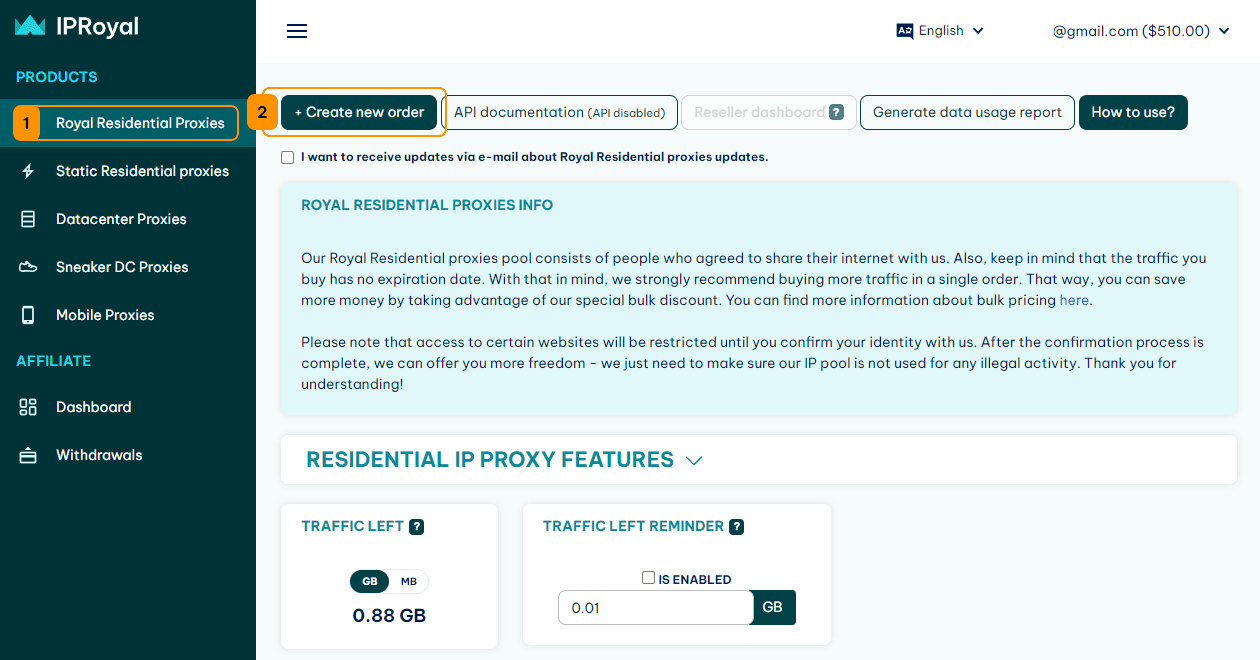 In the new window, select the plan (3) and the amount of traffic you want to purchase (in GB) (4). Click Confirm (5) when done.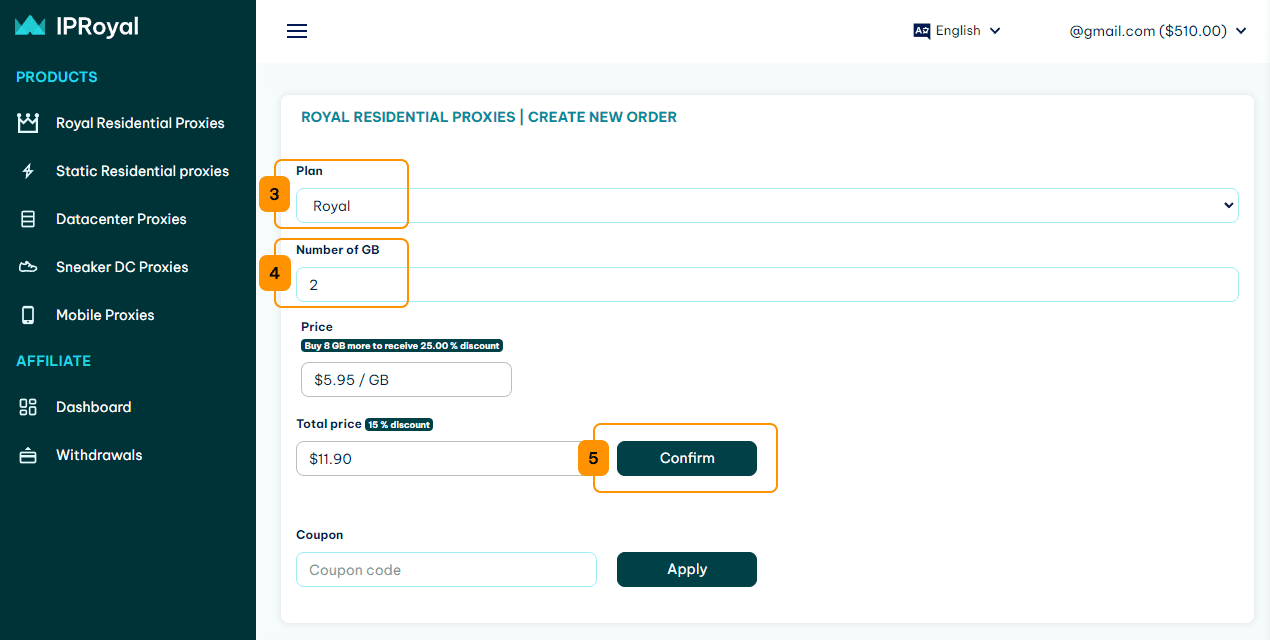 In the new window, you'll get an order overview. You need to select the payment method here (6). You can use your account balance or one of the available payment methods. Note that cryptocurrency payments are only available from the Deposit page. Click Pay (7).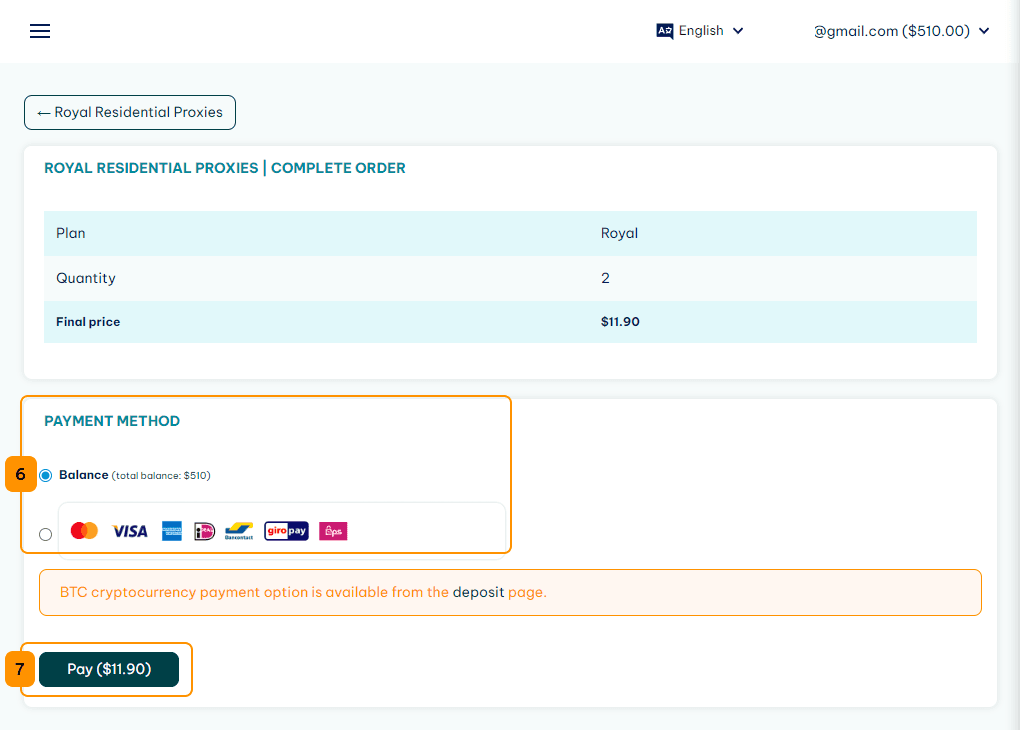 You'll get an order confirmation containing all the relevant information and the status of your order.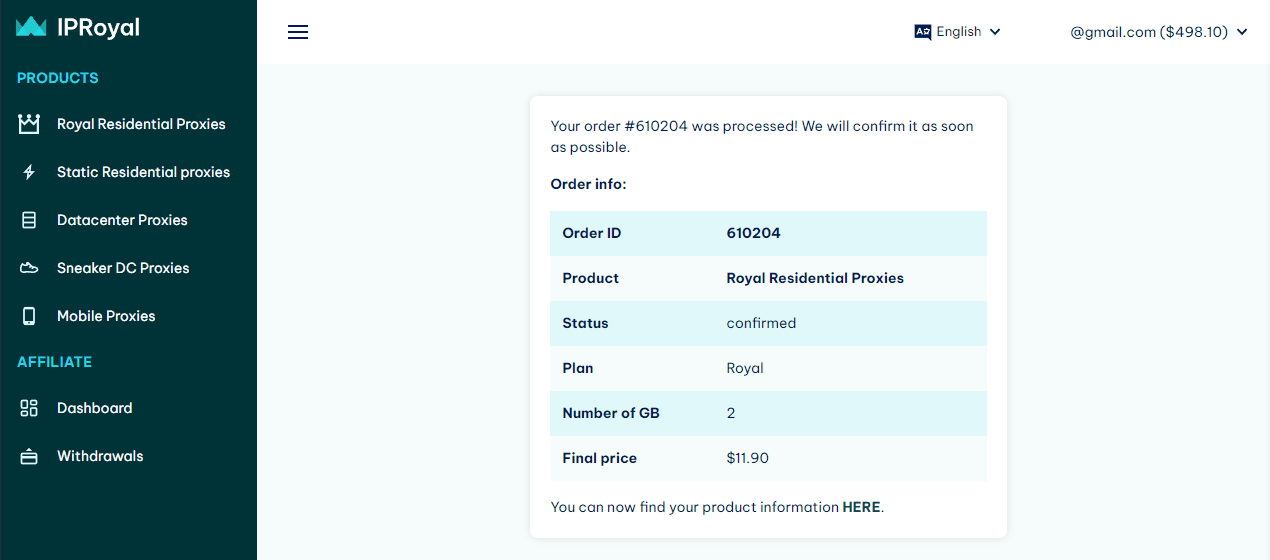 Once the order is confirmed, you'll get an email. You can go back to the Royal Residential Proxies page to start using your traffic.
Trial & Refund Policy
We don't offer a trial or refunds for residential proxy traffic. However, you can purchase the smallest amount of traffic for Royal residential proxies to test the service at minimal cost and check if it works for your intended purpose.
IPRoyal Residential Proxies Dashboard Overview
Here's all you need to know about the IPRoyal dashboard and all the features it offers. We'll focus on the Royal residential Proxies section here.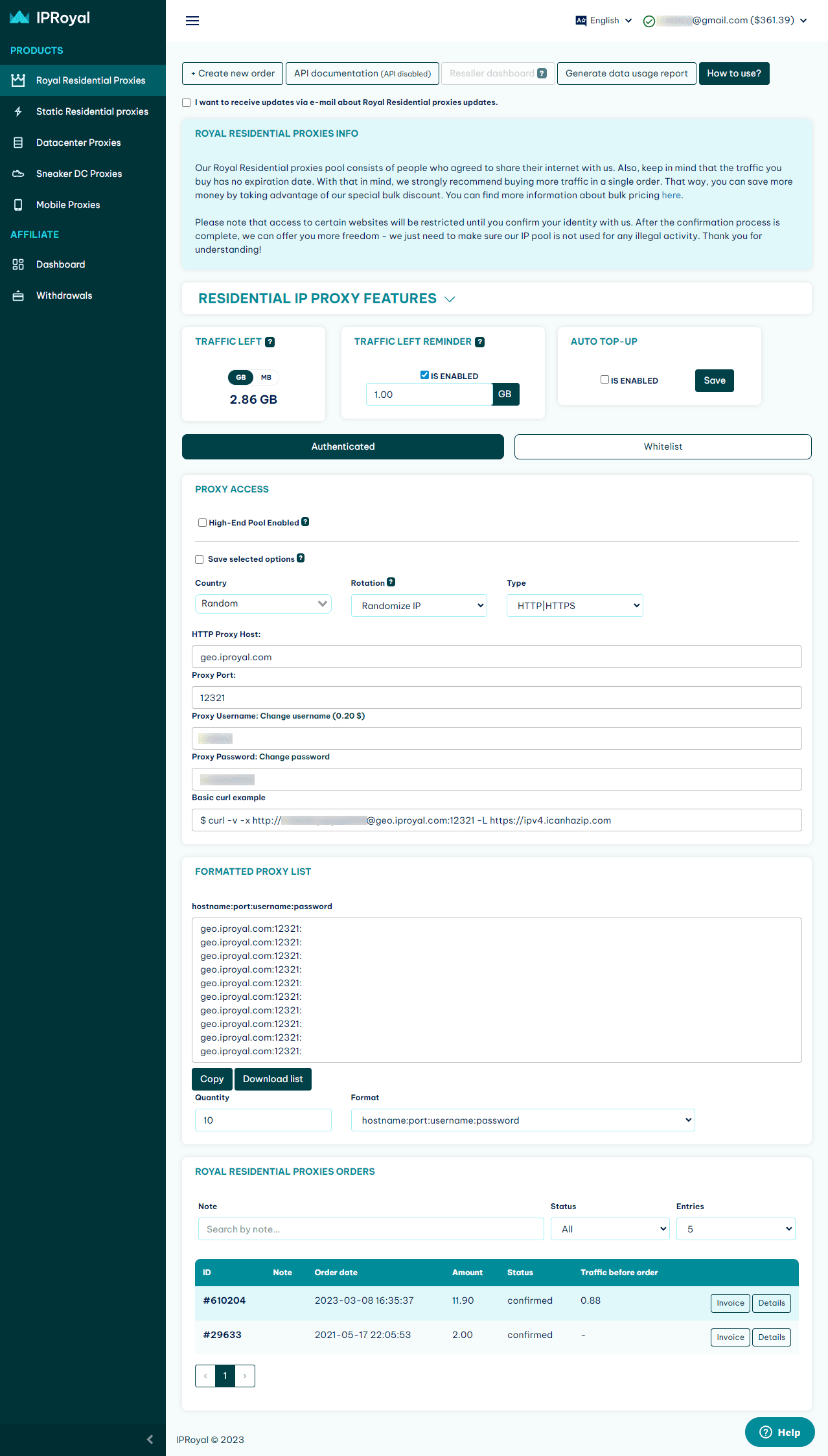 Here you can set the interface language (English or Chinese).
By clicking on your email address, you'll get access to account settings, identity verification, and deposit. The account settings page lets you modify your personal information (name, location, phone number, and email), set up two-factor authentication, invoice details, and generate your API token.
Order more residential traffic.
IPRoyal's reseller and user management API documentation.
Manage sub-users and their traffic, reserved for API users and resellers.
Generate data usage report
Get a detailed report on how your traffic was spent during a period you specify. You'll get a CSV file that contains access dates, target hostname, port used, and traffic spent.
The amount of unused traffic you currently have.
This feature enables you to get an email notification when your available traffic falls below a certain threshold of your choice.
Here you can enable automatic traffic top-up. Once your available traffic falls below a certain value (When to add field) the system can automatically complete an order for a specific number of GB (Amount to add field) and add it to your account. It automatically includes all discounts you're entitled to.
The default residential proxy configuration using a username and password.
Here you can add specific IP addresses which can use IPRoyal's residential proxies without providing a username and password. Click the Add button to add your IPs and configure your proxies.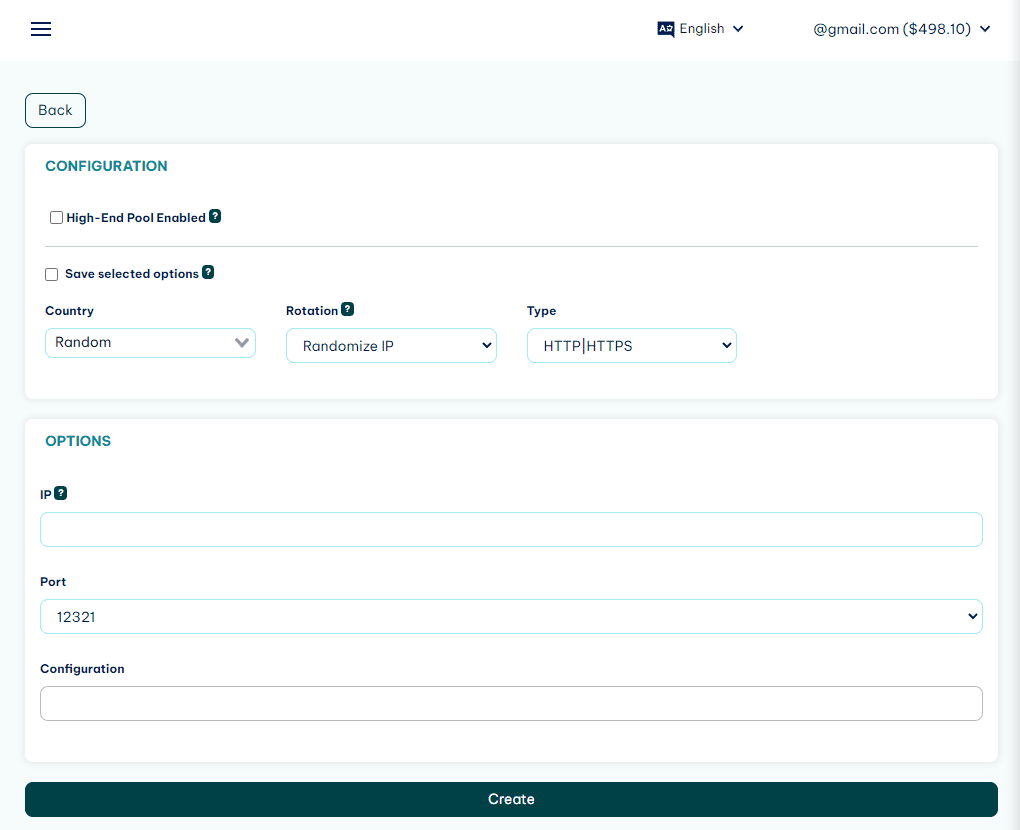 Turning this option on ensures you can only use the fastest and most responsive IPs currently available. As a result, the IP pool size will be smaller.
By turning this option on, you'll get the same configuration options after reloading or revisiting the dashboard.
Here you can select the country your proxies come from. You can select up to two countries, a specific region, or proxies for specific websites.
If you use the Randomize IP option, you'll get a new IP address for every request. The Sticky IP option allows you to set up the TTL (time-to-live) for each session - from one second to 24 hours.
Here you can select the proxy type (HTTP/HTTPS or SOCKS5). The right kind of proxy depends on your needs.
By using this button, you can get new IPs for your existing proxies without generating new credentials.
This is the IPRoyal proxy host. Depending on the tools you're using, it can be referred to as "IP", "host", or simply "proxy".
The communication endpoint that identifies the type of proxy you're using.
Your IPRoyal username. You'll enter this value into your web browser, scraper, or any other tool that you want to use with proxies. Depending on the tools you're using, it can be referred to as "proxy username" or "login".
Your IProyal password. You'll enter this value into your web browser, scraper, or any other tool that you want to use with proxies.
The cURL example provides a quick and easy way to test your proxies. As cURL is a cross-platform tool, you can paste the example in your command line or terminal to quickly test your proxy settings.
This feature allows you to generate a list of proxy sessions and export them. Use the Quantity to set the number of sessions and Format to select the formatting of your proxy list. Once you're done, you can copy it directly to your tools or generate a .TXT document you can import into your tools.
Royal residential proxies orders
Here you can search through your previous orders, check their status, and download invoices for each order. You can also create notes for each order and use them to filter your orders for easier management and reordering.
How to Configure IPRoyal Residential Proxies
Before you start using your proxies, you need to set them up. Here's a specific example.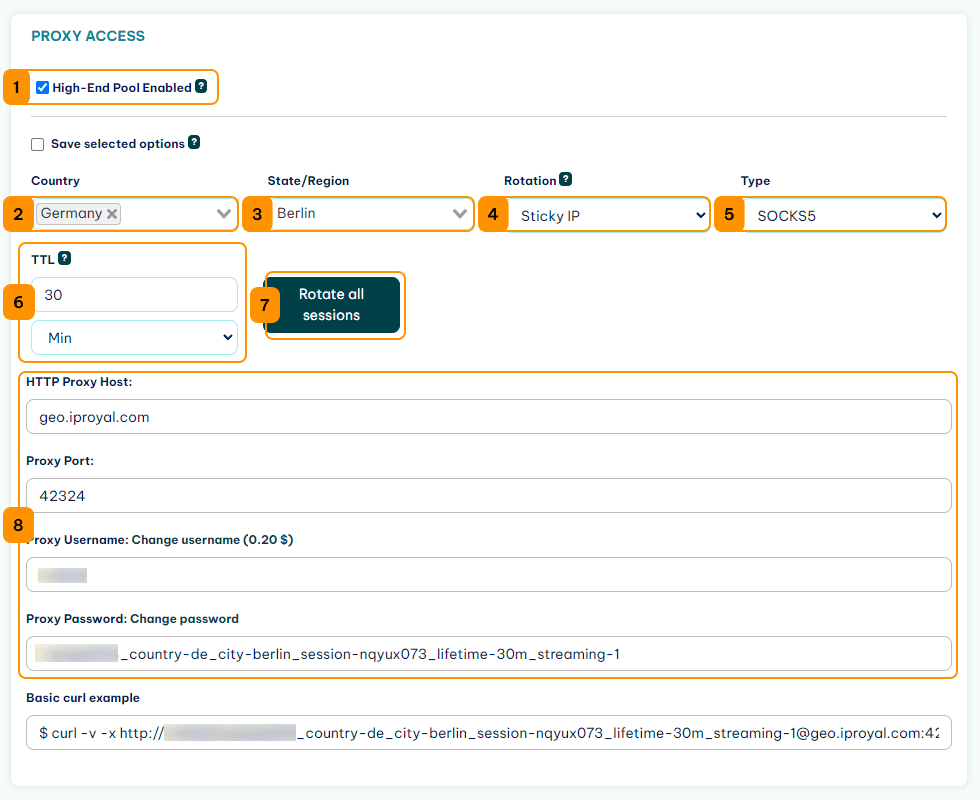 1. Let's say we need the best IPs IPRoyal has to offer at the moment. We'll enable the high-end pool option. While it reduces the number of available IPs, this feature ensures we get the fastest and most responsive proxies possible.
2. Here, we can select the source country for our proxies. You can select two countries simultaneously or leave it at random so the system will handle the selection. We'll choose Germany.
3. Once you select the country, the state/region field becomes available. It allows us to select a specific region or city from the source country. We'll select Berlin.  
4. The rotation section allows us to choose between rotating proxies (which grants us a new IP address on each request we generate) or sticky proxies (which enables us to use the same IP for a set period).
5. For the proxy type, we can choose between HTTP/HTTPS and SOCKS5. We'll go with SOCKS5.
6. The TTL (time-to-live) section allows us to define how long we want to use a single IP address before switching to a new one. We can use any value from one second up to 24 hours. We'll go with 30 minutes. As soon as we set this value, the system generates our proxies, and we can start using them.
7. The Rotate all sessions button allows us to change the IP addresses of all generated proxies. If we're already using the proxies we've generated, clicking this button will provide them with a brand new IP address and we don't have to generate new ones.
8. Here we see the specifics that reflect the choices we've made above. We chose proxies from Berlin, Germany, that use SOCKS5 and rotate every 30 minutes. We can copy our credentials (proxy hostname, port, username, and password) if we need a single proxy. If we need a larger number, we can generate a proxy list.
9. Here we can set the number of proxies we need (quantity) and the correct format that suits our purpose.
10. From here, we can copy the list to the clipboard and paste it into our tools, or we can download it as a .txt file and import it.
IPRoyal Residential Proxies Integrations
To make things easier, we've put together some guides on how to integrate our proxies with third-party tools:
FAQ
How large is the IP pool of the Royal Residential proxies plan?

Our Royal residential proxies plan currently has over two million residential IP addresses in over 195 countries.
Does my traffic expire?

No, the traffic you purchase never expires, so you can spend it whenever it's convenient for you.
How long does a sticky IP session remain the same?

Our system will try to retain the same IP address for 24 hours if you use that value in the TTL (time-to-live) field. However, since our residential proxies come from real users who can join and leave the network as they wish, we can't guarantee you'll be able to use the same IP address for the entire period.
How much does the plan cost?

Royal residential proxies plan pricing starts at $7 per GB. However, buying traffic in bulk provides significant discounts.
Can my residential proxies get blocked?

Like all other IPs, your residential proxy can end up blocked if you abuse it. For example, sending a large number of requests to a specific website from a single proxy can result in an IP block. The simplest way to avoid this is to set a request rate limit in your scraping tool and make sure you're using the Randomize IP option so each request comes from a different IP.
Learn more